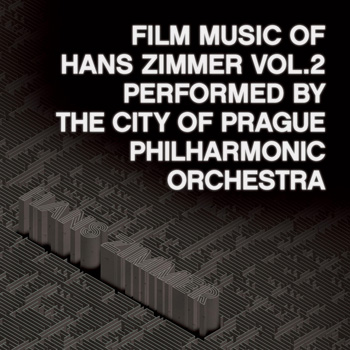 Soundtrack: Film Music of Hans Zimmer Vol. 2
Artist: City of Prague Philharmonic Orchestra
Label: Silva America
Release Date: August 16, 2011
Hans Zimmer is an award-winning, world-renowned composer. What I love about his music is that it incorporates the old and the new. He innovatively mixes the use of digital synthesizers, advanced computer technology, and electronic keyboards with orchestral music. His music is absolutely beautiful, amazingly descriptive and emotionally compelling. When I listen to it I'm taken to a different world. In the case of this particular soundtrack, I'm taken to several different worlds.
This collection of music contains some of my favorite pieces from all three of Disney's Pirates of the Caribbean films, as well as The Dark Knight, Inception, Sherlock Holmes, and The Lion King. I'd have to say that the selections of music from Pirates of the Caribbean are among my all-time favorites. I can practically hear The Black Pearl creaking as she sails over waves, smell the sea air and taste the rum while listening to those tracks. In fact, Zimmer has created such perfect pirate music I wonder if he's been one in a past life.
Of the twenty-three songs in this compilation, I'll briefly cover some of the highlights. The music for The Dark Knight is haunting and even chilling. I can picture a dark alley in Gotham with a bat signal in the cloudy night sky overhead. I am pleased to see one of the most iconic songs from The Lion King, "This Land," made it into this group. The main theme for The Pacific, entitled "Honor," is a fitting piece for that movie. In a word, it is grand. I know that I will be listening to "The Dream Collapses" from Inception while I am doing my cardio.
This is a nice sampling of Zimmer's music. If you are a fan of his music and/or a fan of any of the movies on this CD I think you will enjoy it. My only suggestion is to have the popcorn ready. It's the perfect snack to munch on while you listen.
Track Listing:
Disc 1
"Mermaids" (Pirates of the Caribbean: On Stranger Tides)
"Mutiny" (Pirates of the Caribbean: On Stranger Tides)
"Dream is Collapsing" (Inception)
"Time" (Inception)
"Honor" (The Pacific)
"Discombobulate" (Sherlock Holmes)
"160 BPM" (Angels & Demons)
"Aggressive Expansion" (The Dark Knight)
"Why So Serious?" (The Dark Knight)
"Up Is Down" (Pirates of the Caribbean: At World's End)
"Drink Up, Me Hearties" (Pirates of the Caribbean: At World's End)
Disc 2
"Davy Jones" (Pirates of the Caribbean: Dead Man's Chest)
"Jack Sparrow" (Pirates of the Caribbean: Dead Man's Chest)
"Molossus" (Batman Begins)
"Zoosters Breakout" (Madagascar)
"Woad to Ruin" (King Arthur)
"This is Going To Hurt" (The Ring)
"Homeland" (Spirit: Stallion Of The Cimarron)
"Leave No Man Behind" (Black Hawk Down)
"Injection" (Mission: Impossible III)
"Red Sea" (The Prince of Egypt)
"End Titles" (The Peacemaker)
"This Land" (The Lion King)
Rating: 5 / 5 Stars