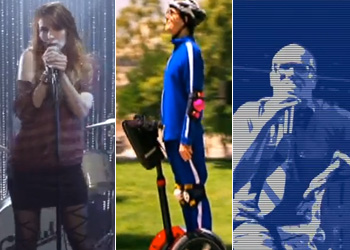 Geek Pride Day is May 25. I've previously celebrated nerd girls; this month, let's celebrate all geeks and nerds with songs of all kinds.
"Hail to the Geek" – Deaf Pedestrians
Actually, I'm not really quite certain if this is meant to be a celebration or if it's meant to be making fun of geeks. Perhaps it's one of those songs that we could embrace as our own regardless of the original intent. It is, after all, "good to be a geek."
"The Geeks Will Inherit the Earth" – I Fight Dragons
This might possibly be my favorite geek celebration song on this list; it's certainly the one that pops into my head the most often.
"Nerd Corps" – Adam WarRock
I really wish that the Nerd Corps really existed. That would be awesome!
"Freaking Geek" – HDNinja (NSFW)
"1, 2, 3, 4… Freakin' geek forever more!"
"Nerd Alert" – The Aquabats
For some reason that's beyond me, I've never explored The Aquabats despite my love of ska and geeky / funny music. I think this song is going to push me to do just that. "Get stupid on your time!"
"I'm the One That's Cool" – The Guild (mildly NSFW)
Do I really need to say much about this one? I'm sure pretty much every geek out there has seen this one. And if for some reason you haven't, well, check it out now!
"I'm a Nerd" – 3d6 (NSFW)
I found this one via Sci-Fried's Dr. Vern. Without us nerds, there wouldn't be… well, much of anything that matters, actually.
"Rejects" – Richie Branson
"This one's for the social rejects. Where my nerds and my freaks and geeks at? It's about time that we got some respect." Yes, Richie, it certainly is!
"Someday" – Mikey Mason
Someday we geeks will get our revenge on those who pushed us around. Someday…
"Nerd Versus Jock" – MC Frontalot
This one would have been part of an HBO pilot by John Hodgman. I'm not sure what happened to the show, though, since there's no reference to it since 2010. Sounds like it could have been cool, but at least we got a great song from it!
"Revenge of the Nerds" – Verbal (NSFW)
This video features the cast of Better Off Ted. I suppose that's probably a lot cooler if you've actually seen the show, which I have not. It's still a really good song and video, though.
"I'm a Geek" – Loacs (ft. Johntah and Shayna)
OK, I admit I'm not quite sure what to make of this one. On the one hand, it seems more like a "geek chic" / "fake geek" song / video, but on the other hand it's French. I was recently in Paris and visited Dernier Bar Avant La Fin Du Monde. It had the sort of vibe I get from this video. The French do have a reputation for being on the snobby side (although in reality I didn't really find this to be the case at all), so perhaps the geeks there are different, too (I should hasten to point out that that's not intended as a slam on anyone, just an observation). Regardless, it's a good song.
"Hip to Be Square" – Huey Lewis and the News
OK, I'm a child of the '80s, but I ran across this song recently somewhere and knew it had to go on the list. I mean, come on, it doesn't matter if you call us "square" or "geek" or "nerd," it's still hip to be one of us.
"White and Nerdy" – "Weird Al" Yankovic
Does this one really need a description? Probably not.
3d6
,
adam warrock
,
deaf pedestrians
,
hdninja
,
Huey Lewis & The News
,
I Fight Dragons
,
loacs
,
MC Frontalot
,
Mikey Mason
,
Richie Branson
,
the aquabats
,
The Guild
,
verbal
,
Weird Al