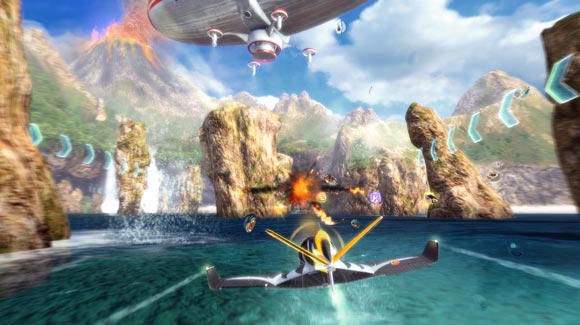 If you're looking for a new kart racer but are tired of the same old driving games you've been playing since Mario Kart, SkyDrift just might scratch that itch. Digital Reality's new downloadable game landed on the Xbox Live Arcade and the PlayStation Network earlier this month, and I had a chance to climb into the cockpit to try out the breakneck action.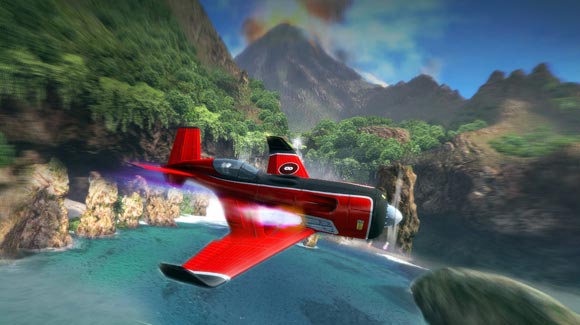 Rather than dropping you into the tried and true automobile driver's seat that is the standard for these types of games, SkyDrift takes to the air with an assortment of modern airplanes. Aside from being aircraft based instead of driving on the ground, the game stays true to many of the hallmarks of the kart racing genre. All the races take place on crazy tracks, each of which allows some degree of freedom as you're traversing and dodging environmental objects, and there are plenty of power-ups and unlockables to keep you busy.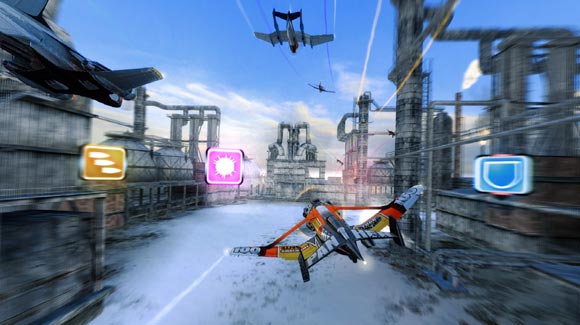 SkyDrift is divided into three game modes, each of which shows off the game's strong points in a unique way. The standard mode that will be familiar to kart racing fans is Power Race Mode, a straight-up race that pits you against other racers on a track littered with power-ups that will help you and hinder your rivals. Speed Race Mode throws in a twist by adding ring targets to the courses. Flying your plane through a ring will give you a momentary speed boost, so you'll be bobbing and weaving your way through the targets to beat your opponents. The third and final game mode is a race against the clock called Survival Mode. Deathmatch and Team Deathmatch modes promise dogfighting action in an upcoming DLC pack, further adding to the ways you can play SkyDrift.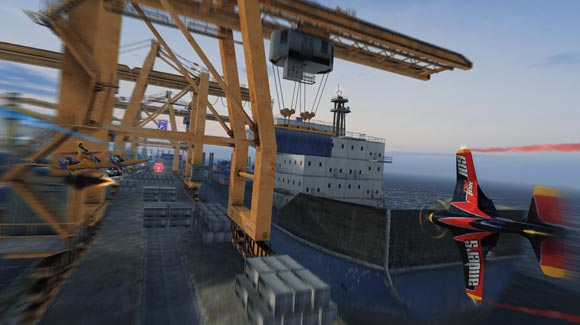 My personal favorite of the three initial game modes is the old standard Power Race Mode. Up to eight players can compete in multiplayer, or you can take on computer controlled planes in the single player game. Staying ahead of the competition is good, but shooting them down is even better, and that becomes an easy feat thanks to all the power-ups available in Power Race Mode. There are six different power-ups in all, and they cover all the offensive and defensive basics, including a machine gun, a shield, a repair bonus, and more. Each of the power-ups can become stronger, too. If you pick up a second copy of an ability you're already holding, the existing power levels up to give you even more firepower, speed, or defensive capabilities.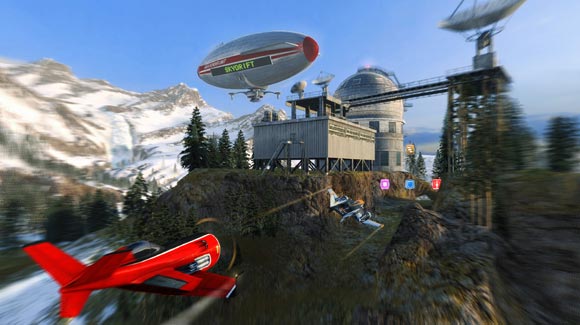 SkyDrift looks great, and it handles extremely well. I'm pretty picky when it comes to the controls in racing games, whether they're kart racers or more realistic games. SkyDrift doesn't have any of the overly floaty controls that have been common in lesser kart racers, and the level of control it allows is essential as you're turning your plane on its edge to thread your way through tight canyons while firing at your enemies. Make no mistake: You will crash, and often. Having great controls makes the crashing more a function of your developing flying skills than of frustrating game design, though.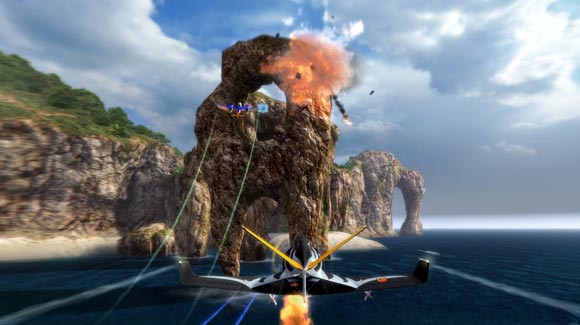 In addition to loads of frantic fun and a slick presentation, SkyDrift offers plenty for completists and collectors. There are eight planes you can fly throughout the game, and each of them has four customizable skins to give your aircraft a unique look. Twelve unlockable achievements offer up 200 gamerscore points, and the game also makes you keep playing with its own in-game achievement system that rewards you with 15 multi-level badges and 26 medals you can earn.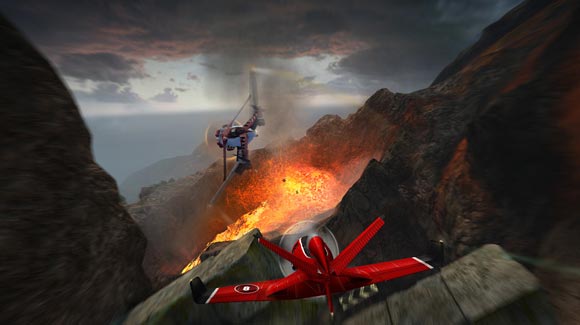 If you're a fan of flying games or of kart racers, SkyDrift offers some great fun from both camps. It's available for 1200 Microsoft Points on the Xbox Live Arcade or $14.99 on the PlayStation Network.