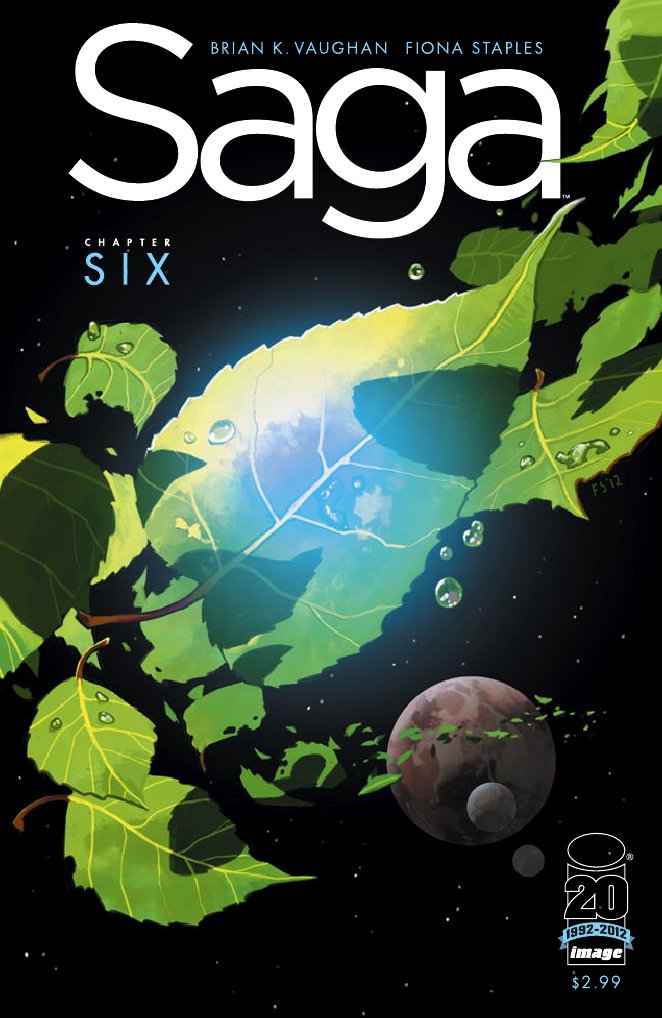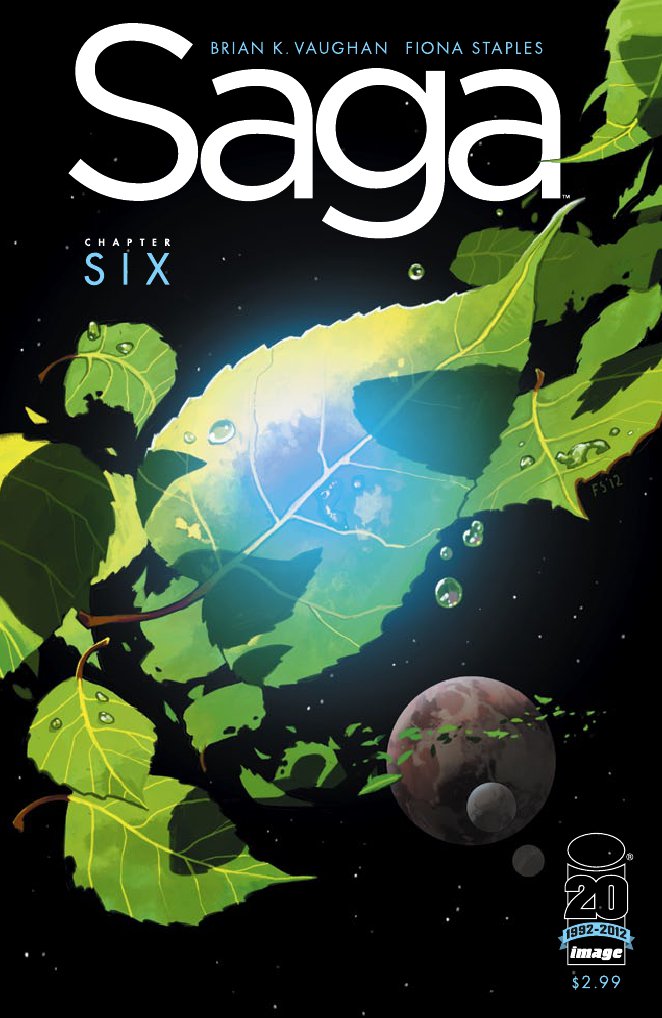 Issue: Saga #6
Release Date: August 2012
Writer: Brian K. Vaughan
Art: Fiona Staples
Letters and Design: Fonografiks
Coordinator: Eric Stephenson
Publisher: Image Comics
Alana, Marko, Hazel, and Izabel are still making their way to safety, but danger is not far behind. We follow them with hopes that they can rewrite their destinies and find happiness before it's all over. However, the dread of what might happen if they fail is still ever-present in our minds.
I still love this family very much. Marko and Alana are parents just trying to survive, but they love their little girl more than anything. Mixed in with that joyfulness is a sense of fear, though, particularly in what the narration at the beginning might hint at. Through the course of this series, we're told the overarching story from Hazel's point of view. What, then, does that say about the proclamations she makes about what is a father and mother? If we go by the word choices she made, it gives you the feeling that she remembers Marko as an absent force in her life and Alana was not much better, leaving her on a stranger's doorstep to grow up without them. Is she telling us what's to come or is she making generalized statements about other children who were not as lucky as she was? I'm terrified that her stark prediction is a reality to come.
For now, though, they have discovered the Rocketship Forest and the lone surviving ship amongst it. Before they can make their escape, they must make a sacrifice, and Marko's offering is an honorable one. He destroys his sword, the one that's been in his family for a thousand generations, because Alana and Hazel are his family now and he would give anything for them. He's such a good man, such a giving husband and father. Granted access, they begin their journey across the universe, and Alana's got a special destination in mind. She wants to go to Quietus, the lighthouse planet, so that Hazel can meet the smartest person in the universe. Sounds like a great first stop, until we later find out the ramifications of her choice.


Still on their trail is Prince Robot IV. After having just killed The Stalk, he's trying to figure out his next move. When she perished, she was still on the radio with The Will, which meant that Prince had no qualms about relaying news of her death to him. The prince has no emotion on the matter; it was simply done and now he's passing along the information, but The Will's reaction is quite the opposite. Overcome with grief, he vows to kill the prince for his actions. Now it's a race to see who's going to die first: Alana's family, the prince, or perhaps The Will may suffer a tragic fate during his mission of revenge. Unfortunately for Alana, the prince uncovers a vital clue in The Stalk's recently-acquired ship. Not only does the Wreath High Command know about Hazel, Prince Robot IV knows where they might be headed next. The author of the romance novel that Alana fell in love with is D. Oswald Heist and his place of residence is listed as Quietus. Yep, Alana's definition of the smartest person in the universe is a romance novelist. Please don't let that be her fatal downfall.
And if all that wasn't enough to deal with, Hazel and her parents are confronted with a few uninvited guests aboard their ship. When Marko destroyed his sword, he called forth magic and summoned two warriors who arrived to harm them. That is, until they recognized they were fighting their own son. I don't think Alana was ready to meet her in-laws in such a manner and I'm sure they weren't ready to learn that their son was not only married, but had a daughter as well. Ah, family reunions. They can be so awkward, and potentially deadly.
Rating: 5 / 5 Stars