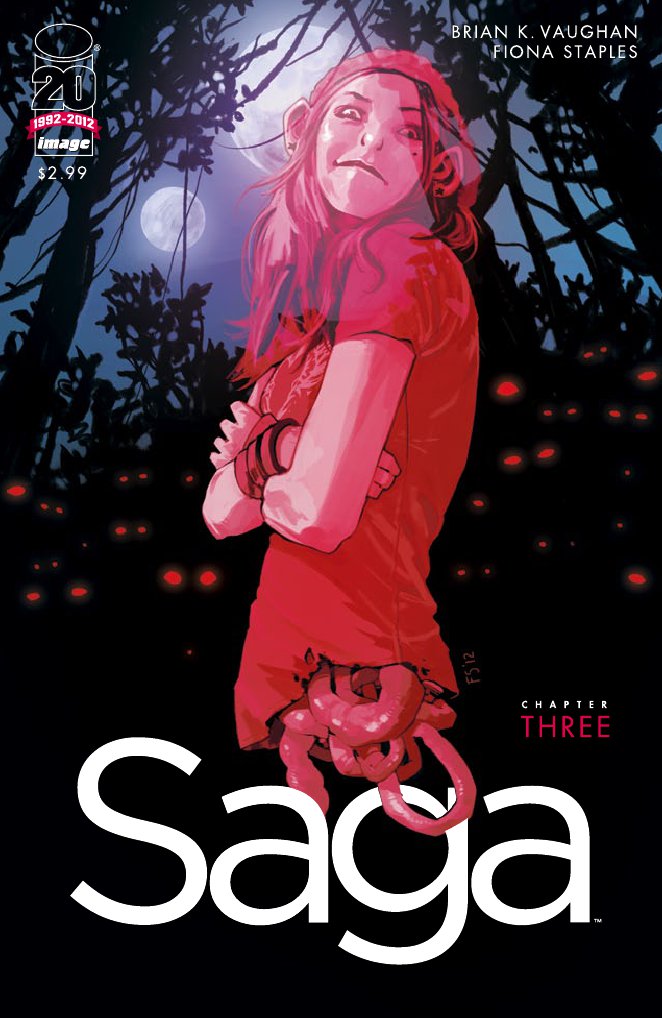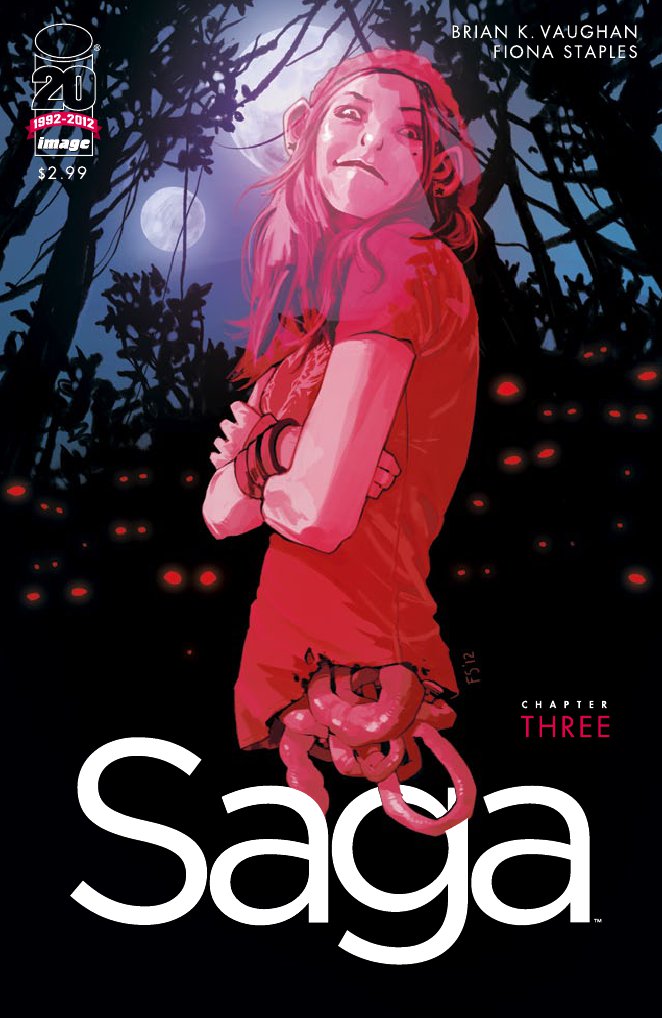 Issue: Saga #3
Release Date: May 2012
Writer: Brian K. Vaughan
Art: Fiona Staples
Letters and Design: Fonografiks
Coordinator: Eric Stephenson
Publisher: Image Comics
Saga returns this month as we follow Marko, Alana, and Hazel on their journey to safety. When last we left the family, The Horrors had surrounded Alana and Marko. Now, Marko lays bleeding and Alana is begging for her life so that her daughter is not left an orphan.
But, good news, because Marko isn't dead and the ghosts are just smart-mouthed kids. They're the locals who, after death, are allowed to live on as "spiritual defenders of Cleave." It's not the best job in the world, as the lead girl points out. Based on this brief exchange I have to say, again, that I'm impressed and pleased by the characterization that this comic holds. Everyone is well-rounded and holds a bit of bad and good in them, making them more human than simply characters on a page.
Returning to the story at hand, Marko's not doing too well. Actually, he's pretty much dying, and the only way to save him is to perform a healing spell whose main ingredient is snow. Yeah, in the middle of a heatwave, he expects Alana to find snow. Well, maybe she can't, but the ghost girl is more than willing to make a trade for the goods. If they agree to let her tag along when they escape the cursed planet, she'll supply the snow that will get Marko back on his feet. One catch, she's got to bond to the soul of Hazel in order to break free of the planet's hold on her. Is the life of Marko worth putting Hazel at unknown risk? That's what Alana must decide.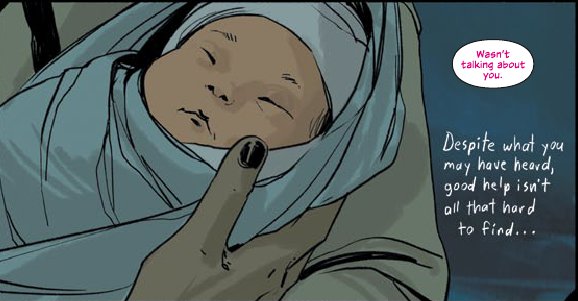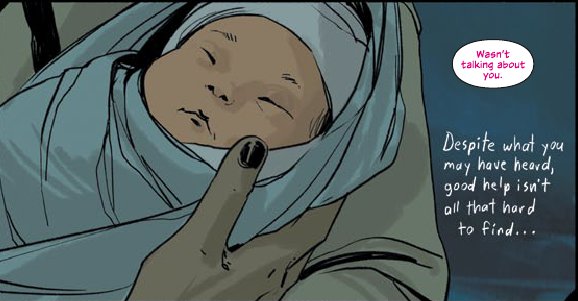 Meanwhile Prince Robot IV is still trying to track Alana down. He's managed to find one of the prisoners who had regular contact with her, so he's doing a bit of interrogation for information. Specifically, he's trying to figure out why Alana was so enthralled by a romance novel she kept reading. Was that the motivation for her and Marko's relationship? Or did the novel hold some other secrets that the robot-head has yet to uncover? Well, if his display of anger during this scene is any indication, he's going to have a hard time getting anywhere in his search because he'll likely kill everyone before they dish the dirt.
Back to Alana, Marko, and the ghost kid (whose name is Izabel). Alana, as I knew she would, has refused the offer and has decided to find the snow herself. Yes, Marko might bleed out by the time she lugs him up the mountain, but at least Hazel won't have to sacrifice part of her soul. It's still a tricky situation, though, because it might come down to soul-bonding before it's all over. Marko is getting closer to death and Alana's stubbornness might cost him his life. But at least they're better off than The Stalk. She's surrounded by wild boars, about to be torn apart, and her only hope is that The Will picks up the phone and joins her as a partner in her bounty hunt. Yeah, not likely. I'm glad to see The Will is sticking by his ideals on this one.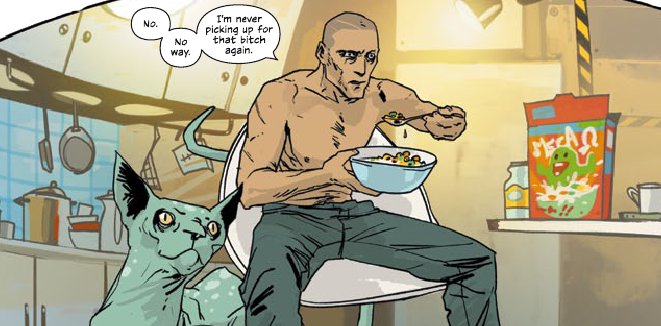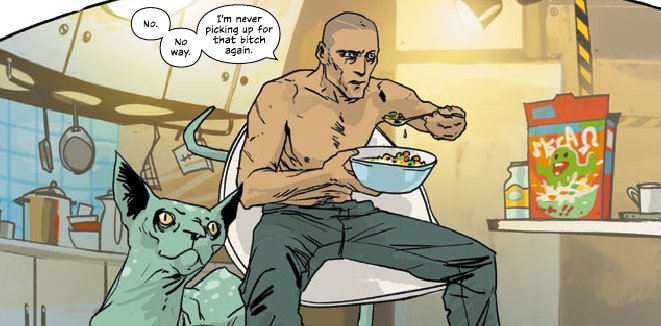 As we end this issue, some revelations are made. First up, we learn that Izabel came from a family of terrorists and her fate was sealed when she stepped on a landmine. But that doesn't matter as much as the fact she's got knowledge that will speed their journey off the planet. With time running out for Marko, and a promise that the soul-bonding won't hurt Hazel, Alana agrees to the former deal. Everything seems like it's right on track. Marko's fading fast, talking out of his head, but Alana's there to reassure her husband that all will be okay. Well, maybe not totally okay since one of Marko's rantings included a request to tell his bride, Gwendolyn, that he loved her. Alana's reaction matches my own. Who in the world is Gwendolyn? Marko's going to be in some deep trouble if he survives this. And we're not getting any answers until next time. What a lovely cliffhanger to end on.
Rating: 4 / 5 Stars