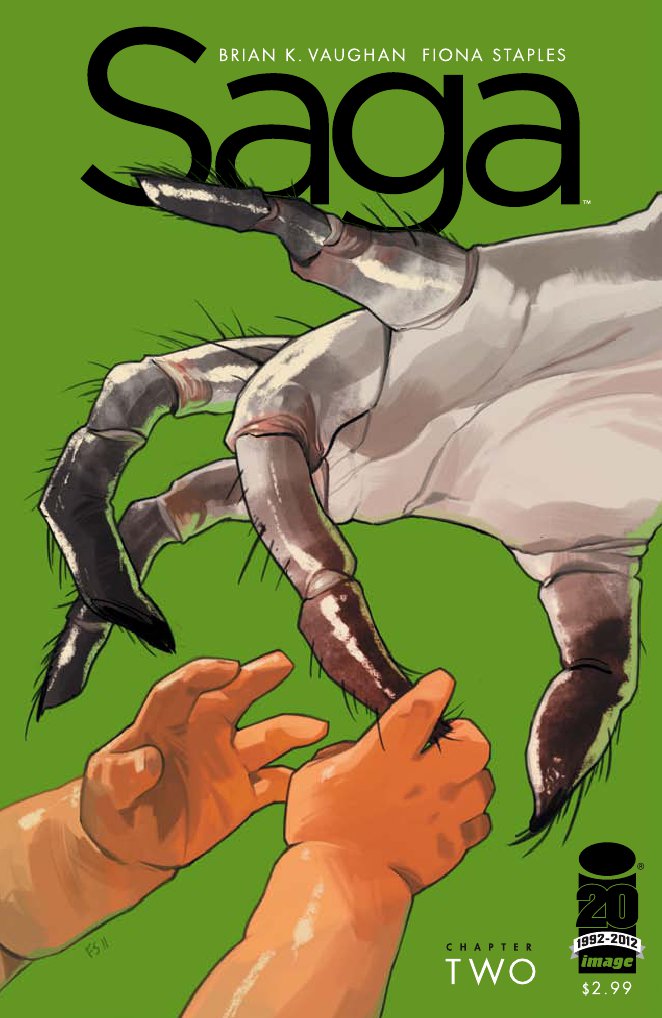 Issue: Saga #2
Release Date: April 2012
Writer: Brian K. Vaughan
Art: Fiona Staples
Letters and Design: Fonografiks
Coordinator: Eric Stephenson
Publisher: Image Comics
Alana, Marko, and Hazel are still on the run in the second issue of Saga. Their poor daughter has only been alive three days and already she's been hunted, threatened, and scared out of her mind. Life with her parents is never boring. Everyone's after them and it seems like death is a likely option for Alana and Marko, with Hazel being the key to the prized bounty.
Will, who we met last time along with his trusty feline companion, checks in with his agent and learns that not only is the competition for the job fierce, but The Stalk is also in on the gig. From the way that conversation is phrased, I'm guessing The Stalk is a big deal. Will never wants to cross paths with the freelancer again, and he's willing to give up the case in order to avoid a run-in. With an introduction like that, I can't wait to meet The Stalk!
Meanwhile, Alana and Marko are traveling through the Endless Woods, trying to keep Hazel safe as they get attacked by the vegetation. In order to get out of their predicament, Marko needs Alana to share a secret, which she does. This is yet another scene where the humor of this series comes out in full force. Hey, babies are messy, and sometimes you have a few revelations along the way. It's what being a parent is all about. Also, no matter how much they fight it, eventually new parents are going to need sleep. When Alana and Marko pass out from exhaustion, that's when the real danger sets in.

Prince TV, as I shall deem him, is off trying to track down Marko and Alana's whereabouts. There's a telling scene where an image of a face becomes visible on his screen. Whether this is his actual face or an illustration of his frustration, it's not a pretty sight. His companion, Lance Corporal McHenry, doesn't seem too sure about it either. I'm not a fan of his royal highness. He's sketchy and angry and not that trustworthy. Of all the characters that Alana and Marko could come up against, I hope they can avoid him.
At the moment, they have to avoid a certain creature who has gotten the drop on them as they slept. Upon awakening, Marko is met with a half-naked woman with no arms and multiple eyes. This would be the infamous tracker The Stalk. Funny, she's nothing like I pictured. And immediately I disliked her because she attacks Marko and leaves him for dead. Also, she's not armless, she's just hiding her multiple appendages under her skirt. It looked like Alana stood little chance of saving her family in this deadly stand-off, but we shouldn't count her out just yet. A stun gun might do little against The Stalk, but it would certainly kill Hazel if Mommy shot her point-blank in the head. Since The Stalk needs to keep the baby alive for the reward, it does give her pause. It's enough time to change the outcome, but perhaps for the worse.
And it turns out that The Stalk is afraid of something. No, not Alana's bluff, but instead The Horrors. They're coming and Alana's fate just got worse. Marko's down, possibly dead, and now there's disemboweled red children showing up. Are they The Horrors? I wouldn't doubt it. Children are creepy. We'll have to wait until next month to find out what is to become of Alana and her family. Their lives are never going to be easy.
Rating: 4 / 5 Stars