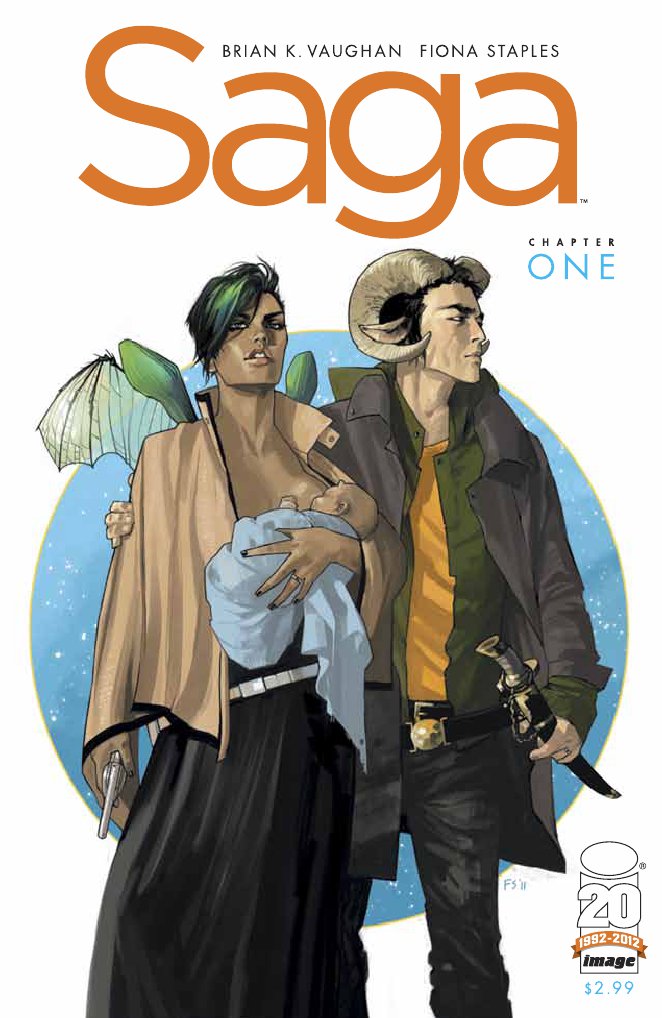 Issue: Saga #1
Release Date: March 2012
Writer: Brian K. Vaughan
Art: Fiona Staples
Letters and Design: Fonografiks
Coordinator: Eric Stephenson
Publisher: Image Comics
It is hard to create a comic that affects readers so deeply that they deem it the best of 2012 only three months in. However, Saga #1 did just that. This storyline is amazing. Brian K. Vaughan has created a world that you become so emotionally invested in that you transcend being just a reader and instead feel like a participant in the outcome. Alana, Marko, and Hazel will overcome whatever obstacles they meet because we believe in them. Vaughan sums it up best in his closing: "New comic series don't have fans, they have families, small groups of diverse people who band together to help keep alive some weird thing that matters only to them." I'm happy to be in that family.
We start off with birth, the harsh reality of creating life and what the ramifications of that are. These two lovers, who should not be together in the first place, have created something greater than themselves and they want to make sure their daughter is safe from the harm that may come to them. I found the narration interesting because, at first, I thought it was an outside POV, telling the story of this family from afar. In actuality, it is the narration of the daughter, Hazel, looking back on her history and sharing it with us. In some ways, it's a more hopeful narration because you know she has to remain safe throughout the storyline in order to be present for the telling of it.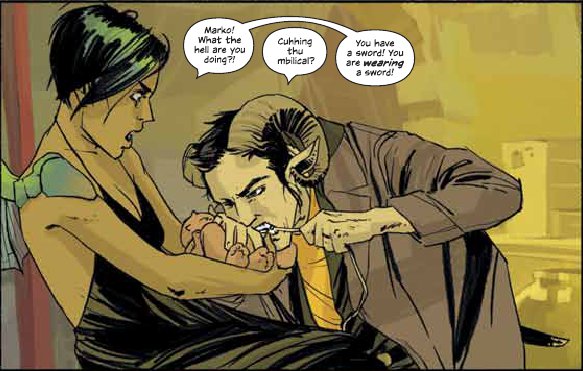 I instantly fell in love with Marko and Alana. It's such a monumental event, to become parents, yet they retain their humor throughout. These are characters that I would love to hang out with, sharing stories of their world and the normality that they've created in the midst of chaos. And through their daughter we learn of their history, the multitude of issues that they had to fight against to be together and the struggles they face as they go on the run as a family. Instead of falling victim to the common issues of flashbacks, number one being how it takes a reader out of the immediate story, the look back creates a layer of tension and interest. We get to see worlds that are filled with creatures that are quite unlike what we know: reptile butlers, television-headed royalty, winged and horned characters that will become the centerpoint of the piece.
I became so invested in this story, the overview of where Alana and Marko came from and their defiance in the name of love, along with Hazel's teasers of what was to come in her life. The entire universe is after them, against them, and there's the possibility of death around every corner. Yet, we believe in them. We have hope that Marko and Alana will defy the odds and make a life for their daughter, despite all that they'll have to overcome. We believe because we can't not. The possibility of failure is so heart-breaking that we banish it from our mind. Love can survive, family can survive, because of collective hope. We have that hope.
Rating: 5 / 5 Stars