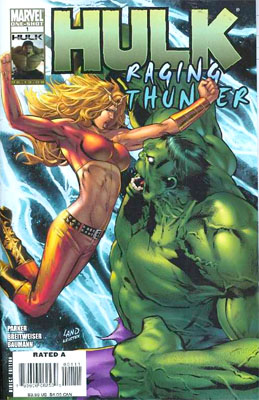 The Incredible Hulk is hitting theaters this weekend, and Marvel has chosen an opportune time to unleash several new Hulk spinoff and one-shot comics. Here's a review (with spoilers) of Hulk: Raging Thunder, a new one-shot featuring the long awaited (really?) return of Thundra.
Hulk: Raging Thunder
Writer: Jeff Parker
Artist: Mitch Breitweiser
What's Going On:
Two centuries in the future, the genetically enhanced Amazon-like woman Thundra rules a female empire at war with the males. Thundra has a pep rally for her subjects before jumping into her handy dandy time machine and teleporting herself to Utah in the present day for an encounter with the Hulk, ostensibly as a show of might to encourage her troops' morale against the men.
Lessons Learned Here:
Marvel movies spawn inane one-shots every time.
The Hulk now apparently has a son and a daughter. Good luck collecting the child support.
How It Ends:
Thundra kisses the Hulk and swipes some cell samples from his cheek. Upon returning to her own time, she uses those cells to impregnate herself with her successor, the daughter of the Hulk. Silly much? Yeah, thought so.
Thoughts:
It's bad enough that we're given a story this entirely random and silly, but to package it with a backup story that is a reprint of an old Thundra story from Fantastic Four and mark the issue up to $3.99? Bad form, Marvel. I love things like the Classic Avengers series that reprints a classic issue and then has a brand new backup story set in that era, because the reprint is the whole purpose of the comic. With things like this (and many a recent Marvel "Giant Size" special), the reprint is pretty useless and worthless and definitely doesn't make a below mediocre new story worth a bumped pricetag.
The new story is quite a bit less than mediocre. It's purely a bit of fan service for everybody running out to see The Incredible Hulk this weekend. Whenever there's a new Marvel movie, you can bet there'll be a bunch of extra and unnecessary comic spinoffs and one-shots and mini-series springing up around that time. Just check out Iron Man: Viva Las Vegas, Iron Man: Legacy of Doom, etc.
And don't even get me started on the ridiculousness of the time travel. What worked for readers in 1972 just doesn't cut it in 2008.