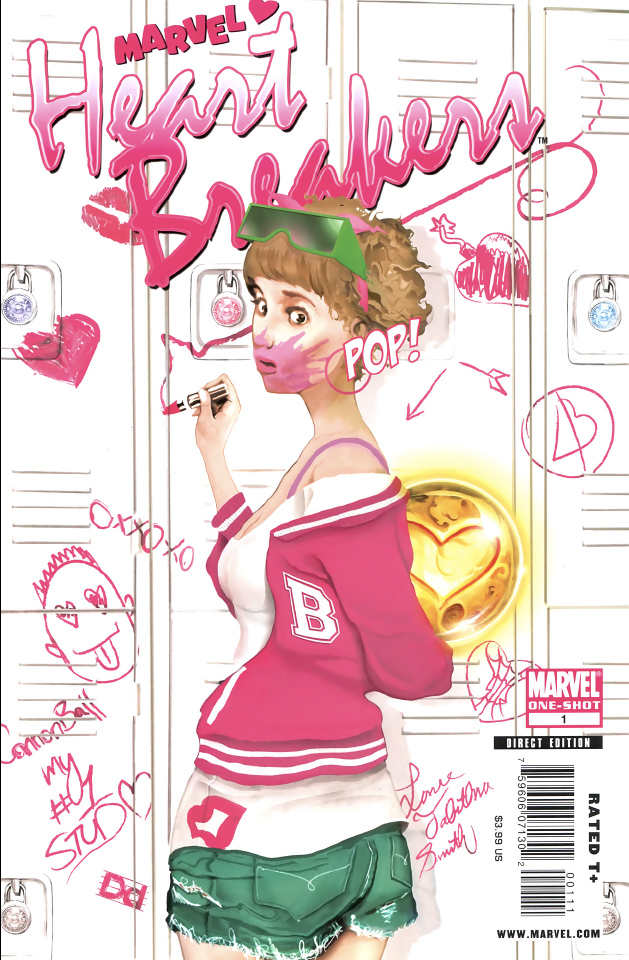 Issue: Marvel Heartbreakers One-Shot
Release Date: February 3, 2010
Cover: Mike Del Mundo
Pin-Up: Lara West with Emily Warren
Editor: Michael Horwitz
Publisher: Marvel Comics
This was hands-down the worst comic book I've ever read. And I have read some real stinkers, my friends. I mean, just, wow on a massive level that this went to print.

It's a collection of four short stories about "love," so I kinda knew going in on this review what I was getting myself into (duh, it's about "love" and not super action). Call it morbid curiosity if you like, but what it turned into was a gauntlet to see exactly how much pain I could put myself through willingly.
Story 1: "A Chemical Romance"
Writer: Kathryn Immonen
Artist: Elena Casagrande
Colorist: Nathan Fairbairn
Letterer: Jeff Eckleberry
Story #1 deals with Gwen Stacy, Mary Jane Watson, and Peter Parker. I'm going to be honest: I have no idea what the crap this story was about. There was science, an explosion that turned into a shambling wad of goo straight out of Better Off Dead, and more explosions of goo onto Gwen and two other throwaway characters, and then Peter and Mary Jane walked off hand-in-hand. Yeah. No idea where the "heartbreak" aspect came into that one, but I'm not too smart with the "science" talk.
Story 2: "Tabitha Smith and Elsa Bloodstone in: Super Boys!"
Writer: Rick Spears
Artist: James Callahan
Colorist: Nathan Fairbairn
Letterer: Dave Sharpe
Story #2 deals with Boom-Boom and Elsa Bloodstone on a monster hunt. While waiting for their prey to take the bait (a six-pack of cheap beer), they gab about their their past experiences with men. Out of all the stories, this one was the best. In all honesty, Marvel should have just made this its own issue because I could stand to read more about these two and their wacky adventures. I even liked the art! Both worked very well together, and it surprisingly felt real and honest (as much as superhero relationship chatter can). It was fast, fun, and actually had a poignant moment or two in it. Also, the line "I will strip you of weakness and fill you with courage" was an awesome Father-Daughter talk.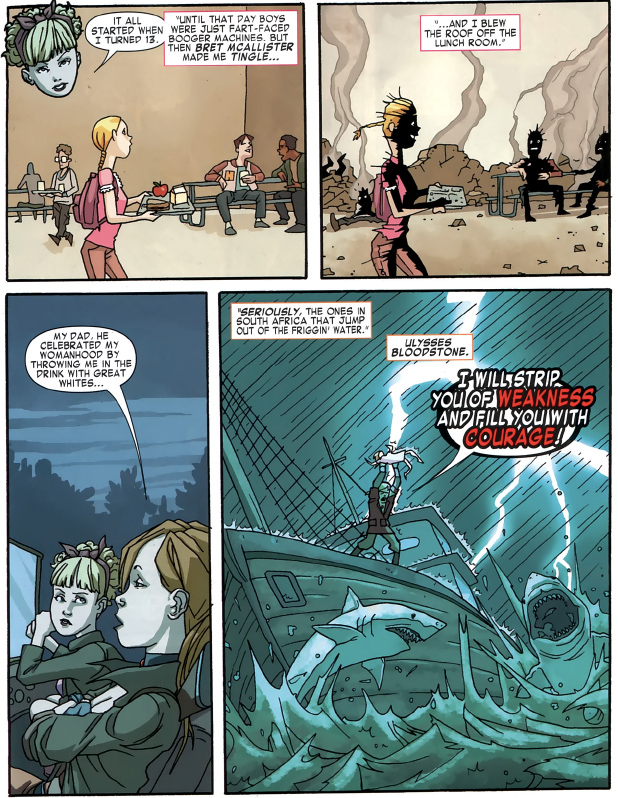 Story 3: "Beauty and the Beast: An Epilogue"
Writer: Jim McCann
Penciler: David Lopez
Inker: Alvaro Lopez
Colorist: Emily Warren
Letterer: Jeff Eckleberry
Story #3 deals with Dazzler and Beast. Dazzler's all tear in her beer about being outed as a mutant. I guess humans in the MU have a problem with her being able to put on her own light show? Anyway, she gets Beast to let her cry on his shoulder. BEAST. Dazzler's crying because she can't be the kind of singer she was before to a man who is covered in blue fur and looks like a huge talking cat-man thing? Nice. Stay classy, Dazzler.
Story 4: "Snowbird: Animalia"
Writer: Karl Bollers
Artist: Harvey Tolibao
Colorist: Emily Warren
Letterer: Troy Peteri
Story #4 deals with Snowbird having only her duty to focus on. She isn't allowed to get married and pop out a litter of kids like she wants to. I think? I wasn't sure whether she wanted to have a family in the traditional sense or if she just didn't appreciate that the option wasn't given to her. At any rate, this one looked really good. I just didn't know where the story was supposed to be going.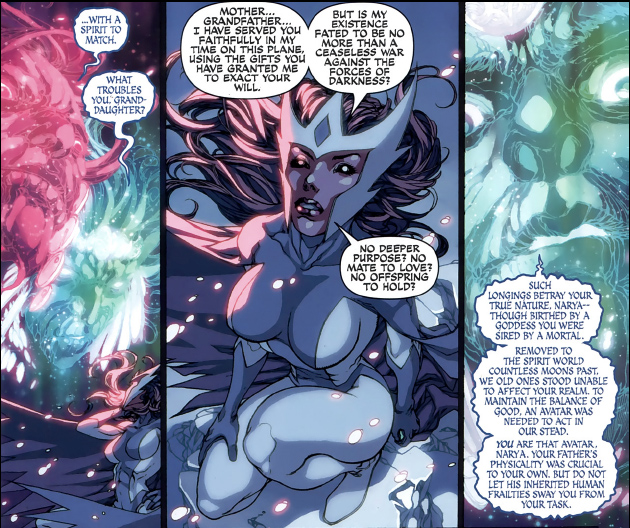 I know this is in the "teen" rating, and it's supposed to coincide with Valentine's Day, but with the exception of Story #2, this was horrible. Who was the target audience on this one? I got the feeling it was supposed to be a "chick" comic, given the trite theme and focus on a few female characters from the MU. If so, I found it odd that only one of the stories was actually written and drawn by women. I'd say that's where the problem is, except it was the story written and drawn by women that literally made me want to burn this comic book. I guess I should just enjoy the fact that this comic left me with a serious shine for Boom-Boom and Elsa Bloodstone. Those two? They need their own title.
Rating: 2.5 / 5 Stars