Daredevil #111
Writer: Ed Brubaker
Pencils: Clay Mann
Inks: Stefano Gaudiano
I was able to get my hands on a copy of the newest Daredevil a week early. Here's my review, with spoilers, of the first issue in the Lady Bullseye arc.
Summary:
Some time after the end of the last issue, things are still looking sunny for Matt Murdock. He's taking some time to help Dakota recuperate from her gunshot wound that she sustained in the Cruel & Unusual arc, and part of her therapy includes a visit to Danny Rand, aka Iron Fist, who lays hands on her and focuses her chi. As Matt and Dakota leave the Rand office building, they're being watched from a shadowy perch above by a woman dressed in black and white spandex.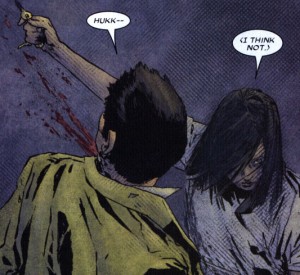 Through a flashback, we see that this is indeed the much hyped Lady Bullseye. When she was younger, she was captured by some sort of human slavery ring. Her escape was made possible when the original Bullseye raided the warehouse where her captors held her. Freed from her cage, she savagely killed one of the guards and decided to follow in the steps of her savior, Bullseye.
How It Ends:
Matt continues to help Dakota by doing some martial arts training with her to speed her therapy. Midway through their ninja yoga session, Matt does a little hands-laying of his own, and we find Matt soon waking up next to Dakota in his bed.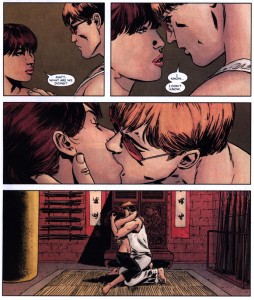 Meanwhile, Lady Bullseye meets with her employer, who seeks to kill Iron Fist and the Black Tarantula, among others. He is insistent that Daredevil is left out of the business, though. Lady Bullseye, returning from having killed some muggers and scaring the bejeezus out of another, assures him that Murdock will not be a problem for the next few days.
It is then that we see Matt retrieving his morning newspaper. The mugger Lady Bullseye left alive is claiming that Daredevil was the killer, and the story has made front page news on The DB.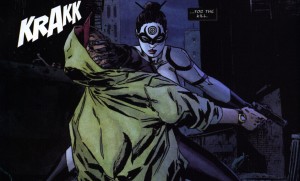 Thoughts:
In a story like Daredevil, whenever the protagonist is happy, you just know things are about to come crashing down. Between Matt's guilt over cheating on Milla with Dakota and this new development that has him framed for murder, it looks like happy days are gone again. Add to that the arrival of a villain who aspires to be just like Daredevil's greatest archnemesis, and you have a recipe for disaster. A couple of months back, when Dakota took her bullet from a sniper, I predicted that Lady Bullseye had killed her. Dakota survived that attack, and Lady Bullseye obviously wasn't the shooter. Now that Dakota is sleeping with Matt, though, I think her days are numbered. When has anyone's relationship with Murdock ever gone well, especially with Bullseye (or someone wanting to be Bullseye) around? I foresee Elektra redux.