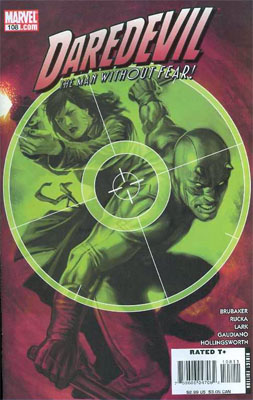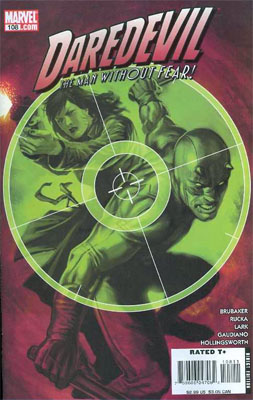 Matt Murdock is back in legal action, having taken on a new case. Here's a review of the latest issue (with spoilers), in stores this Wednesday.
Daredevil #108
Writers: Ed Brubaker & Greg Rucka
Artists: Michael Lark & Stefano Gaudiano
What's Going On:
After a long period of brooding over losing his wife to insanity caused by Mr. Fear, Matt Murdock finally has emerged from his shell and has taken on the case of Big Ben Donovan, a fellow attorney who has confessed to brutally murdering three children. Matt has listened to his confession and is convinced that Donovan is lying. This issue sees Matt interviewing Donovan, who maintains his insistence that he's guilty, while Dakota goes after the thug who attacked her for looking into the case.
Lessons Learned Here:
Lately, Daredevil makes a better punching bag than puncher.
More often than not, the only time you'll see Matt Murdock in costume these days is when he's tossing around bar patrons.
Dakota wields a mean Louisville Slugger.
How It Ends:
Dakota accosts and assaults the man who previously had attacked her. He's a federal agent who says Donovan deserves to be on Death Row. He refuses to give her any more information. Upon returning home, Dakota finds her father in her apartment. He tells her she should have stuck to modeling and asks if she has any idea how much trouble she's in.
After Daredevil cracks some heads in a bar, trying to get information about Henry Callinan, a thug makes a call to warn the man who apparently has a hand in the whole Donovan affair. We see that it's Eric Slaughter, a former Daredevil villain who ran a criminal organization and once employed Bullseye.
Finally, the issue ends with Donovan attempting and failing suicide in his prison cell.
Thoughts:
Over the past several years, Daredevil has made a move from being a superhero comic to being a legal thriller to being a legal procedural. It's currently wading in the procedural territory, which takes most of the action out of the book and turns Matt Murdock into a lawyer with great ears, as opposed to a vigilante superhero protecting Hell's Kitchen. I have immense respect for Ed Brubaker's writing, but I really do wish he'd get back to more of the active crime fighting and less of the brooding-Matt / law-case stuff.
The reintroduction of Eric Slaughter as a villain is a surprising turn. In the past he's been a thorn in Daredevil's side, and he even hired Bullseye at one point to kill Daredevil. After Bullseye failed, Slaughter gained respect for Daredevil and fired the assassin. We haven't seen or heard from Slaughter in a long time, so it will be interesting to see where his opinion of Daredevil is now, after all these years.