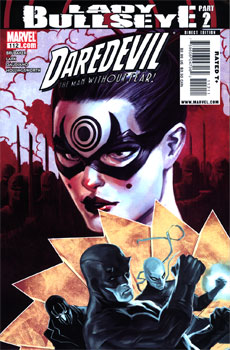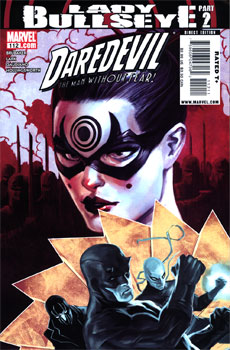 The second installment in the "Lady Bullseye" storyline releases next week when Daredevil #112 hits newsstands. Here's my advance review, with spoilers.
Daredevil #112
Writer: Ed Brubaker
Artists: Michael Lark & Stefano Gaudiano
Previously:
When last we saw Matt Murdock, he was nursing a healthy dose of guilt after cheating on poor, crazy Milla by sleeping with Dakota. That guilt was about to take a back burner to the front page of the Daily Bugle (now just the DB), which proclaimed that Daredevil was a double murderer. That was put into motion by the mysterious new Lady Bullseye, working in New York on some mission involving Iron Fist and the Black Tarantula.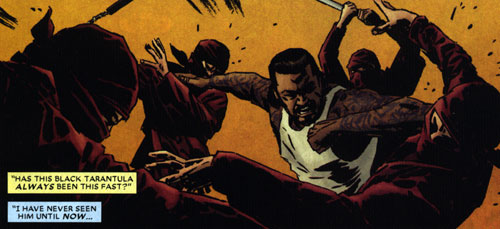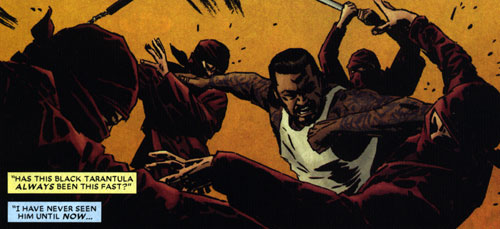 Synopsis:
When this issue picks up, it's the next morning, and Dakota awakens to find Matt being hauled away by New York's Finest. We then jump to several months ago in Japan, as Echo slays the fake Elektra, who turns out to be a Skrull. We see the aftermath of the Avengers' departing the scene, as the Hand falls in upon itself. The organization of ninjas factionalizes as the various leaders seek to fill the power vacuum left by the revelation that they'd been duped and led by an alien impostor.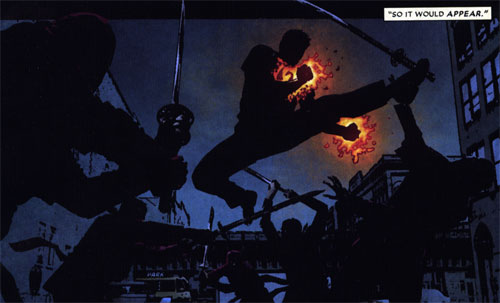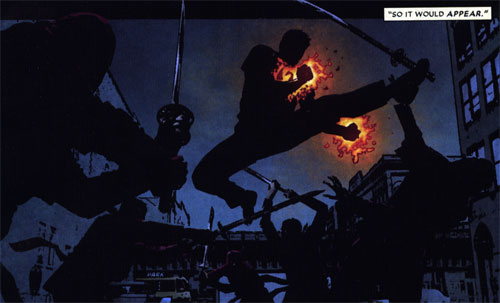 Master Hirochi is one such leader, and he is the one who summons Lady Bullseye to do his bidding. He seeks to put an end to the Hand's infighting, and he sends Lady Bullseye to New York. Back in the present, we see that she is carrying out her mission, which involves some sort of mystical test thrust upon Danny Rand and Carlos LaMuerto. Both men are jumped by Hand ninjas. Both men handedly defeat their attackers while being observed by Lady Bullseye and an associate.


While all of this is happening, Matt's been sitting in jail, arrested for the two murders Lady Bullseye committed the previous night. Dakota knows Matt has to be innocent, because she was with him all night. She goes to the police station and tells her story to her police contact, Kurtz. Very shortly, Matt is released. He knows that Dakota told about their indiscretion, and he's none too happy about it. The two go back to Matt's house, still discussing it, where they find that Matt's door has been forced open. Inside they find the Black Tarantula tied up on the floor and a mysterious old man in Matt's kitchen. He introduces himself as Master Izo and asserts that Matt is going to help him bring down the Hand.
Thoughts:
There's a lot of stuff going on with the Hand in this issue, but none of it is entirely clear. There is some sort of test going on with Iron Fist and the Black Tarantula, and there's some sort of rivalry between Masters Hirochi and Izo. This builds a lot of groundwork for what undoubtedly will pay off in future issues, and is asks a lot of questions, but there aren't many answers. This, coupled with a lack of real Daredevil action and the complete absence of Foggy, made me a little frustrated with the issue.


Still, it's quality writing like we've come to expect from Brubaker, and the art is dark, detailed, and satisfying from Lark and Gaudiano. Hopefully the next issue will provide some answers to the questions that have been set up about Lady Bullseye, the Hand, and their strange New York mission.