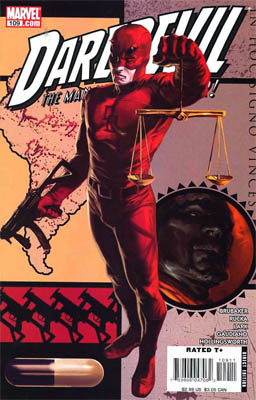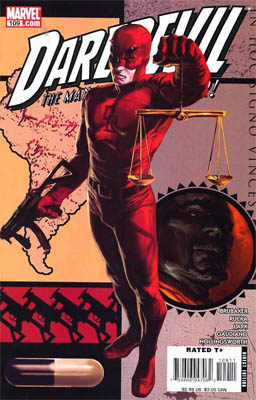 Daredevil's back next week with the next issue in the "Cruel & Unusual" storyline, co-written by Ed Brubaker and Greg Rucka. Issue #109 is a standout issue with a big gut-wrenching moment, so beware of spoilers as you read my preview, after the jump.
Daredevil #109
Writers: Ed Brubaker & Greg Rucka
Artists: Michael Lark & Stefano Gaudino
What's Going On:
Matt and company have been working on proving Big Ben Donovan's innocence, much against the convicted man's wishes. Dakota's dad even stepped into the picture last issue to warn her off the case. This issue we learn that it's because the Donovan frame job has something to do with the government and possibly specifically with the CIA. Of course, the law team ignores the warnings and pushes on full speed.
Daredevil finds his old buddy Turk, who points him in the direction of the man behind the scenes at the docks, apparently connected to hiding the missing father of the little girls Donovan has confessed to murdering. As revealed last issue, we see that it's Eric Slaughter, former Daredevil crime lord from way back. While Daredevil forces a confrontation with Slaughter, Dakota tracks down Donovan's estranged son to try and put some more pieces into this increasingly complex puzzle.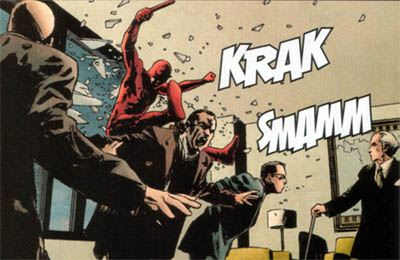 Lessons Learned Here:
Don't have any slight inclinations toward romance with Matt Murdock. Not even a crush.
How It Ends:
While interrogating Slaughter, Daredevil realizes he's in the crosshairs of a gunman, aiming through the window from an approaching chopper outside the building. Meanwhile, as Dakota is leaving Donovan's son's apartment, she calls Becky to report on her findings. Her call is cut short by the "KRAK" of a sniper's rifle, leaving her apparently dead in the street in a pool of her own blood.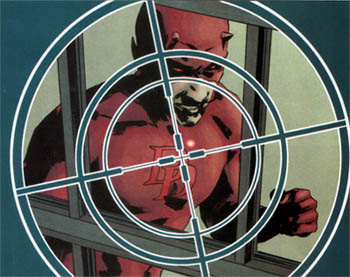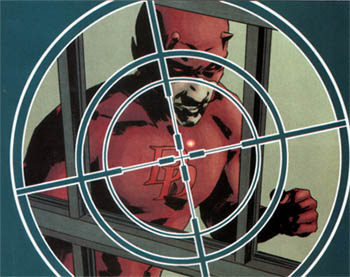 Thoughts:
Last issue, I was getting a little tired of the slow development of the Big Ben Donovan plot. Now I see that everything was building slowly and deliberately toward a conflict that begins at the end of this issue. I'm fully back on board with Daredevil, and it's at the top of my reading list.
What is it with Ed Brubaker and snipers? First he had Captain America shot down on the courthouse steps after his Civil War surrender, and now we have poor Dakota bleeding out in the street. I'm sure Daredevil's going to escape his own bullet, but jeez… Dakota?! I really had grown fond of her and was hoping for something to develop between her and Matt. Yes, I felt a bit guilty about that, considering that Matt is still married to blind and crazy Milla, who now is rotting away somewhere in an asylum, but still. I like Dakota a lot, and I sincerely hope she's not dead. Given Matt's track record with women, though, I sort of would be surprised if she does walk away from this one.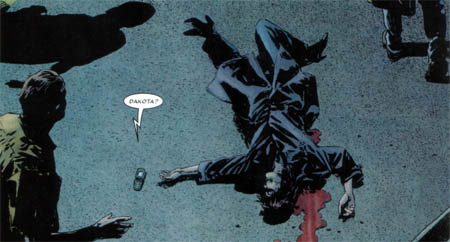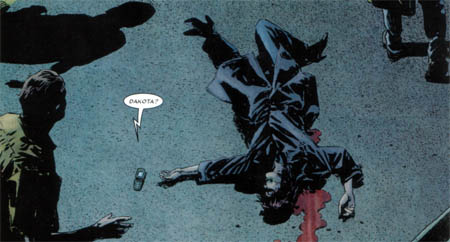 There have been advance images shown in promotional material of a new, female Bullseye. I think it's a safe bet that she's behind at least one of the sniper shots we get at the end of #109. Considering that the original Bullseye killed Elektra, it would be poetic in a Brubaker-tragedy way to have his female counterpart take down Dakota.
The CIA / government revelations put a new spin on this story that intrigues me a lot. I'm looking forward to the next issue, which is advertised as the fourth and final installment of this "Cruel & Unusual" storyline. I don't know how they're going to wrap all of this up in one issue, but I can't wait to see it.