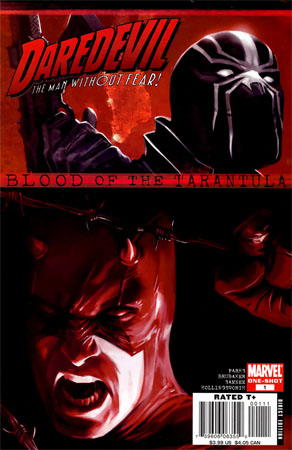 Carlos LaMuerto is the Black Tarantula, a character created by Tom DeFalco and Steve Skroce as a Spider-Man villain in the late '90's. Lately he's been showing up in Daredevil after being released from prison, and he's been trying to clean up his act and actually use his superhuman strength and abilities for good.
Blood of the Tarantula is a standalone story that picks up Carlos' tale after his latest encounter with Daredevil and after he's struck out on his own. The Black Tarantula is using brutal methods to take drugs and criminals off the street, and he uses more force and more underhanded means than Daredevil is comfortable with using. Carlos' past catches up to him, though, when someone doesn't like that he's using the Tarantula abilities to fight crime.
Overall this is a good one shot and gives us a little more insight into LaMuerta and his past and motivations. I get the feeling that there's a Tarantula series (or at least a miniseries) being set up by his appearances in Daredevil and this one shot. At the same time, Blood of the Tarantula feels a bit redundant, especially after reading the Tarantula's previous encounters with Daredevil in the main book. It's more of the same, but that's not to say it's bad. It's a good and grim superhero versus crime story, and Brubaker is able to make even the blandest stories interesting. If you have no interest in the Black Tarantula, though, you can skip this one. There's not anything essential to Daredevil that you'd miss out on.
Score: 6/10