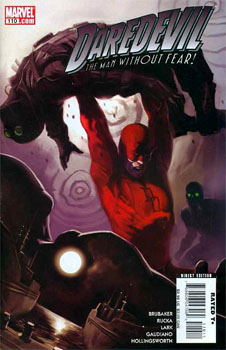 Daredevil has been on a roll for the past few years of delivering consistently strong and compelling stories that dig deeper than simple superheroics. The latest story arc concludes next week, and here's an advance review of the issue, with spoilers.
Daredevil #110
Writers: Ed Brubaker and Greg Rucka
Artists: Michael Lark and Stefano Gaudiano
What's Going On:
In this final issue of the "Cruel & Unusual" arc, we pick up right where the last issue ended. Dakota lies shot in the street, and Daredevil has fallen into a trap in the upper floors of a building. They both survive their ordeals, and Matt soon learns of the shooting and goes to the hospital, where Foggy and Becky already are waiting as Dakota undergoes surgery. Becky relays Dakota's message to Matt, that Big Ben Donovan has a son, and that's likely who he was protecting by lying about his guilt in the murder case.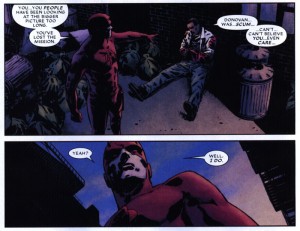 How It Ends:
Matt brings Donovan's son to Sing Sing and personally promises Big Ben that he'll be protected. This breaks Ben's silence, and he fingers Floyd, an employee of Slaughter and the true killer of the children and their father. Under pressure from Matt, Dakota's father intimidates Slaughter into dropping all illegal parts of his business. In the end, Matt visits Dakota in the hospital and tells her that they have won. He thanks her for making him pick himself up. As he's leaving, she says, "You're welcome," and we see Matt smile.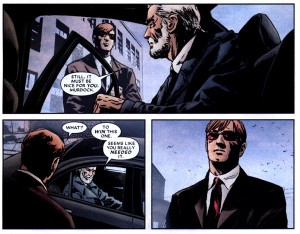 Best Moment:
Daredevil's insane leap out a window and through a hovering helicopter is the stuff of legends.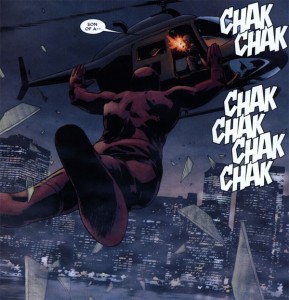 Thoughts:
After literally years of doom and gloom for Matt Murdock, it's touching and astonishing to see an arc end happily. Finally the good guys came out on top, and Matt gives his first genuine smile in a long time. Dakota's father tells him, "It must be nice for you, Murdock. To win this one. Seems like you really needed it." This could not be truer, and I think the fans needed it as well. We've seen Daredevil beaten down and put through so much abuse that it's actually a very welcome surprise to see him succeed. Most superhero comics have gone darker in recent years, but few have delved as deeply into putting their hero through the wringer like Bendis and then Brubaker have done with Daredevil.
I had some doubts about the pacing and the level of heroics at the beginning of this arc, but I really feel like the story vindicated itself and has the strongest conclusion of any Daredevil tale in a long time. We finally have some light in this dark world, even if it's fleeting (which very likely is the case, given the teaser at the end of the issue for the next arc, featuring Lady Bullseye).