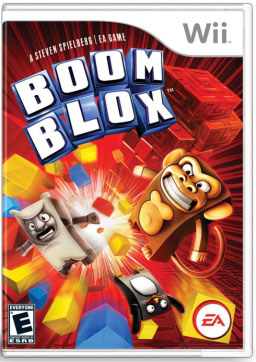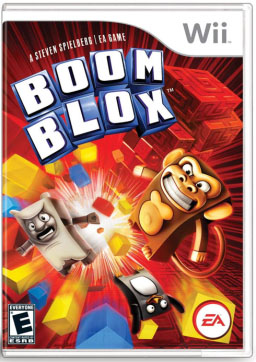 Have you helped the Baa sheep launch an attack on the Ook monkey kingdom to recover their lost gems lately? If not, you need to check out Boom Blox, the new puzzle game for the Wii from EA.
At first glance, Boom Blox appears to be a very simplistic kids' game full of blockified animals jumping around and cheering. And indeed, the gameplay is very intuitive and easy to jump into. Once you start playing, though, you'll realize that there's a hidden depth to the game that gives it a very satisfying complexity. The game is a puzzler based around levels that are comprised of stacks, piles, and configurations of different piles of blocks. Typically there will be blue gems atop or within these block stacks, and your job is to knock the blue block free by throwing balls at the stack. Much of the game involves figuring out the weak points in the structures so that you can topple the whole pile with the least number of throws.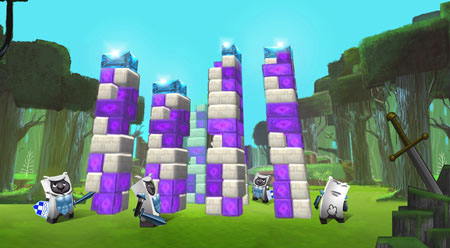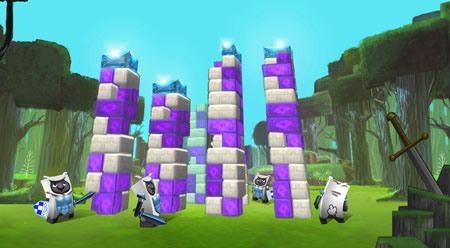 Not all of the game has you chucking balls at block towers, though. There are elements of Jenga, Duck Hunt, and Tetris here. The Jenga-esque levels have you trying to push, pull, or knock blocks free from a tower without toppling certain other blocks to the ground. The Tetris elements come in when you have to manipulate the block piles in such a way that particular blocks match up with each other, causing explosions that clear out big sections of blocks. And the Duck Hunt segments involve chucking balls at moving targets in an attempt either to score block points in mid-air or to ignite flying bombs that will help decimate the level's tower.
Boom Blox has a good tutorial that baby steps you into the game and teaches you the specifics of all the different types of blocks and how they interact. There are bomb blocks that explode when you hit them, chemical blocks that explode when two identical ones come in contact with each other, vanishing blocks that disappear away when you touch them, and more. It would all be a little daunting without the lesson stages, so the tutorial is quite useful here.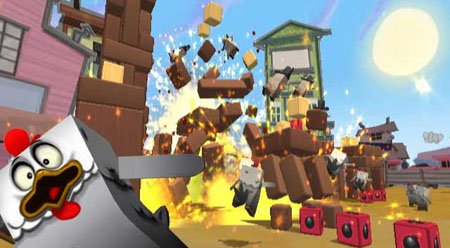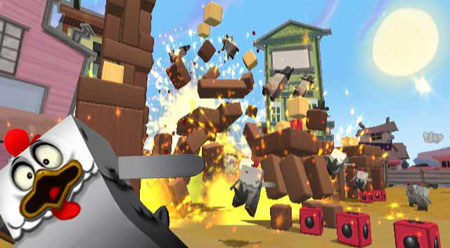 After the tutorial is finished, you'll be able to play through Adventure mode or Explore mode. Explore lets you play levels that each focus on a particular type of block and hone your strategies for all the components. Adventure mode throws it all together into a big silly story about the sheep kingdom trying to get blue gems away from the other animal kingdoms. As you progress through the different modes and levels, you'll unlock new parts and components that you can use to modify the existing levels and build your very own Boom Blox towers.
I wasn't too fond of the Duck Hunt-ish levels. The Wii is good for targeting games, but Boom Blox complicates it because instead of just pointing and pulling a trigger, you usually have to point, lock on to you target (which might be flying briskly across the screen), and then rapidly draw back and throw. Doing this over and over on a level is akin to speed-pitching forty fastballs, and it can get pretty taxing on your arm rather quickly.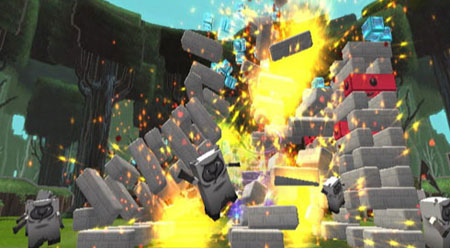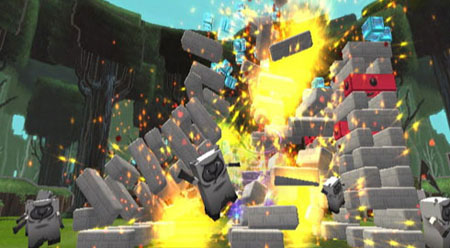 Where Boom Blox really shines is in the simplest levels that just have you knocking down towers without any bells and whistles. There's a level of subtle strategy in finding the right point where you can throw a ball to topple a huge structure, and it's very satisfying to see a big construct collapse. Destruction is fun. Additionally, the physics model in the game feels very true and intuitive. You can expect for gravity and physics to act the way they're supposed to when you move or take away parts of towers.
Steven Spielberg's name is attached to Boom Blox, but I have yet to figure out why. There's nothing especially Spielbergy about the game, and I have yet to see blocky representations of E.T. or Oskar Schindler, so I'm assuming it's a produced-by deal.
Boom Blox is one of the most fun pick-up-and-play games I've seen for the Wii, and I definitely recommend it to anybody who wants a new spin on the puzzle game genre.
Score: 6 out of 7