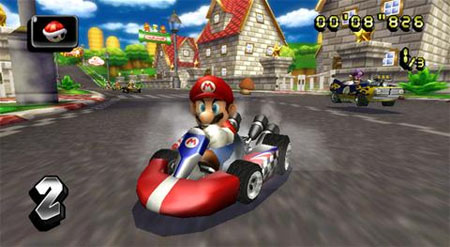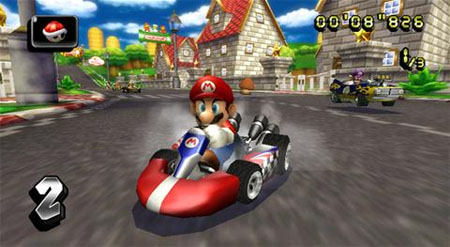 Mario Kart Wii is in stores now, and I had the chance to spend some time with it today. This game follows the standard Mario Kart pattern with gameplay very similar to everything that's come before in the series. For those new to the franchise, here's how it works: You play as a classic Mario character (Mario, Luigi, Princess Peach, Bowser, etc) in a little go-cart / car. You race around a cartoonish track littered with enemies and obstacles, trying to be the one to win the race. Along the way, you and your opponents will pick up boosts or weapons you can use to help yourself or to hinder your enemies. These include things like standard Mario invincibility stars and turtle shells of various sorts that you can hurl at the other drivers.
Mario Kart Wii boasts 32 different racetracks, half of which are brand new and half of which appeared in previous entries in the Mario Kart series. Similarly, all the old items you pick up are back, along with a few new surprises. You'll be racing both carts and bikes this time, sometimes alternating between the two from course to course on the Grand Prix. Overall, the game is a fun little racer, but it's a pretty redundant purchase if you already have a previous installment of the game. The single player races are rather easy once you get the hang of the controls, and unlocking more Grand Prix events doesn't really feel all that rewarding.
The online multiplayer works well, and there's a neat sequence before entering a match that shows you on a globe where all your opponents are in the real world. Unfortunately, like all the other Wii games, you won't be able to chat online with your opponents. Sure, you could set up a Halo 3 lobby to chat with your 360 or use Skype, but that's a level of technocrazy I'm not willing to go to for this game.
Where Mario Kart Wii does shine is in the local multiplayer. But again, that's the same as with the previous installments, so I don't see a reason you'd need to buy this game if you already have Double Dash, unless you're just itching to steer with your Wiimote. You can use any of the Wii's controller configurations (Wiimote, steering wheel, Gamecube controller, etc), but I opted for the handy dandy Wiimote. And for once, it handled well. This is the first time I've felt like a Wii driving game has had the right level of responsiveness to the 'mote, and I didn't feel like it was hindering me in my race.
If you're a huge Mario fan and have to have everything with his name on it, or if you get together with friends to play Wii a lot and don't already have an earlier Mario Kart, Mario Kart Wii could be worth giving a shot. It's a skipper for the rest.
I give Mario Kart Wii a 4 out of 7. It's not particularly good, but it's not bad either. It's just content to idle in the middle of the road.
Buy it here: Mario Kart Wii with Wii Wheel