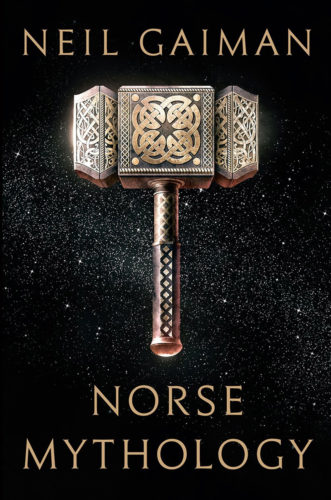 The level of enjoyment from reading Neil Gaiman's Norse Mythology was high. There are two things I love: stories and mythology. The book proves they can be one and the same. There really isn't a dull moment in this book. It is funny, and Gaiman shows his knowledge of Norse culture. The book takes you into the world of the gods and makes them human.
What Is It?
Norse Mythology is Neil Gaiman's latest book. It is a collection of short stories featuring the creation of the Aesir to Ragnarok. It is tinged with humor along with legends. You can read about Sif's "golden" hair or Loki's children. You can enjoy favorites like Odin and Thor, too. It's a great book to read on cold evenings, or anywhere for that matter.
Reasons to Read:
If you like Norse mythology, this book is for you. It's told in stories that make them more personable. It's not like reading an encyclopedia of myths. You can get into the stories and get lost in Asgard.
Fans of Thor and Loki from the Marvel films will enjoy the same comedic dynamic in the book. Most of the gods blame Loki for their problems. They are usually right.
It's a good sit-down read. If you have the time, you can finish it in one afternoon. You don't feel weighed down by too many details. I found the read to be quite relaxing.
The book is written in typical Neil Gaiman style. There is whimsy and humor in his words. You can also sense the echo of fantasy in this work. There is still room for the imagination when you turn the page.
There were many stories in Norse mythology I didn't know about. I didn't know about the dwarf gifts to the gods or that Hel is Loki's child. I also had a fangirl moment. It talks about how the serpent of Midgard was born. Does anyone remember this from Final Fantasy VII? I enjoyed all the new angles and myths the book sent my way.
Not Your Cup Of Tea If…
If you don't like Gaiman's works or mythology, then this book is not for you. You may want a book that is more detailed about the Aesir and less story to read. But, take it from me, you are missing out on this one.