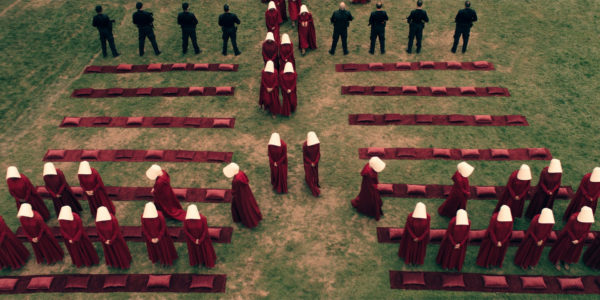 The Handmaid's Tale by Margaret Atwood is a famous dystopian novel and now an original series by Hulu. The story offers frightening social commentary and unforgettable characters. The actors on the show bring the story to life. When I read the book, it was unforgettable. The television show has me riveted and is affecting my dreams at night.
What's It About?
Synopsis from Wikipedia:
The story is told in the first person by a woman called Offred (literally Of-Fred). The character is one of a class of women kept for reproductive purposes and known as "handmaids" by the ruling class in an era of declining births due to sterility from pollution and sexually transmitted diseases.
Reasons to Read and Watch:
Offred is a unique and intriguing character. On the surface, she appears submissive and the perfect handmaid. However, she is actually rebellious and strong-willed. She remembers life before Gilead and wants to fight to free women from their oppression. Elizabeth Moss is doing a great job with Offred.
Dystopian novels do go over the top on occasion. An alien virus wipes out the world population or something like The Day After Tomorrow happens. In this story, it takes issues we are still having debates about in America and gives the worst possible outcome. It adds a bit of scary realism I can't walk away from.
It's a show and novel that makes you think. I'm all up for fun and lighthearted programming. However, I just believe that it's good to get into a story that has a deep impression on you and makes your brain churn.
Alexis Bledel's performance in Episode 3. That's all I'm going to say about it.
Offred's narrative is a window into a fascinating mind. The first-person narrative is sometimes not that great in books. Or the stream of conscious thoughts is too hard to follow. I felt like Atwood's narration style was great and I got to know Offred.
The visuals on the show are amazing, as well as the symbolism.
Not Your Cup Of Tea If…
You don't like sad shows or graphic images. The content is dark and is disturbing. I wouldn't let kids watch it. There is a strong anti-abortion view held by the ruling political party and a visceral fight for women's rights. It also has themes about religious freedom and LGBTQ issues. The book and show are both graphic in their depictions of violence and sex. Always use your best judgment when you pick up a work of fiction.