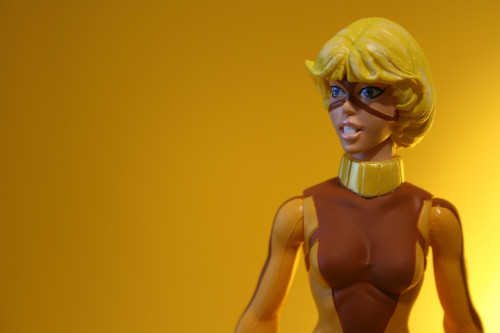 DC Direct's second wave of New Teen Titans action figures recently shipped to stores, and among the new releases is young Tara Markov, the seemingly innocent teenager with Earth manipulating powers who actually aspires to world domination. Here's a look at the new Terra figure.
DC Direct has been putting out their line of action figures for long enough now that they are able to delve pretty deeply into the DC pantheon of heroes and villains. Terra is a popular character created by Marv Wolfman and George Perez back in 1982, who infiltrated the Teen Titans while working with Deathstroke. This figure is an excellent representation of her, from the faux-innocent and wide-eyed expression on her face to the accuracy of her costume from that era.
Terra is in scale with the rest of the DC Direct action figure line, standing just over 5.5″ tall. She comes with seven points of articulation: swivel joints at the neck and each hip, hinge joints at each knee, and ball joints at her shoulders. The shoulder joints allow for more movement than the hinge and swivel joints, but the balls are somewhat restricted, so there's not really a full range of movement there. Still, you should be able to get some decent posability out of Terra.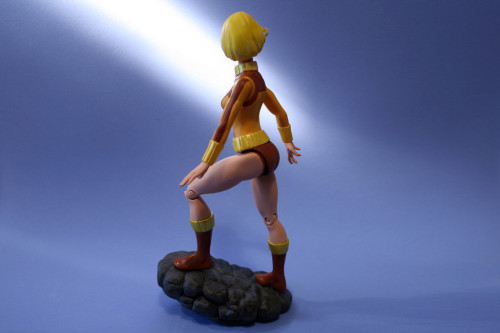 She comes with two different display bases, both with pegs that can plug into the bottom of her feet. The first base is a standard circular white one that has the New Teen Titans logo on it. This should be good for displaying her in a team arrangement with the rest of the Titans. The second base is a rocky slope that allows for a more dynamic pose. It's a neat display piece and very appropriate for Terra's rock shaping abilities. Neither base really fits her feet snugly, but the rock base does a better job. Either one will manage to keep Terra upright as long as you don't knock her too hard.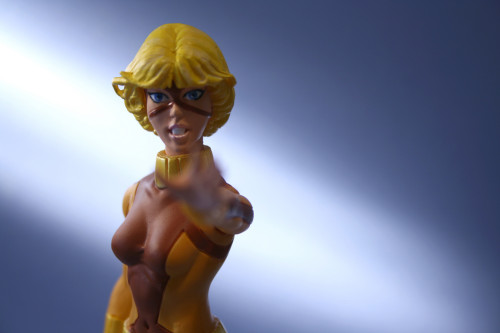 Overall this is a very nice figure and captures Terra's likeness very well. DC Direct doesn't set suggested retail prices in general, but most stores have her listed around a $15 price point.
Check out the rest of the Terra photos here:
( New Teen Titans Terra Action Figure Flickr Set )