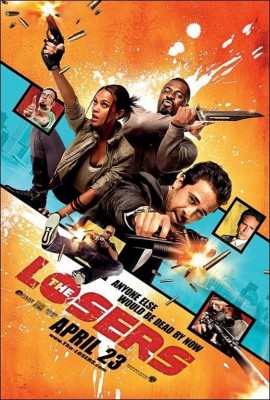 Director: Sylvain White
Screenplay: Peter Berg & James Vanderbilt
Based On: The Losers by Andy Diggle and Jock
Cast: Jeffrey Dean Morgan, Zoë Saldana, Chris Evans, Idris Elba, Columbus Short, Óscar Jaenada, Jason Patric
Rated: PG-13
The Losers was the movie I walked into expecting to hate. It just had a lot of things going against it. It looked like a rip-off of The A-Team, it was a PG-13 action flick, and it had been trashed in just about every review I'd read. The only reason I decided to pay my ten dollar ticket was because I liked the actors (particularly, Jeffrey Dean Morgan and Idris Elba) and I'll watch almost any comic book movie.
I can't remember the last time I enjoyed a movie as much as I enjoyed this one. I'm not gonna lie, it's far from high cinema. You're not going to find a lot of depth or meaning. What you will find is awesome, detailed characters, fun fight scenes, big explosions, some laughs, and one heck of a bad guy.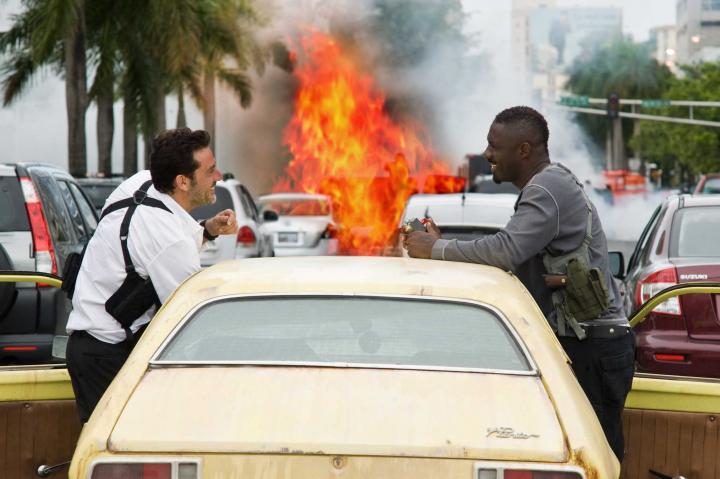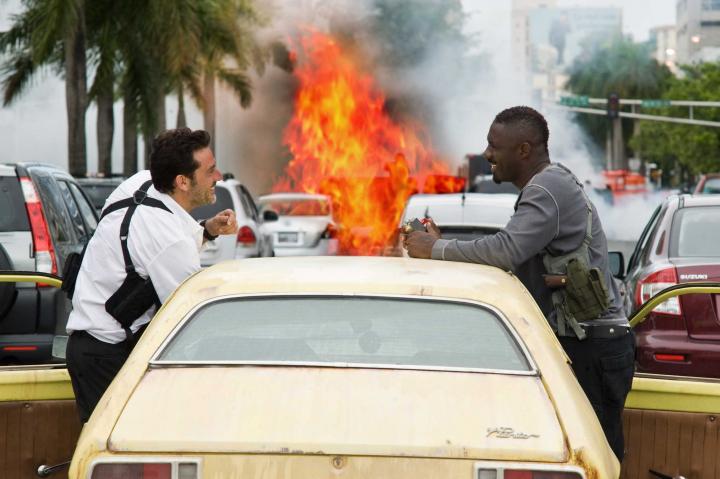 Let's get this out of the way: The story is a lot like The A-Team; it's impossible not to see the similarities. The Losers is about a military squad betrayed by a mysterious superior and how they work outside the law to get revenge. But unlike the A-Team, the Losers aren't made up of cartoon stereotypes (although the character of Pooch comes close at times). The team is made up of flawed, battle-hardened guys. Clay is the team leader and Jeffrey Dean Morgan quickly shows him to be a man who tries even when he's not sure why he's trying. He's a born fighter and the other born fighter on the team is Roque, played with weight by Idris Elba. Elba is one of those actors who just commands the screen, and if you haven't seen his work on the The Wire, you're missing out.
Pooch (Short) is the transportation specialist, Cougar (Jaenada) is the silent sniper, and Jensen (Evans), the tech, make up the rest of the team. Pooch and Cougar are both fun characters who have their own moments, but Jensen runs away with almost every scene he's in. Chris Evans carries the humor and action with fantastic balance and watching him move in the later action scenes make me feel he's certainly physically capable of pulling off the role of Captain America. His performance is probably the biggest contributor to just how much fun the movie is.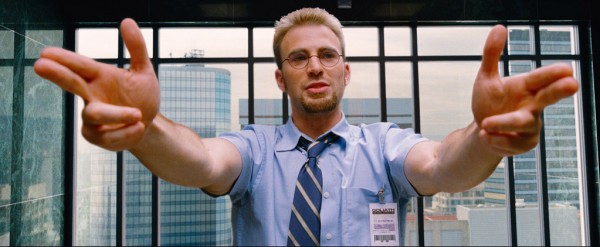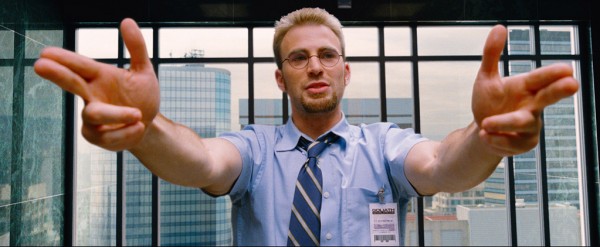 The forward momentum of the movie comes in the form of Aisha (Saldana). She's mysterious, sexy, and, of course, dangerous. She's got the means to help the merry band finally get their revenge against the man who betrayed them, called Max. Aisha also comes with ulterior motives and a wardrobe of slinky get ups. Saldana does her best with the character, but never really manages to make her character as threatening as I felt she was supposed to be, but that is quickly forgotten the first time she disrobes (remember, PG-13). It's always sad when an actress's performance is upstaged by how cute her butt is, right Kate Beckinsale? *cough* Van Helsing *cough*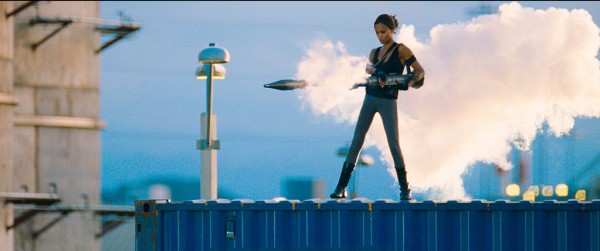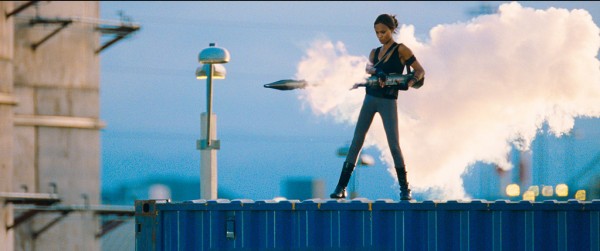 And then there's the big bad, Max. Max is played Jason Patric. I specifically used the term "played," because Mr. Patric doesn't so much act as play around. He chews the scenery every time he's on screen, dropping ridiculous lines like he's auditioning for Last Comic Standing. This is as awful as it sounds, and yet it manages to work. Here's why: Jason Patric isn't funny. If Max's lines were delivered by an actor with comedic timing, he'd be another slightly amusing, super-evil, randomly-murdering bad guy. However, Max's insanity is made creepier by the bizarre and stilted way that Jason Patrick plays the character. Is this bad acting or planned? More than likely it's bad acting. It is Jason Patric, after all, but Max's character is such an oddly constructed super-villain/evil mastermind that I felt it okay that he bothered me so much… regardless of whether is was because of terrible acting or not.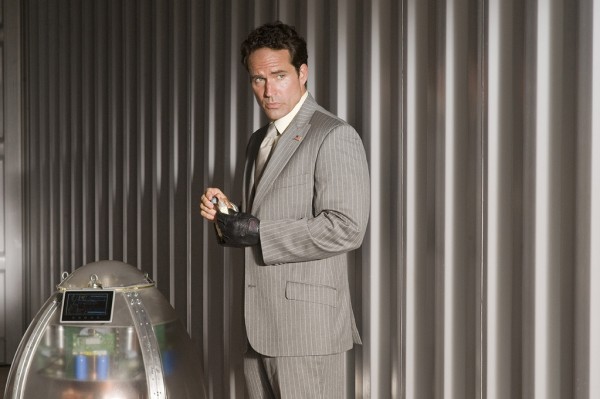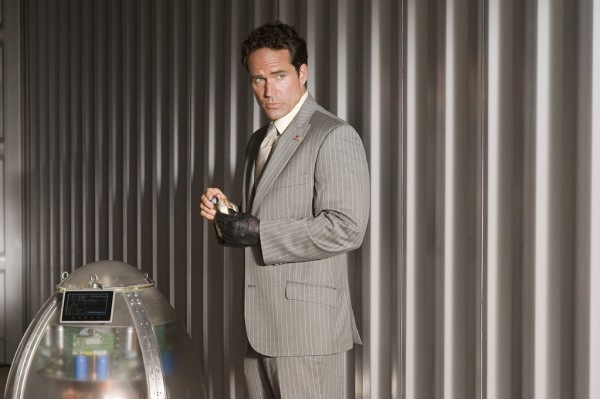 So, how does the movie compare to the source material? I don't know, I haven't read the comic it is based on. I'm sorry if that upsets anyone reading this, but I never felt the need to read it. It didn't look that interesting when it came out, but I'll certainly be checking it out now. As far as the PG-13 aspect of the film? I forgot all about it after the first explosion. In retrospect, I heard at least one F-bomb and a slew of other words George Carlin warned us about. My guess is the PG-13 rating was given because the violence doesn't have a whole lot of gore. People get shot, but there isn't an abundance of red cornstarch. The action flows so well, I can't help but wonder if it wasn't submitted as an R film and the MPAA came back and said something along the lines of, "You cut out a bit of the blood in this one scene, you can have a PG-13."
Overall, the movie balanced action, suspense, mystery, humor, and sex and did it all with a fast-paced energy. Wait? What's that? Isn't that exactly what an action movie should do? You're right, me, it is! It also had a pretty sweet soundtrack that includes Street Sweeper Social Club, The Kills, and a great Journey psych-out (Steeeeeeeve Perry!). The Losers did leave itself open to a sequel that will probably never get made considering its third place opening, which is a shame, but I happen to think it would make a great TV show. Why not? The A-Team sure was.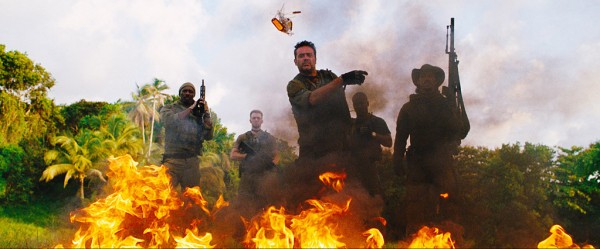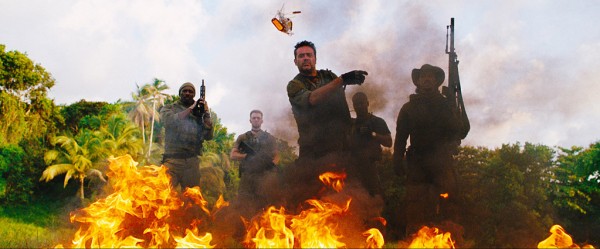 Rating: 4 / 5 Stars