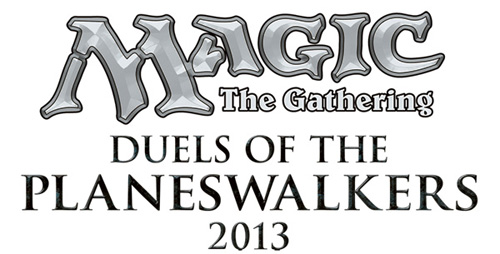 It's gotten to the point that it wouldn't feel like summer to me if I didn't have a new Magic: The Gathering game to play. For the third year in a row, Wizards of the Coast has locked my mid-summer attention with a new installment in their annual Duels of the Planeswalkers series. Magic: The Gathering – Duels of the Planeswalkers 2013 released on June 20 on the Xbox Live Arcade, the PlayStation Network, Steam, and for the first time on the iPad. It's a fun and familiar game that adds some much welcomed features, as well as a brand new and intriguing game mode.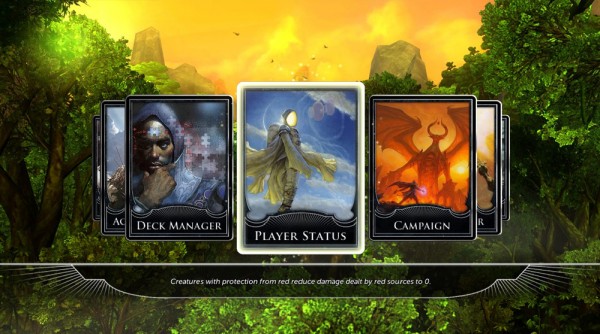 For longtime fans of the Duels of the Planeswalkers series, firing up the 2013 installment will be like a visit from an old friend. The overall style of the game, from the menus to the interface, matches the previous years' versions, and that's a good thing. The Duels games really have nailed the Magic card gaming experience in the first two iterations, and there's no reason to change up a formula that has been working well for three years running. Rather than reinventing the wheel, Magic 2013 examines what the game has done well in the past and refines it, based on the demands and requests of the players.
Central to the game is the Campaign mode, as it is in the 2011 and 2012 versions. You'll begin your spell slinging career by selecting a very basic, single color card deck from a limited assortment of starter decks. From there, you'll challenge AI-controlled opponents in a loosely story driven series of Magic matches. There's an excellent tutorial mode at the beginning that will be a great introduction for brand new players or for anybody who is a bit rusty on the mechanics of how to play Magic. It's a pretty simple and elegant game at its core, but the wide array of card and combo possibilities introduces some complexity that might warrant a refresher course. I usually play through the tutorial myself upon starting up a new year's version of this game, because Duels of the Planeswalkers is where I exclusively get my Magic fix. I don't have a real-world card collection, so I usually have to ramp up my skills again each year for the new Duels release.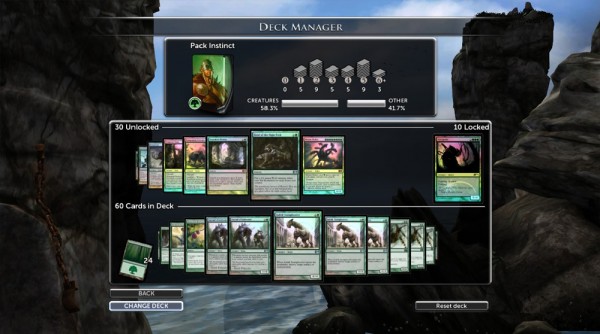 As you play through the Campaign, you'll go up against characters from the ever expanding mythos of the Magic: The Gathering storyline. Characters from previous Duels games show up again, and there are some new faces as well. Each AI-controlled character has a unique presence reflected in that character's chosen deck type and play style. When you defeat the AI opponents, you'll unlock new cards for your selected deck, and you also occasionally will unlock access to play with your defeated challengers' decks. Between the regular duels, the Campaign also presents Encounters. These replace the mid-Campaign challenges from last year's game by introducing a very unusual sort of Magic exercise. Each Encounter presents you with an opponent who does not play by the regular rules of the game. Rather, these challengers will make basically (and sometimes exactly) the same play, turn after turn. Some Encounters will play a new copy of the same creature onto the battlefield every turn. Others will play an enchantment in the first turn and then continually buff it every turn after that. You still will be bounded by the usual rules of Magic, so you'll need to play a bit differently than usual in order to overcome the new circumstances.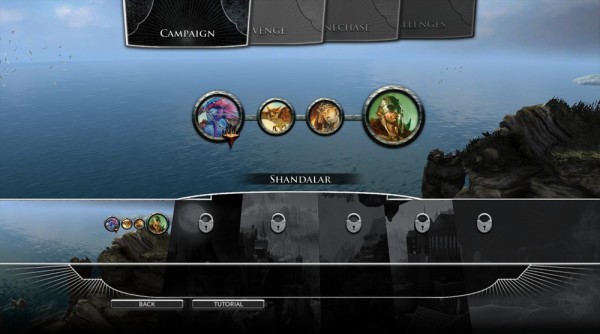 In addition to the normal Campaign, there also are single player progression modes called Revenge and Planechase. Revenge is similar to previous modes that bring back earlier defeated enemies, this time tougher and meaner. The rules are the same as in standard Magic dueling. Planechase is new for the 2013 game and is a four player variant that replaces last year's Archenemy game. Planechase has all four players vying against each other on a frequently changing battlefield. There's an extra oversized deck of cards in the middle of the table, along with a six sided die. The unique mechanic in Planechase has players rolling that die and drawing from the oversized cards to planeshift the battles into new dimensions. Each such shift will have an effect on the game rules, and it frequently will cause massive upheaval with the current game state. Dead creatures rise from the graveyards, basic card mechanics alter, and chaos reigns. Planechase is an interesting change from vanilla Magic, and I really like the notion of getting a big and crazy variant in each version of Duels of the Planeswalkers.
Of course, the multiplayer component is the main attraction for many Magic fans, and Duels 2013 once again delivers an instantly accessible and engaging platform. You can go up against real players through regular Magic duels, Free-for-All matches, and the ever popular Two-Headed Giant variant. It's all packed in here again for loads of replayability and challenge. I'm personally a fan of playing against the AI, so I haven't done much with the multiplayer side of the game. Part of the beauty of the Duels series is that it's equally appealing to both solo gamers and multiplayers.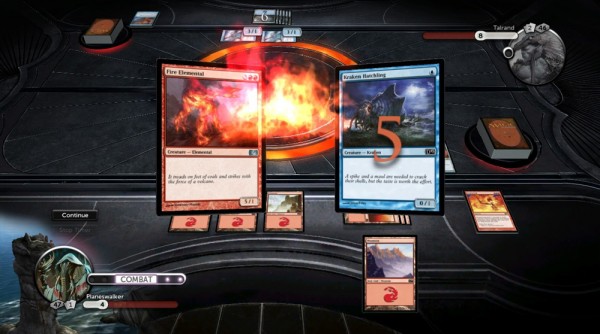 Deck building in Duels 2013 is much the same as it was in the 2012 version. That is, you have flexibility in adding or removing cards from your unlocked decks, but you can't modify the number of land cards included. You're required to have 24 lands in each of your decks, a limit that really should have been addressed in this third iteration. I suspect the 2014 game will allow you to alter your land count, because this seems to be a big demand from the Magic community. Wizards is good about responding to demands like this, as evidenced by one of the key changes they did make in the 2013 game.
Previous releases of Duels of the Planeswalkers did your mana management for you, for better or more often for worse. If you cast a spell that potentially could have multiple types of mana tapped for it, the game's AI would automatically select which lands would get tapped without asking for your input. Lots of strategic gameplay broke down due to this lack of mana flexibility. Wizards fixed that aspect of the game in the 2013 release by allowing players to select which specific lands get tapped for each spell. If you're casting a spell that can use only one arrangement of available mana, the lands still will get tapped for you. If, however, you're using a multicolor spell or have different types of lands that could potentially get tapped, it's all up to you this time. This seems like a small tweak to the game, but it really does open up a lot of strategic opportunities that were missing previously.
Fans of Magic will want to pick up this latest release. It features better play within each duel, and it also includes loads of new and up to date cards to go along with the physical card game's 2013 base set release. I found that load times between menus and matches sometimes are a bit laggy, but gameplay within duels always is snappy and elegant. Duels of the Planeswalkers is my own favorite way to play Magic: The Gathering, and the 2013 version introduces enough perfecting adjustments to make it worth a visit.