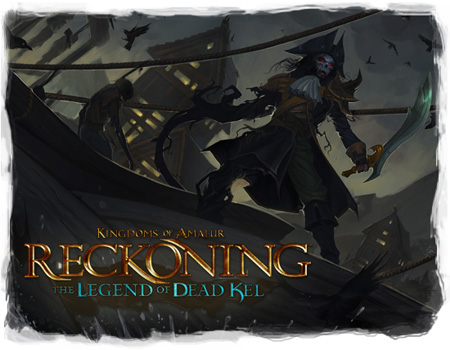 As a lifelong fan of pirates and a recent Kingdoms of Amalur: Reckoning addict (it's already my second-most-played game of the last three years), I was thrilled to learn that its first DLC expansion pack, The Legend of Dead Kel, centers around my favorite genre. I was even more thrilled to discover that it's one of the fullest DLC expansions I can remember playing.
Upon purchasing The Legend of Dead Kel and starting up your game, you'll receive a letter from the Alfar Merchant Navy in your inventory directing you to Rathir, where your adventure will begin. A new map will appear as part of your existing map screen, depicting the new area of Gallows End, adding an impressive 15% more land area. Once you sail to Gallows End, you will not be able to leave for some time, so make sure you're ready to begin this expansion before you depart Rathir. You'll need to be at least Level 10 before you can start the quest.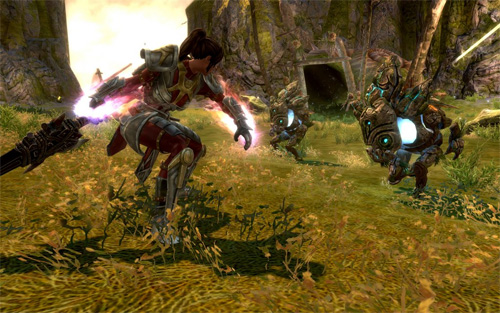 Over the course of the expansion, there is an ongoing storyline which you explore via the main quests, as well as new faction and side quests, plus a new property to acquire and upgrade. Gallows End offers a surprising variety of terrain, much of which is unique to it, while still believably existing in the same universe as the rest of Amalur. It does a great job of capturing a piratey feel, with shipwreck-peppered beaches and flooded caverns. Other parts of the island are influenced by the culture of the Dverga, a newly revealed Dwarven race of seafarers.
Although some enemies are exactly the same as those you're used to from Dalentearth or the Plains of Erathell (Crudoks, Murghans), others are modified version of familiar baddies (Root Golems, Faer Gorta Shipmen), and still others are brand-new (Scavs). There are also some unique mini-bosses and, of course, Dead Kel himself, with whom to contend. But you won't have to do it all alone; along your journey, a diverse group of companion characters will offer aid (Captain Rast Brattigan is easily my favorite).
Most of the gameplay is pretty similar to the rest of Reckoning, especially with regard to combat, but there are some new additions as well. I won't spoil what they are, but they definitely add some variety to the action along with rewarding the player, and could be easily explored further in other areas of Amalur.
I got almost ten hours of playtime out of the main storyline and most of the side quests, and I still have more side quests, treasure hunting, and upgrading to do! This amount of content is refreshing after so many games' DLC packs which add only an hour or two, especially since there's so much more to this expansion than just a quest line. Although The Legend of Dead Kel doesn't raise the overall level cap for Reckoning (it's staying firmly at 40 for now), there are three new Twists of Fate and various other means of increasing your character's stats.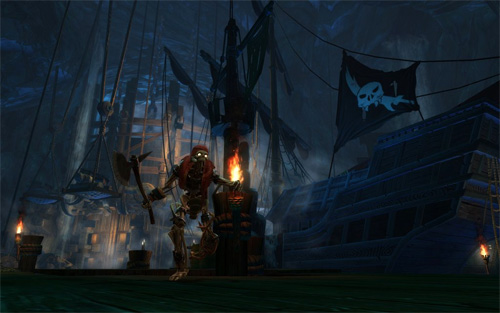 So often, DLC will add a "new" area which feels like a barely-altered rehash of old locations, or it'll take place in an intriguing brand new region, but after the quest you can never return to it again. The Legend of Dead Kel avoids both these problems with Gallows End, and by introducing the Dverga they've further deepened Amalur's already-rich history. 38 Studios and Big Huge Games have set a new bar for DLC content (though, in my opinion, this is where the bar should always have been) and I hope other game companies will take note.
The Legend of Dead Kel released March 20, 2012, and is available on Xbox Live (800 MSP), PSN, Steam, and Origin ($9.99).