Thanks to our friends over at Cornerstone Promotions, I was given the opportunity to speak with the two men behind the recently released Blaxploitation parody Black Dynamite: Director Scott Sanders and actor Michael Jai White co-wrote the script for Black Dynamite (with the help of Byron Minns) and have been traveling internationally to screen the film at various festivals and events over the past nine months, the most recent of which was the film's New York City premiere on Tuesday, Oct. 13th. In addition to writing Black Dynamite, Michael Jai White stars in the film as the lead character, Black Dynamite, and Scott Sanders directed the film.
Even if his name doesn't sound familiar, audiences will immediately recognize Michael Jai White as the title character from the 1998 comic-book adaptation Spawn, from his role as Gambol in The Dark Knight (2008), as Lewis Strutt from Exit Wounds (2001), or from any one of the many movies and television shows that White has appeared in over the years (including The Toxic Avenger, Part II, Clubhouse [TV], and Tyler Perry's Why Did I Get Married?). Perhaps best known for his role in Mark A.Z. Dippé's Spawn, Michael Jai White portrayed the first black superhero ever to reach the silver screen and cemented his growing reputation as a Hollywood badass in the process (he holds seven black belts in various forms of martial arts).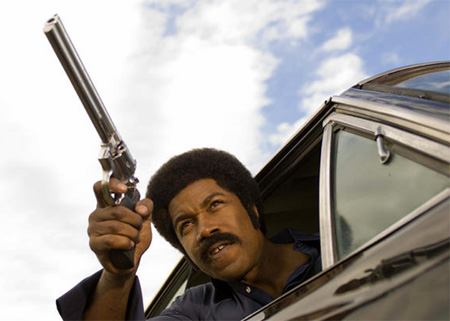 White first worked with writer/director Scott Sanders on the 1998 Alec Baldwin film Thick As Thieves, which Sanders and Arthur Krystal adapted from Patrick Quinn's novel. Black Dynamite recently received the "Golden Space Needle" Audience Award at the Seattle International Film Festival, and the film has been well received virtually everywhere it has screened, both domestically and abroad. For those of you that live in NY, Los Angeles, Chicago, Atlanta, Philadelphia, or Seattle, Black Dynamite opened in theaters this past weekend with a limited release. The rest of us will have to wait and see when Black Dynamite opens in local theaters, but in the meantime you can read my discussion with Michael Jai White and Scott Sanders below:
So maybe you guys can start by describing a bit how Black Dynamite came to be?
Scott Sanders: Well, me and Mike had worked together before and I approached him with the script that I had written. I asked him what he was up to and he showed me basically a picture of our poster image: him with the afro, the mustache, the gun and the nunchucks and the suit — it's the same suit that he's wearing in the poster. The whole idea seemed really obvious to me and he had already fleshed the whole thing out so we went out and shot a trailer for like five hundred dollars, just like a fake trailer. Based on that trailer alone we basically got the money for the movie… then we actually had to write a script to support it. That's basically how it started.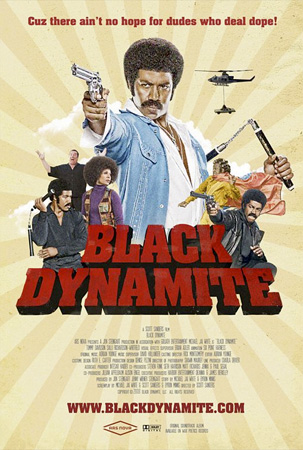 How long ago was that?
SS: That was in 2006.
Okay, so you guys have been working on this for a while now. So how would you guys categorize the film? Obviously it's a comedy, but getting a little bit more specific than that what would you say?
SS: What do you think, Mike? What would you qualify the movie as?
Michael Jai White: I would say it's a homage satire or homage parody. Basically we tried to do the Spinal Tap thing, just sort of plus ten percent. It's like a Blaxploitation movie but ten percent a little too extreme. Like, Black Dynamite has a gun and nunchucks. I mean, it's pretty badass, but the nunchucks make it ten percent a little too much badass. That's where the comedy comes from.
I see. And since the character is, as you have said repeatedly, such a badass, that makes Michael absolutely perfect for the role because as everyone I have spoken to has told me, he's a "wicked badass."
MJW: Thank you! Cool, cool, tell them I said "Thanks."
No problem. We're all big fans. Since the movie is a parody or homage to Blaxploitation movies I would imagine that you guys are very well versed in that genre. So what are some of the Blaxploitation movies that most influenced each of you?
MJW: Well, there is a movie that most influenced our movie: Three The Hard Way, which is one of my big influences because it took the three dominant Blaxploitation stars of that era — Jim Brown, Fred Williamson, and Jim Kelly — and put them all together in one movie. That's much like having Sylvester Stallone, Arnold Schwarzenegger, and Bruce Willis in the same movie. So that was a big influence to us, but on a personal level, The Mack is a tremendous movie, one of my favorites, and also the Avenging Disco Godfather for the campy reasons.
One of our readers was interested in knowing how you navigated between paying respect to those original movies and creating a parody of them?
MJW: The first thing I would say is that just having respect for [Blaxploitation movies] goes right alongside of that. You tend not to cross over the line of being disrespectful or going far out there. We always tried to make a movie that could've existed back then — even having mistakes that could've survived the final edit back then. So I think that in spite of that "reality plus ten" thing, you rarely go to twenty. That's when I think you're stepping outside of the line.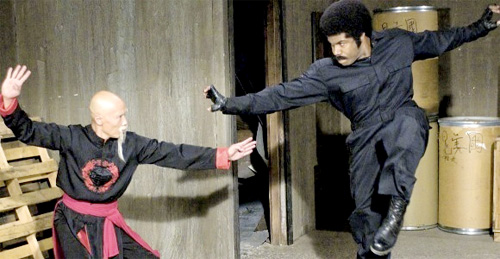 I heard that Melvin Van Peebles was at the New York City premiere of Black Dynamite?
SS: Yeah, that was great.
And you guys got a chance to talk to him, maybe get a little bit of his reaction?
MJW: Oh, absolutely. We both talked to him after and he was very happy, very complimentary. Scott and I both took time one-on-one with him at the after party and it was just tremendous because that's the man who started the whole [genre].
That's right. I assume that both of you have seen Van Peebles's Sweet Sweetback's Baadasssss Song?
MJW: Oh yeah, definitely.
The movie that is hailed as starting the Blaxploitation genre — and similarly to what you were saying about your trailer, it was made on a very low budget.
MJW: Yeah, we actually had a low budget so we had to kind of shoot it like he did.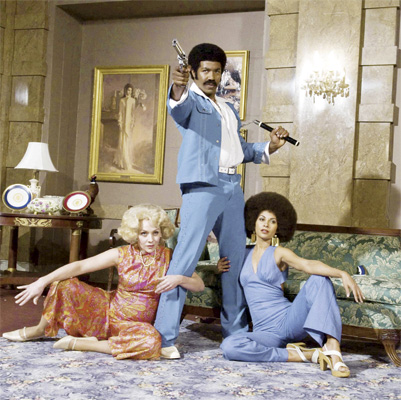 So what was it like on set when you guys were actually filming?
SS: It was a lot of fun, actually. It was a whole lot of laughs. I keep hearing from a lot of actors, and I heard it at the premiere last night — this is separately — people coming to me and saying it's the most fun that they've had on a set. I'm very, very proud of that.
With everything I've seen and heard about the movie I would imagine that it was a lot of fun to make. It also looks like from the cast list that it's a very diverse group of people who come from different backgrounds and different lines of work.
SS: Yeah, I think a lot of people Mike knew from the gym, right?
MJW: Yeah, some were friends of mine, some people from the gym I work out at…
That's awesome. I know you guys have been screening Black Dynamite for a while now all over the place and it seems like the reaction thus far has been very positive. Personally I'm curious whether that's the general sense that you guys are getting?
MJW: Yeah, absolutely. The thing that's caught us both by surprise is the amazing responses we're getting in other countries. Scott went to the Czech Republic and the movie received a standing ovation there. We both were in France and it's been amazing, like recently in Brazil, Australia, Germany — it's been tremendous. And I can't think of a time where a movie like this has gotten that kind of response in these other countries.
That's amazing. When you think of "Blaxploitation," most people think "American." So for it to get such a great reaction in other countries is fantastic.
MJW: Yeah, and these are people who didn't grow up knowing the references at all. They just loved the badassery of it.
SS: Yeah, in the Czech Republic it's like, "Okay, so what movie should we watch?" and if Black Dynamite led to more people watching a lot of these movies it would be great. I think it's a great sort of thing and it could be an interesting way for people to see what was on people's minds at the time these movies were created.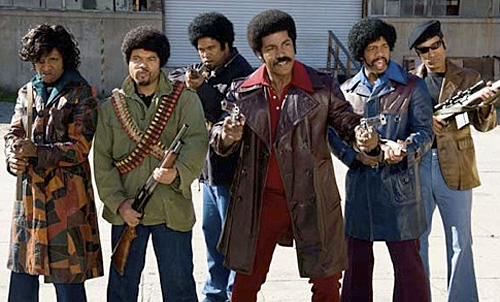 With many of the original Blaxploitation films, Shaft for example, there were some follow-ups like Shaft in Africa. Any plans in the works for following up Black Dynamite or continuing on with a similar type of movie, different characters?
SS: I think we want to do another one, it's just up to the people. We're certainly up for it. We also have a cartoon coming out, too.
Oh, really? I didn't know that.
SS: Yeah, the Black Dynamite cartoon will be on [adult swim]. That's going to be a fun thing to work on 'cause we can work on our more crazy, fantastical ideas.
Well I know you guys have been running late so I wanted to keep this short and sweet and just say thank you both for taking the time. We really appreciate it and we look forward to seeing the movie!
MJW: Well, thank you!
SS: Thanks!
For more information on Black Dynamite, head to the film's official web site. There you can read about the history of Blaxploitation film, find a cast list, hear quotes from the movie on the Black Dynamite Talkin' Jive soundboard, and Black Dynamite Yo'self with a cool application on the film's homepage.