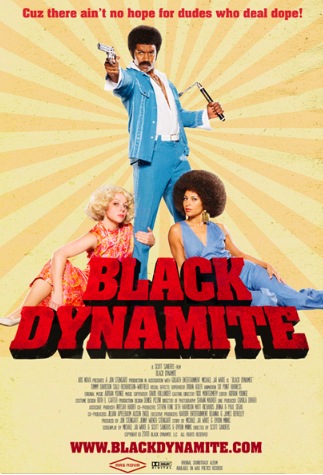 In 2006 we saw the return of exploitation films in the form of Quentin Tarantino and Robert Rodriguez's Grindhouse double feature: Planet Terror and Deathproof. On Friday, October 16th, yet another contemporary exploitation movie will hit theaters, this time a Blaxploitation comedy called Black Dynamite. Directed and co-written by Scott Sanders, Black Dynamite stars Michael Jai White (Exit Wounds, Justice) as a gun-toting, nunchuck-wielding (yes, we said nunchuks) ladies' man and soul brother. After "The Man" murders Dynamite's younger brother, pumps heroin into local orphanages, and floods the ghetto with adulterated malt liquor, Black Dynamite is the only hero willing to fight all the way from the blood-soaked city streets to the hallowed halls of the Honky House.
The Blaxploitation genre first appeared in the early 1970s with Melvin Van Peebles Sweet Sweetback's Baadasssss Song (1971). For the first time in the history of the film industry, African Americans became the target audience for an emerging genre that featured black protagonists, rather than the Toms, Coons, Mulattos, Mammies, and Bucks of the film industry's past. The growing African American population in the U.S. became the focus of motion picture executives looking for new ways to generate profit, and the success that films like Shaft (1971) and Superfly (1972) experienced at the box office guaranteed the production of dozens more Blaxploitation films that shaped generations of African Americans.
These films are also important because the Blaxploitation genre was the first to feature funk and soul music soundtracks. The tracks composed by Isaac Hayes and Curtis Mayfield, including "The Theme from Shaft" and "Pusherman," respectively, remain classics of the period even today. Thanks to our friends over at Corner Stone Promotion, we are able to provide you with a taste of the soundtrack for Black Dynamite, specifically a free download of the song "Can't Fight The Feeling". "Can't Fight The Feeling" was produced exclusively for Black Dynamite by hip-hop artists Buckshot and Sean Price in collaboration with Grammy award winning producer 9th Wonder and Dan The Man.
Black Dynamite hits theaters Friday, October 16th and both the Black Dynamite (Motion Picture Soundtrack) and Black Dynamite (Original Motion Picture Score) will be released on Tuesday, October 20th. You can pre-order both the Black Dynamite soundtrack and the score on Amazon.com. For more information on Black Dynamite, head over to the film's official web site and check out the theatrical trailer.