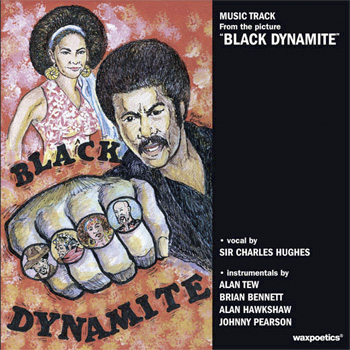 Soundtrack: Black Dynamite (Motion Picture Soundtrack)
Featuring: Alan Tew, Brian Bennett, Alan Hawkshaw
Label: Wax Poetics Records
Release Date: October 20, 2009
In addition to the Original Motion Picture Score reviewed yesterday, Black Dynamite also has an additional musical score, Black Dynamite (Motion Picture Soundtrack), compiled by the film's Music Supervisor, David Hollander. The soundtrack, which accompanies Younge's compositions but is compiled on a separate album, is also worth listening to. An album of library music, or incidental music, that's ready-made for radio, film and television production, each of the 23 tracks included was hand-picked by Hollander from an extensive collection of 1970s British library music created for past television series and films.
The majority of the disc comes from British composer Alan Tew's "Drama Suite" series, which was used in various television shows, including the 1970s The Hanged Man and The Two Ronnies, and which later became the intro music for the U.S. television series The People's Court. Also included on the Black Dynamite (Motion Picture Soundtrack) are a handful of selections from Brian Bennett, a musician and composer who worked on various television series and films throughout his career in the motion picture music industry. The album clocks in at 41:10 with a total of 23 tracks. As you can see from the track list included below, this album also includes two bonus songs: "Dynomite," by Sir Charles Hughes, and "Tropicola," by Nino Nardini. Between these two compilations, Wax Poetics Records certainly provides Blaxploitation, 70s music, and Black Dynamite fans with a plethora of funky tunes that you can groove to, and that ain't no jive, baby!
Track Listing:
1. Helicop (Alan Tew)
2. Drama Backcloth 3 (Alan Tew)
3. Master Plan (Alan Tew)
4. Scenechange 2b (Alan Tew)
5. Drama Backcloth 2 (Alan Tew)
6. Name of the Game (Brian Bennett/Alan Hawkshaw)
7. The Detectives Interlude (Alan Tew)
8. Scenechange 3a (Alan Tew)
9. Prowler (Brian Bennett)
10. Scenechange 8a (Alan Tew)
11. High Diver (Brian Bennett/Alan Hawkshaw)
12. The Detectives Link 1 (Alan Tew)
13. Spiv (Brian Bennett)
14. The Detectives Link 2c (Alan Tew)
15. Action in Memphis (Johnny Pearson)
16. Thug (Brian Bennett)
17. The Detectives Link 6b (Alan Tew)
18. Sunny Side Up (Duncan Lamont)
19. The Detectives Link 3 (Alan Tew)
20. Eyes (Alan Tew)
21. The Detectives Link 5b (Alan Tew)
22. Dynomite [Bonus Track] (Charles C. Hughes)
23. Tropicola [Bonus Track] (Nino Nardini)
Rating: 4 / 5 Stars