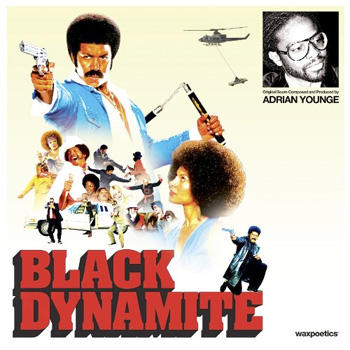 Soundtrack: Black Dynamite (Original Motion Picture Score)
Composer: Adrian Younge
Label: Wax Poetics Records
Release Date: October 20, 2009
Black Dynamite is being hailed as a modern-day Blaxploitation film and, based on a number of the film's characteristics, it could feasibly fit the bill. There are, however, some significant differences between Black Dynamite and the Blaxploitation films of the 1970s and 1980s, including vastly different motivation, historical context and even, in some cases, reception. Among the similarities that exist between Black Dynamite and traditional Blaxploitation films like Shaft (1971), Super Fly (1972) and Coffy (1973) is the way the film was made, the type of storyline it employs, and, of course, its musical score and soundtrack.
Where the best-known Blaxploitation films had the talent of Curtis Mayfield and Isaac Hayes, Black Dynamite has composer Adrian Younge. What makes Black Dynamite such a successful parody of and homage to traditional Blaxploitation films is the near-obsessive attention that Younge and the Black Dynamite production team paid to the details of the film, including both the soundtrack and score. Despite the fact that Black Dynamite is Younge's first foray into the world of film composition, it is clear that he is a prolific musician and artist. In addition to composing the score for Black Dynamite, Younge also wrote and performed each of the songs that he created for the film. According to the CD insert, the instruments Younge used to perform the Black Dynamite score include an electric bass, drums, an electric guitar, a viola, a cello, a flute, several saxophones, a Clavinet, a Hammond organ, a Rhodes electric piano, a vibraphone, congas, an electric sitar, a harpsichord, and a monophonic synthesizer. Even more impressive than Younge's arsenal of vintage equipment and instruments is the fact that the composer recorded the album in his fully analog home studio by night while he spent his days editing the Black Dynamite film.
The use of analog equipment gives the Black Dynamite soundtrack retro ambiance that reaches back to the monumental soundtracks of the 1970s Blaxploitation movement. Although Black Dynamite is a parody of traditional Blaxploitation films, it's clear that Younge is more than serious about his love for the sounds of 1970s Isaac Hayes, Curtis Mayfield, etc. As Michael Jai White and Scott Sanders asserted in our recent interview, these are the films that they watched and the music that they listened to while growing up and it holds a special place for each of them. The same probably can be said for Younge, whose compositions are teeming with funky beats, retro female vocals (provided by Loren Oden, Toni Scruggs, and LaVan Davis), and just the right amount of what the album insert calls "wah guitar." Black Dynamite (Original Motion Picture Score) clocks in at 35:32 with a total of 15 tracks, listed below:
Track Listing:
1. Black Dynamite Theme
2. Cleaning Up the Streets
3. Man with the Heat (Superbad)
4. Shine
5. Jimmy's Dead
6. Shot Me in the Heart
7. Black They Back
8. Gloria (Zodiac Lovers)
9. Anaconda Malt Liquor
10. Jimmy's Apartment
11. Jimmy's Dead (Interlude)
12. Chicago Wind
13. Rafelli Chase
14. Jimmy's Dead (Instrumental)
15. Dynomite (Suckapunch Re-edit)
Rating: 4 / 5 Stars

Paige rejoins Fandomania after taking a two-year hiatus to get her Master's degree in Media, Culture and Communication from NYU.