The origins of this interview go all the way back to February 2008 in Los Angeles at Gallifrey One, the premiere Doctor Who convention on this side of the pond. This con is where I met writer James Moran. After a slew of conversations over beer and crackers, we continued our diatribes over the internet, and now he has graced Fandomania with his wit and wisdom.
Moran broke out onto the horror scene with his bloody brilliant horror comedy Severance, which we previously reviewed as a Halloween special. Subsequently he gained even wider notoriety when he wrote two highly acclaimed episodes of Doctor Who ("The Fires of Pompeii") and Torchwood ("Sleeper").  In this interview, Moran will share with us about his Who experience as well as a little of some other projects he is working on. So read on and enjoy.
John Reid Adams: Let's start off with the most important question. Tell us… Who is James Moran?
James Moran: A silicon-based lifeform masquerading as a human in order to learn about the Earth customs that you refer to as "writing", "drinking" and "watching people fall over". But really, just some bloke who has managed to turn a talent for writing into something that pays the bills and keeps me out of too much trouble.
JRA: What initially inspired you to become a writer?
JM: It just sort of happened. I always liked writing stories, making up cool things, since I was about 4 years old. I remember around that time, the teacher read out a story I'd written in class, and everyone liked it, so that's probably what made me carry on. I just want everyone to love me and think I'm brilliant, all writers are the same, we're pathetic really.
JRA: Who and what were your early influences?
JM: Douglas Adams, Stephen King, Spike Milligan, Harlan Ellison, Isaac Asimov, Arthur C. Clarke, The Twilight Zone, The Outer Limits, Alfred Hitchcock, Doctor Who, and public information adverts that show you in graphic detail what happens if you drink and drive/play near rivers/plug too many things into a wall socket/talk to strangers/ etc. One film they showed us at school, when I was about 8 or 9, was called "Building Sites Bite", and warned us against the dangers of playing in construction sites. It traumatised us for life. It was the Cannibal Ferox of public information films, incredibly graphic and terrifying. I loved it.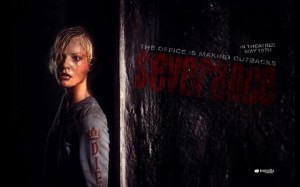 JRA: Tell us about your first major gig.
JM: That would be Severance – spent a year writing it, because I didn't do outlines and thought they hampered my creativity, which is why it took me a year to fix the mess I'd made in the first draft. I now do outlines. My agent sent it out, it sold within two weeks, and I was officially in the movie business. Still can't quite believe I got away with it.
JRA: Would you say that a writer has more say in the production process in Britain?
JM: About the same as over there, depending on which side – in TV, writers are powerful, in movies, they're less important than the tea boy.
JRA: I understand you are a comic book enthusiast. What are your top ten comic series?
JM: I've been a reader of 2000AD since I was a kid and still subscribe now, along with the monthly Megazine. I came quite late to other comics, so my top ten are probably the same as everyone else's, as I was able to pick and choose the best ones. But my favourite series is, and always will be, Preacher. There are things that story does that still make me shake my head in amazement. I love it.
JRA: Have you ever written for comics? If not, would you want to? If so, which would you want to write for?
JM: I did a small, 6 page comic for the BBC website, using the Doctor Who Comic Maker (only viewable in the UK, unless someone saves the pages as a PDF and emails them, thereby circumventing the massive security). That's all I've done so far, I'm still figuring out how it works, it's a different way of writing – but I'd love to do more, I have some projects that would only work as a comic. Of the existing comics out there, I'd kill to write for Batman.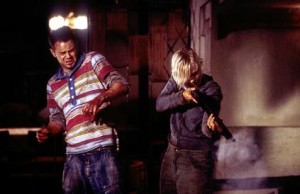 JRA: What was your muse for Severance?
JM: A series of bad commutes, while working in a day job. I wanted to write a horror movie, and I got home in a bad mood after being barged past by yuppies on trains, so I decided to put some of them into a cabin-in-the-woods movie and kill them off. Then I realised that putting ordinary UK office workers into a traditionally American teen genre was actually quite interesting, as they'd react differently to the situation. Once I had that core idea in place, the rest all spilled out from it.
JRA: What would you say was the best/worst experiences you had during production of Severance?
JM: Best: on stage at the UK premiere, in front of hundreds of horror fans, being applauded by the appreciative audience who loved the movie, at FrightFest, a festival I had been going to every year as a fan. That was one of the best experiences of my life. Worst: Before it had sold, before I had any writing gigs, there was one draft – draft 12 – that went so badly wrong, my agent said I'd be better off abandoning it and starting again from the previous draft, number 11. That was a bad, bad time.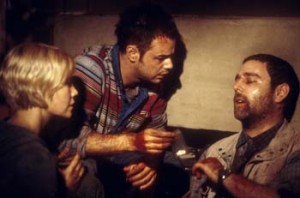 JRA: What are your top ten favorite horror films?
JM: In no particular order: Halloween. The Thing. The Exorcist. Nightmare on Elm Street. An American Werewolf in London. The Shining. The Birds. Ring (original version). The Omen (original version). Silence of the Lambs. Alien. I know that's eleven, let's just say that Alien was hiding inside the chest of one of the others, and then it'll be ten.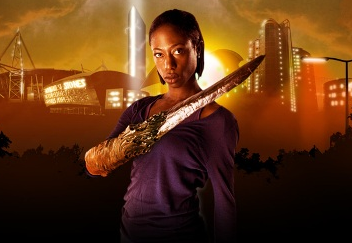 JRA: What initially led to you scoring the writing gig for Torchwood and Doctor Who?
JM: My agent had been trying to get me in for a while, at my request. He sent them a copy of Severance and Curfew (bleak horror script), and I think a TV pilot I'd written for someone else. I got a meeting with the Torchwood people, and was invited to pitch an episode idea. Once that was almost ready to film, they offered me the Who gig.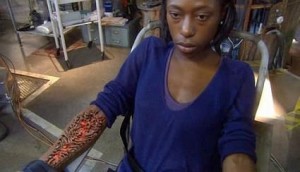 JRA: What were the differences/similarities of working on both shows?
JM: On Torchwood, I came in early and had loads of time. On Who, I came in as they were actually scouting locations and planning the Rome shoot – before we even had a storyline! So there was less time, a lot less. On both shows, they encourage you to go as big as possible, then can pull you back if need be. The main difference was, Torchwood had only been on for a year, so I didn't feel much pressure, I was doing one of the early eps, and there wasn't as much continuity to remember as there was in Who. The day I started writing Who, I had hours of self doubt, worries that the audience of millions would be judging me, worries that I wouldn't get the feel of it right – huge pressure, all self inflicted. Once I ignored all that and focused on the story, I was able to get through it. The main difference is, Torchwood is on at 9pm, and Who is on at 7pm on a Saturday night, so you have to be aware that younger kids will be watching.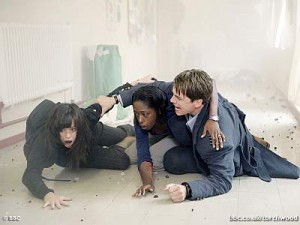 JRA: What were the most memorable anecdotes of the production of "Sleeper?"
JM: The biggest one was probably getting the Who offer the morning of the tone meeting for "Sleeper." My head was bursting with excitement, everyone else knew about it, the sneaky bastards, and it was just an amazing day. Sitting there discussing the designs for the alien arm blade, while realising that my name would be on a Doctor Who episode – that was pretty cool. I was on set for a day, in the hospital corridor when the windows blew in, and that was really exciting. They had massive air cannons outside the windows, so I thought, hmm, air cannons, probably they'll go "pffff" – so I declined the earplugs that were going around. Earplugs! For a bit of air? Take the earplugs next time. It was the loudest noise I've ever heard in my life. I can still hear it.
JRA: For my peace of mind, did the baby survive, or did the baby die a horrible lingering death?
JM: Oh, a horrible, lingering death. It twitched for a while, during which time several more cars went over it, then it slipped away in agony, wondering why life was so cruel. I saw a forum post asking "how could James Moran do this", about the baby, and it made me laugh. How could I do it? I just typed it in the script. I didn't *actually* kill a real baby. If the story takes you to a certain place, you have to let it, you have to go there.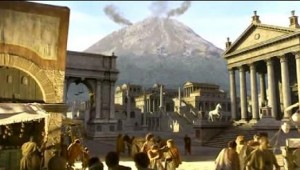 JRA: During the production of "The Fires of Pompeii," did you get to accompany the production crew when they went on location in Rome?
JM: Nope – but neither did Russell or Julie, so I didn't feel bad. Also I don't do heat too well. They had two days, brought the bare minimum of people and stuff, and any shots they didn't get, that was it. So it was better for me to not go, and not get in the way, which I always do. I did go on set in Cardiff, inside the villa though, which was fantastic – standing next to the TARDIS, chatting to David in costume, watching the steam come through the vents in the villa, that was a pretty good day.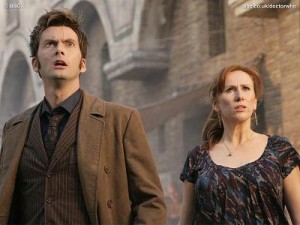 JRA: When writing for Doctor Who, are you given a list of guidelines to follow? Essentially, where in the writing process does Russell T. Davies end and James Moran begin?
JM: They brief you about the rough idea, and the feel of the episode they want (and the things they want included, like the pod popping out of the volcano, random things like that which you can include any way you want, as long as they're in there), then you go off and work up an outline. There are a few more meetings where they give notes, you talk it through, refine the story, and then go off and write the script.
JRA: On average, how many drafts of a script do you have to deliver before everyone is happy?
JM: Ideally, as many as possible. Usually it's 4 or 5, but in TV you do lots of mini-drafts in between where small things change – you just keep working on it non stop, until they wrench it out of your hands because the cameras are ready. There's never enough time, on any TV show, it always feels like that.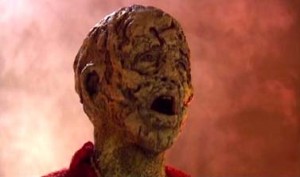 JRA: I know it's waaaaaaay too early to determine, but do you suppose that we may see more episodes of Doctor Who, Torchwood, or even The Sarah Jane Adventures with your name attached to it?
JM: Well, I took so long to reply to this that it has now come out that I'm doing episode 3 of Torchwood series 3… And I have no idea about future Who or SJA. Obviously I'd love to go back and do more, if they want me to. They know that I'm always ready to jump in, so we'll see what happens.
JRA: What is next for James Moran?
JM: Crusoe on NBC, Friday 7th November! Here in the UK, episode 7 of Spooks (MI-5 to you) series 7. Then next year, episode 2 of Primeval series 3, and two episodes of Law & Order UK. I'm currently working on three TV series in development, two are at series treatment stage, one is at pilot script stage, so keep your fingers crossed.
JRA: What would you like to do next? What are some of your dream gigs? Are there any other directors/actors/producers that you would like to work with?
JM: I would love to get my own TV series going, and if all goes well, that could happen soon (see above, the three things in development – two I co-created, one is all mine). I'd love to do more movies, but I've been so busy in TV lately, there hasn't been time, although I have written a new spec movie script which I'm working on in my spare time. It'd be great to get some work in America, so maybe if things keep going well here, I can do that. And I'm not ashamed to say it, I would love to write the A-Team movie, they really need to give me that job right now. Actors: I'd kill to write for Kurt Russell and/or Kevin Bacon, I think they're the unsung heroes of the US movie world, I watch anything they're in, because they're amazing. Directors, I'd kill to work with Robert Rodriguez, I absolutely love his style and attitude, and his 10 minute film schools and Rebel Without A Crew are a huge inspiration to me. Cronenberg, Del Toro, the usual suspects. I'd also love to see Paul Verhoeven direct something of mine, because I think he's as depraved as I am…