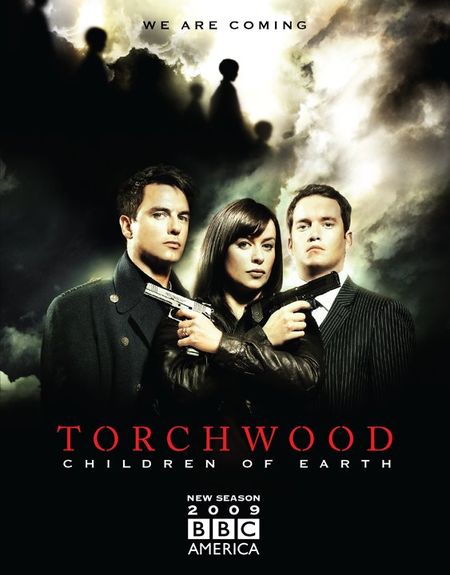 Review: Torchwood Season 3 – "Children of Earth"
Original Air Date: The week of July 6, 2009 in the UK, the week of July 20, 2009 in the US
Rating: TV-14 (Recommended for people 14 or older)
The screencaps were done by subwriter @capaholic.
Series 3 was everything Torchwood has always had the potential to be. It was dark, emotional, thought provoking, and didn't pull any punches with the way the subject matter was handled. Since I recently had the irritating luck of being told a huge spoiler to a show I'm a super fangirl about, I'm giving everyone a spoiler warning here just in case.
The first unexpected thing that happened in this series was that each episode was aired each day of the week instead of one episode for five weeks. Good call on that one because it would have been fangirl torture if I had to wait a week between each episode. From then on, it was surprise after surprise for me.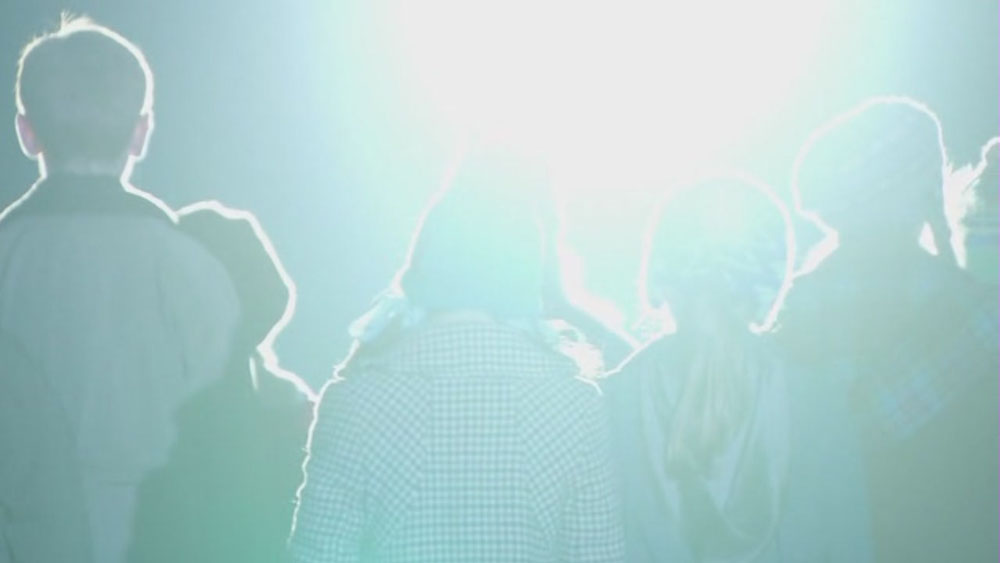 This review has turned out to be a lot harder for me to write than I initially thought it would be when I was asked if I wanted to cover "Children of Earth." I think it's because on any other episode of Torchwood, I'm just watching a show and I'm not emotionally invested in it at all. In the spirit of being honest, I have to admit that I'm not an emotional person. Things don't "get" to me, I don't cry at movies/TV shows (unless they kill the damn dog and then I'm blubbering like a baby), but I can appreciate and recognize when something is high emotion.
By the time this this series was over, and during the past couple of days it's taken me to write this, this show has made me physically angry. I was getting so angry while typing up this review that, not only have I had to go back and change how I was reviewing, but I had to step away from my computer on multiple occasions. Very unexpected, and like any other successful piece of art, effective in causing a strong reaction in at least this viewer.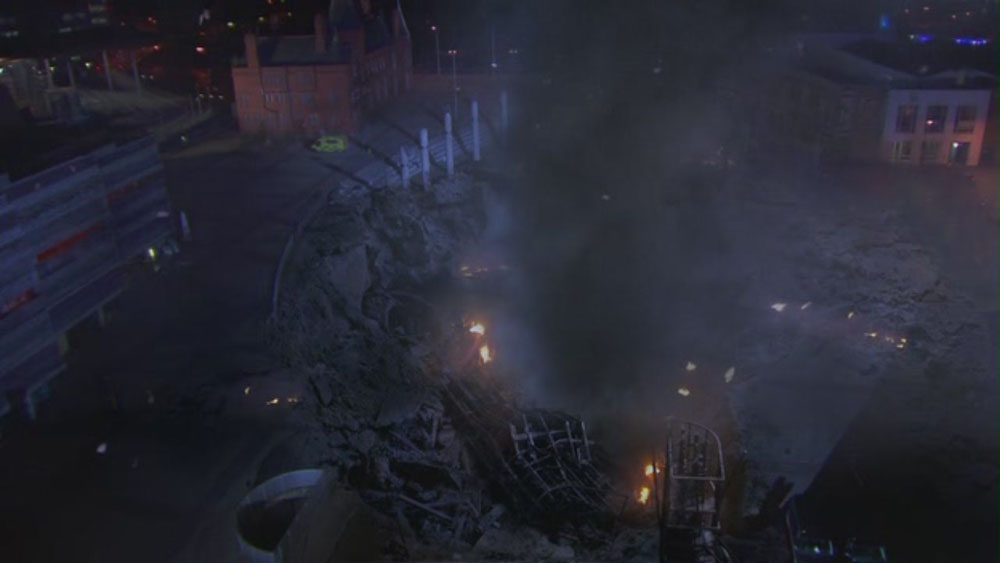 Days 1 and 2 were pretty standard setup episodes and what you'd expect from Torchwood. Everything seems normal one minute, the children all over the world (as well as one adult, Clem) are staring off into space chanting the same phrases ("We are coming," "We are coming tomorrow," "We are here," and a sequence of numbers specific to their location). The shan hits the fit in a big way really fast as the Torchwood gang and the UK government try to figure out what's going on. Somehow, what's happening now is connected to an event that happened in 1965 where a group of children were taken by a flash of bright light. The government turns on Torchwood, going so far as to try and kill them by planting a bomb inside Jack that goes off at Torchwood HQ. The aliens controlling the children (called the 456 for the frequency their message comes through on) have also been sending blueprints to the government guys. By the end of day 2, Torchwood is beaten pretty bad but still kicking (Gwen is even pregnant), they've found out their liaison in the government (Forbisher) is the one who sent the kill order on them out, and have all been reunited with the help of a woman named Lois who was temping in Forbisher's office when all this started. The government finishes building the box-like structure for the 456 and wait for them to arrive.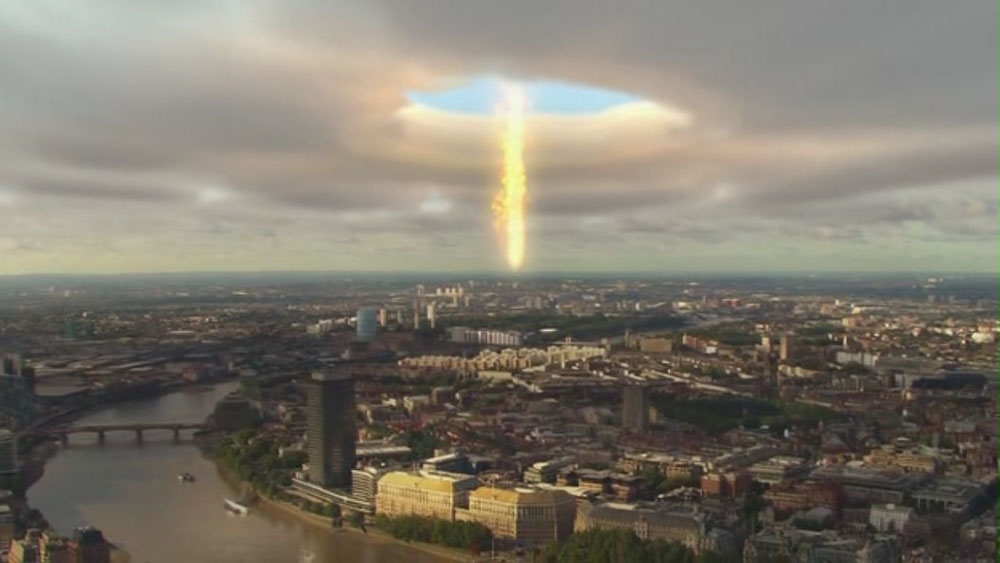 Day 3 finds the gang hiding out at an abandoned Torchwood facility. They go about stealing from people in order to get their operation up and running again. Gwen meets up with Lois one more time to try and convince her to help Torchwood by wearing the most ridiculous gadget ever: video transmitting contact lenses. Lois doesn't promise anything, but takes the lenses and it feels like Torchwood may actually have a plan to save the world. They usually don't, to be honest. Gwen also finds Clem and brings him into the fold, thinking he might be able to help since he seems to have some kind of connection to the 456.
Meanwhile, Jack's daughter and grandson are taken into "custody" to try and force Jack to turn himself in. This is after the children of the world all stop, point in the direction of London, and announce "We have arrived." The pillar of fire descending from the Heavens down to Earth was one of the best CGI effects I've seen on TV lately. The fire turns into some kind of giant figure obscured by whatever gas the 456 had the humans pump into the box. Forbisher is forced by the Prime Minister to head the entire ordeal (he's so throwing Forbisher under the bus), and Lois decides to help Torchwood by wearing the contacts and recording everything she sees. They don't get any sound, but the software is supposed to be able to read lips. Yeah, this is what makes this gadget ridiculous for me.
Eventually, the 456 confirm that they're connected to what happened in 1965. Apparently, this is something that only Jack, Forbisher, Clem, and the viewers all knew. Clem also reveals that he was one of the children taken out to that open space in 1965 to be given to the 456, and that Jack was the man who drove them to the trade point. Jack can't deny it. The 456 also request a gift from Earth in the present day: 10% of its children.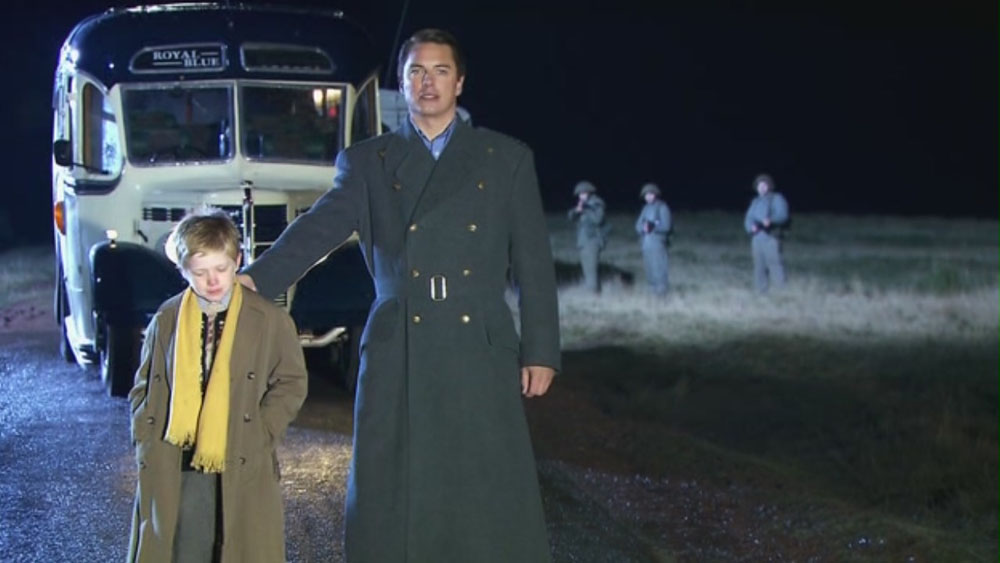 Day 4 is where this series really starts to blow my mind and make me realize I've never been so glad I'm never planning on having children. Jack is telling the gang what happened back in 1965 and how he was a part of it. Who would the government get to give a bunch of kids over to an unseen race of aliens but a man who can't die. Basically, they need someone who doesn't care. Jack's lived just long enough with immortality that he is exactly that kind of man. He thinks trading 12 orphans (picked because no one would "miss" them) for an antivirus to a new strain of flu is a fair deal. Then something happens that should have made the shock of Day 5 less shocking: Clem asks why the 456 left him behind, and Gwen supposes that he must have been on the cusp of puberty then. Knowing that the 456 specifically asked for prepubescent children, he wouldn't qualify. Rhys (I have always loved this character) comments, "Saved by your hormones."
A red flag should have gone up right there in my brain, but at this point I'm just disgusted that this scenario would totally happen in the real world. An unseen force tells you to sacrifice children to "save" a larger number of people, so the government singles out poor children/orphans to hand over, does it without question, and never thinks about what they did. They had 40 some years to figure out who the 456 where, what they wanted the children for, and nothing. Things start happening back with Lois so the gang goes back to watching the laptop screen.
Forbisher is sent by the P.M. to find out what happens to the children once the 456 have them. It spits slim at the walls of the contraption it had Forbisher build (and that got old for me fast) and says if it's off the record, they'll let Forbisher send a camera man in to see. We never get a clear look of the alien itself, but what we do get a clear picture of is one of the children from 1965 strapped up to the 456. Still alive, still a child. I should mention that the UK government has kept the 1965 incident on the QT, so the US officials are not only horrified by what they see (as is everyone else) but are confused that the 456 already had at least one child. They are told that the children don't feel any pain and live forever. Live forever as what, what kind of life they have, we don't know yet. As Lois catches everything in her contacts, the 456 tell Forbisher flat out that if they don't get their 10%, the entire human race will be wiped out. This is when all the officials find out the UK government dealt with the 456 in 1965.
It was right about here that I started to wonder where The Doctor was during all of this. I can't help it since both the shows exist in the same universe. The Doctor is such a big cheerleader and defender of the human race, that I found it odd that during this whole worldwide breakdown he was not even mentioned, let alone seen.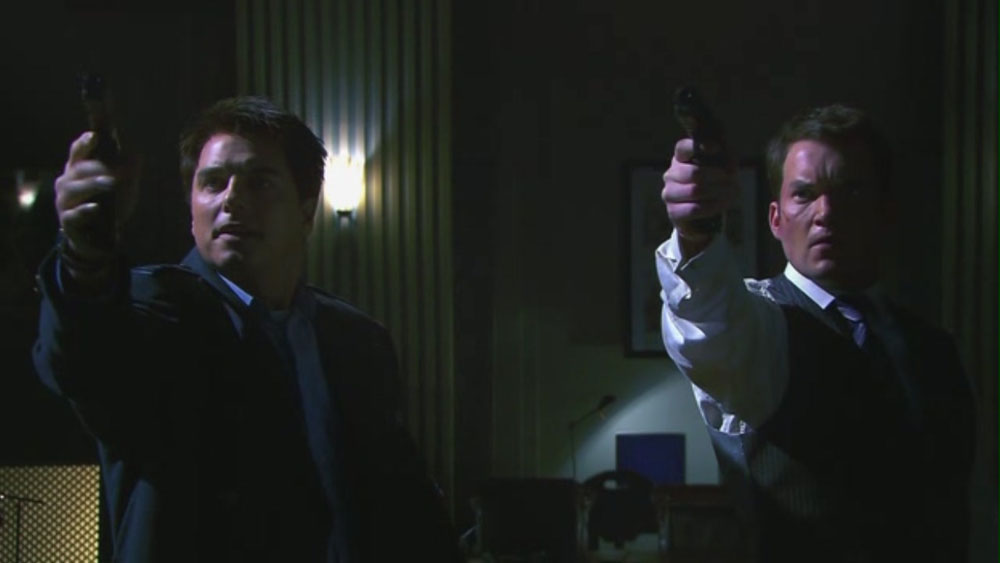 So Jack offers to help Forbisher to save the world in order to get his family released. Forbisher does not accept and gets called into the Cabinet to discuss how they're going to try and haggle with the 456. Gwen is surprised they're really going to hand over children (has she never had to deal with the government until this point or what?), and we find out that right away, they go for the children "no one would miss." God, that is such bull and it makes me angry every time I type that. The haggling doesn't work. At all. It goes from 10% of the world's population of children ("units") to 10% of the population for each country, as the children in each country start to chant the exact number of "units" that should be taken from their respective countries. The government people start to think of ways to "spin" what they're about to do. Where Doctor Who makes me see the good in humanity, the great potential we have, Torchwood is pretty much about how disgusting we are.
The Cabinet decides to use all the undesirables, the orphans, the poor and underachievers after realizing a more random selection process would put their own children in the lottery. There's this one woman during all this that just made me want to destroy my laptop, I'm not even joking. She flat out says that the aforementioned children are the expendable "units" because they are useless to society, so they shouldn't get treated as equal as the Cabinet members' children. All the children of the Cabinet members are saved from being taken, as well as the military personnel who have to round up the 10%.
This is when Torchwood decides to do something. What that something is turns out to be a huge cluster as NO ONE bothered to come up with a freaking plan beyond using the recorded Cabinet meeting as blackmail. Just bust in, guns a-blazing, putting everyone on the planet at risk. Jack and Ianto stroll into the room where the 456 are like conquering heroes and threaten it. This is like shooting a bear with a BB gun, and it produces a similar result in that the 456 release a toxin throughout the entire building while sealing it off, and kill every human in it (as well as sending out a sound that turns Clem's brain into pudding). Jack has to watch as Ianto dies knowing that once he himself dies, he will have to wake up next to Ianto's lifeless body.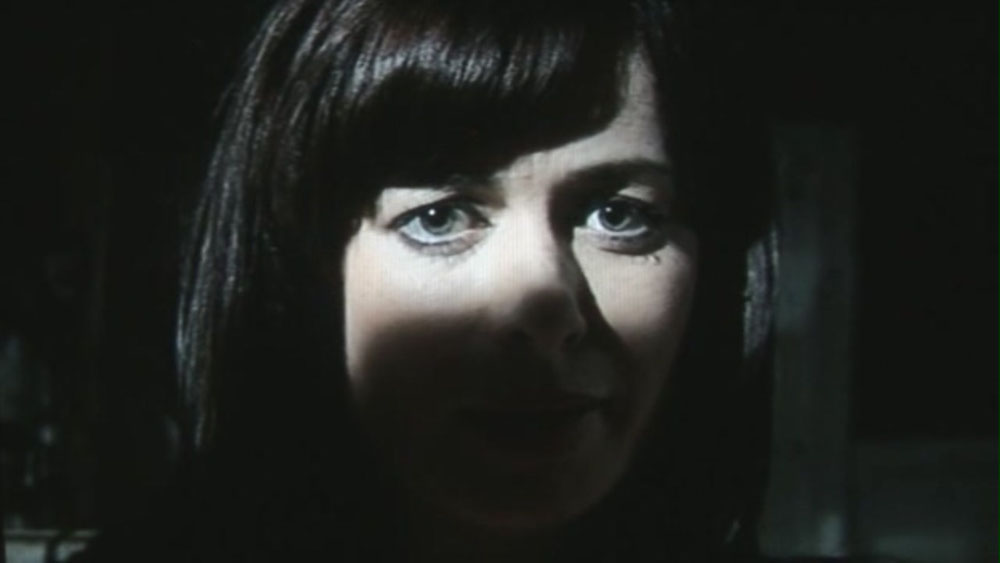 Day 5 arrives with the deadline for the 456's gift quickly approaching. We start with Gwen talking into a camera about how she always meant to ask Jack where The Doctor was during certain bad points in the history of humanity. Suddenly, I don't feel so dumb for wondering where the hell he is. She comes to the conclusion that sometimes, even The Doctor has to turn away from us out of shame. Fair enough. I mean, we deserve it. Jack and Lois are arrested, while Jack's family is released from the cell they were being held in. Before they are let go, Jack's daughter tells the hardass lady that's been running the black ops that Jack is the only one who can stop this whole mess.
Gwen and Rhys are allowed to go to Ianto's sister to tell her he's dead (it takes a lot of convincing on Gwen's part to get the sister to believe her). Eventually, someone from the government has the brilliant notion to ask the 456 what they use the children for. The children produce chemicals that make the 456 "feel good." They use children as drugs. Well, that hits everyone in the stomach, but not enough to try to stop this from having to happen. They just go on with the plan to round up 10% by having the P.M. get on the TV and tell everyone to send their kids back to school to be inoculated (that's the cover story about how they're going to abduct all those kids).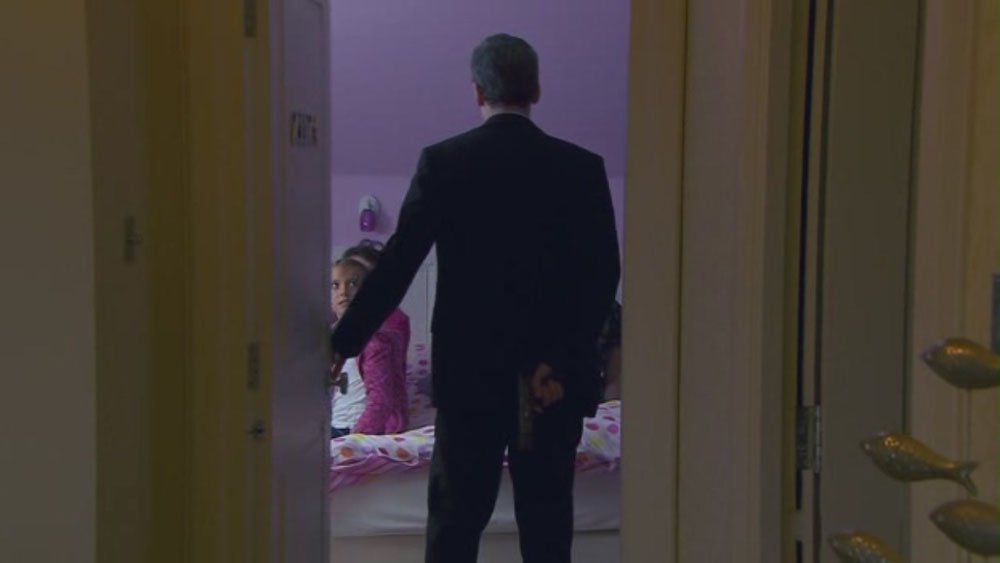 When the P.M. calls Forbisher in, this company man from the start, and tells him his children will also be "inoculated," he doesn't get it right away. Oh, Johnny, did you back the wrong horse! It finally sinks in that the P.M. is telling him his daughters will be a part of the 10%. He can't accept this, repeating over that "they're just girls!" (duh, how do you think everyone else feels), but the P.M. isn't budging. Forbisher has a moment with Miss Spears, has her check out a piece of evidence, and kisses her on the cheek before heading back home.
Man, this is where you just sink. Turns out he had her get him a gun. And he pulls a Thomas Jane from The Mist on his family and himself, rather than let his daughters become some alien's high. That was rough to watch. I mean, what other option (in his mind) does he have? Much like in The Mist, we later find out if he had waited they would all be saved.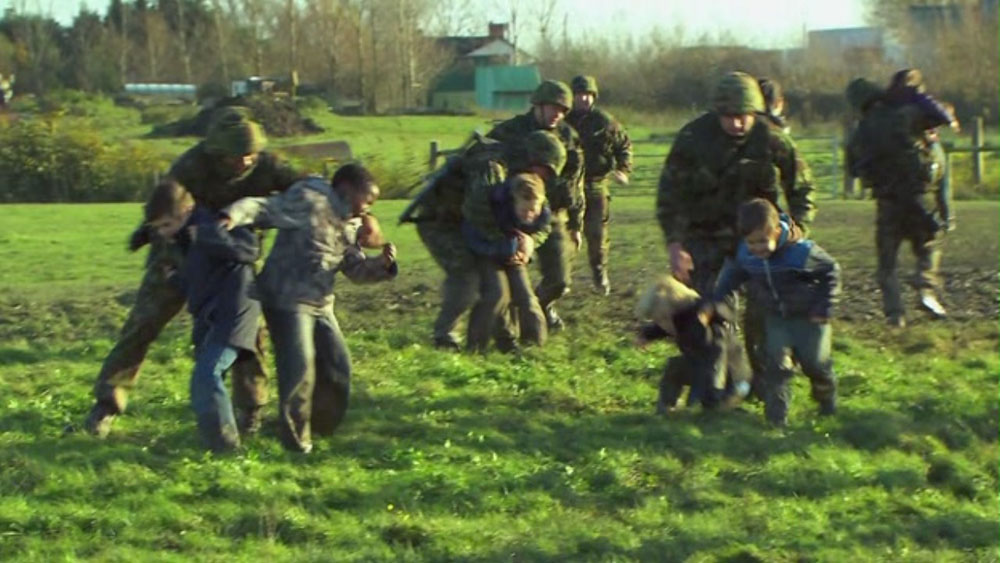 Soon, the military has to go out and take children by force from their homes. Gwen and Rhys try to help Ianto's sister hide hers and a group of others but are unsuccessful. I have to admit, watching the military guys drag kids off got me a little choked up. Like I said earlier, I'm surprised how emotional I got about this whole series and the things that got to me. Like Ianto's death: it should have affected me; I really liked that character, but it didn't affect me at all. Maybe because I saw that set up a mile away or because I've been conditioned by Joss Whedon to expect the love story to end badly. Rhys getting all teary about Gwen saying she wanted to abort her pregnancy, then changing her mind, on the other hand, got me a little verklempt.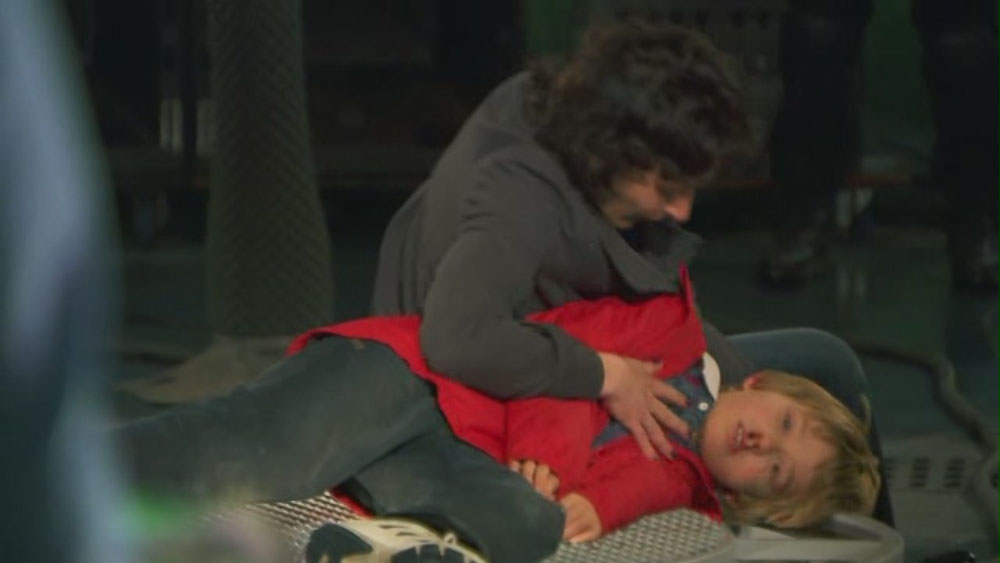 Eventually, Jack figures out that the sound frequency the 456 used to take out Clem can be used to take out the 456 themselves. As usual, it's a last-minute light bulb moment and the only way to transmit it would be through a child. He uses his grandson, knowing it will kill him. Jack does what needs to be done, and the boy's insides liquify in front of his screaming mother. It works, traveling from the boy to the rest of the children around the world. This sacrifice on Jack's part made me angry; I don't understand why it took someone so long to figure out how to beat the 456 in this manner, why it had to go this far at all.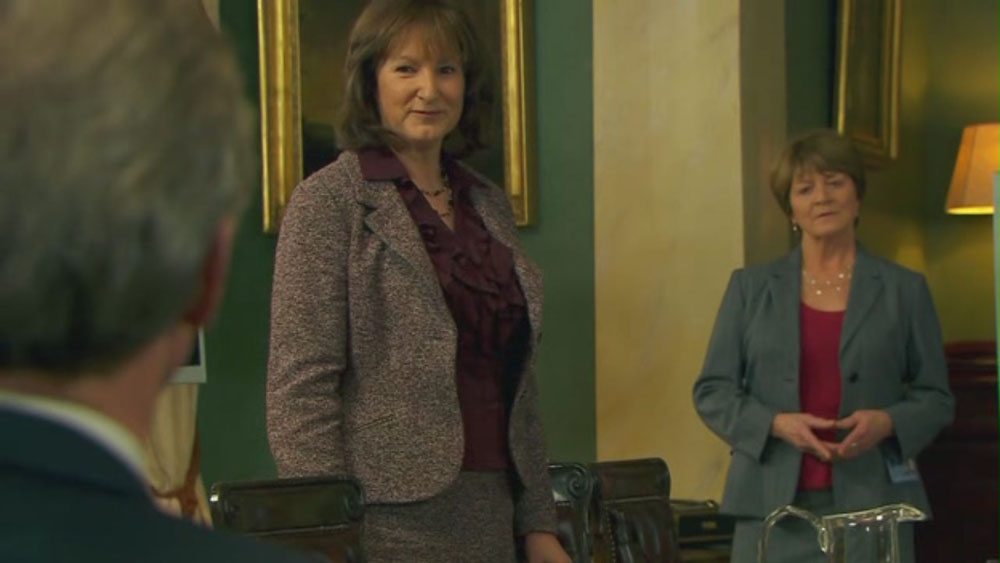 At first, no one knows why the 456 are destroyed but are relieved that they are. The P.M., in true slimeball politician fashion, even goes so far to say out loud that he feels incredibly lucky that the US took over the situation. Seriously, this dude has a brass set the size of an elephant's. Miss Spears is way ahead of him revealing she took Lois's contacts and has been recording everything in her stead (she was extremely loyal to Forbisher). Then that woman who made me want to go on a Hulk-sized rampage earlier (yes, that one in the middle up there in the screencap), swoops in like she's the hero of the day and wasn't the one suggesting poor people are expendable because they're burdens on the rest of society. God, I wanted to kick that woman in the face. So badly.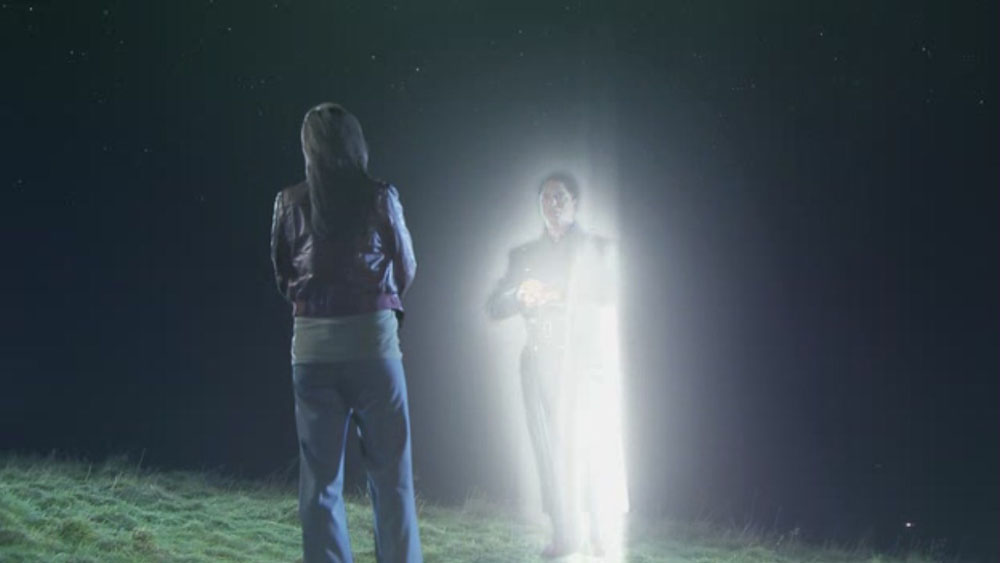 Six months later, Gwen and Rhys meet up with Jack to give him his time travel gauntlet. He's running away, literally, because he can't handle what he had to do. This did not surprise me at all. As much as I love the character, he has always been the kind of man to cut and run when things got hairy instead of staying and dealing. It's a good way to set up the possibility for another series (I think it was speculated this was the end of the entire show). However, for me, it leaves a bad taste in my mouth.
Knowing what he will eventually become (you had to watch Doctor Who for that), it's hard to accept Jack would do this. It feels like he's learned nothing at all from this experience. I wanted him to have grown, not revert back to some version of the selfish guy he was. Yeah, there's a ton of pain caused by these events that everyone has to deal with, but he's only thinking of himself in the end by leaving Gwen and Rhys and his daughter to deal with it alone. If nothing else, you'd hope that he'd have learned from Ianto that he has to be there for the people he loves and that love him, really be there. Not just when it's pleasurable and convenient for him, but when it's ugly and painful. Especially in those times.