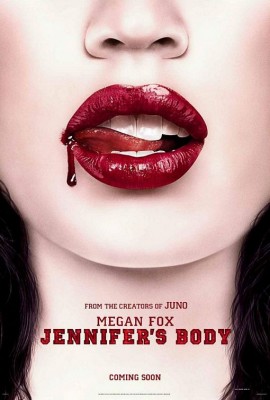 In honor of Megan Fox's upcoming release, Jennifer's Body, in which the Transformers star portrays a high school cheerleader who starts offing her male schoolmates after she is possessed by… something, we have a list of five other movies that involve cheerleaders — zombie cheerleaders, satanic cheerleaders, homicidal cheerleaders… you get the picture. We have one movie from almost every decade since the 60s, although it seems like there was a lull in the production of cheerleader horror/comedies during the 1990s because we couldn't find a single one that fit this list and was released between 1990 and 1999.
Regardless, here are five movies that B-horror fans might enjoy watching in preparation for Jennifer's Body. As best we can tell, they're all available on DVD, so you might be able to order them from Netflix or Blockbuster — or buy them on Amazon if you're just looking to expand your horror/thriller/comedy movie collection.
1. Pretty Poison (1968)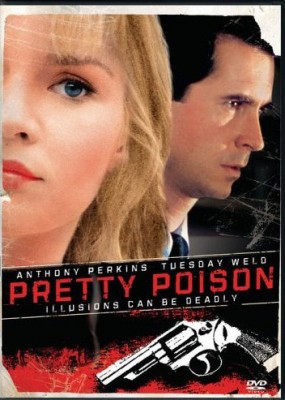 She's such a sweet girl. He's such a nice boy. They'll scare the hell out of you.
Based on a novel by Stephen Geller titled She Let Him Continue, Pretty Poison tells the story of a mentally unstable young man named Dennis Pitt who pretends to be a CIA agent in order to impress sexy high school cheerleader Sue Ann Stepanek. Pitt meets Sue Ann after being released from a mental institution (or it might be a prison… we're not quite sure). Sue Ann is all too willing to go along with Pitt's charade, and combined with her extremely adult craving for sensual excitement the two set off on a dark, and bloody, journey.
Sue Ann Stepanek is played by Tuesday Weld, an actress who led a long and varied film career including films such as Sex Kittens Go to College (1960), The Cincinnati Kid (1965), and Madame X (1981). Co-starring with Weld is actor Anthony Perkins as Dennis Pitt. Perkins is perhaps best known for his role as Norman Bates in Alfred Hitchcock's 1960's classic Psycho and the three sequels that it spawned.
2. Satan's Cheerleaders (1977)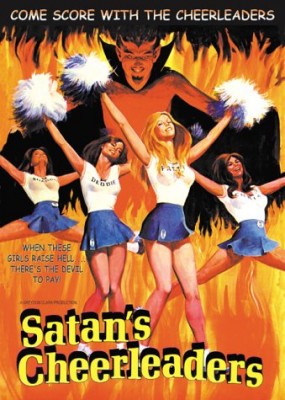 When these girls raise hell… there's the devil to pay!
A high school janitor kidnaps four scantily clad cheerleaders and their teacher by offering to give them a ride after the ladies get lost on their way to a football game. His plan? To offer these women to the local cult of Satanists for use in their dark rituals. Unfortunately for the janitor and the cult alike, one of the kidnapped cheerleaders is actually a witch, and she has some plans for payback.
Sheriff Bubb: We need a virgin.
Debbie: An unsoiled maiden? You got to be kidding, man… I've been a cheerleader for three years.
Dialogue like this has Satan's Cheerleaders jumping to the top of my Netflix queue, especially given the popular opinion that the film was not originally intended as a comedy but that it was only characterized as such after a number of reviews came out and damage control was deemed an immediate necessity.
Starring Alisa Powell, Sherry Marks, Kerry Sherman, and Hillary Horan as the four cheerleaders, Jacqulin Cole as the girls' teacher, Jack Kruschen as the janitor, and even featuring John Carradine, who apparently plays a bum, Satan's Cheerleaders was directed by Greydon Park and released in June 1977.
3. Cheerleader Camp (1988)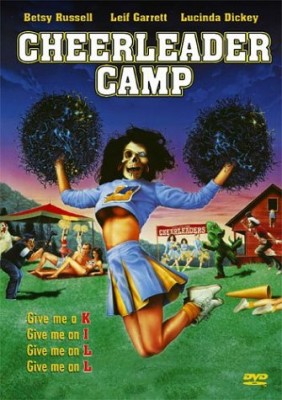 Some girls would kill to be Cheerleaders.
When her boyfriend shows up at her cheerleading camp, Alison thinks she is getting a wonderful surprise… until she realizes that Brent is more interested in the other cheerleaders than he is in his girlfriend. When girls start turning up dead, Alison wonders if her jealousy has manifested itself as an alternate personality — one capable of murder.
Starring Betsy Russell, who is best known for her role as Jill Tuck in the Saw films — Saw III through the not-yet-released Saw VI (currently in post-production and set for release just in time for Halloween this October) — as Alison and Leif Garrett (The Outsiders, Party Line) as Alison's boyfriend, Brent, Cheerleader Camp was written by David Lee Fein and R.L. O'Keefe. Fein's film credits include working in the sound department on films ranging from Black Sheep to American History X and Austin Powers: The Spy Who Shagged Me, while O'Keefe's sole contribution to Hollywood is this obscure 1988 B-horror flick.
4. Cheerleader Autopsy (2001)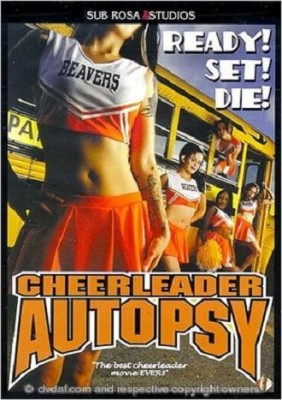 Ready! Set! Die!
Written, directed, edited, and produced by Stuart Dodge (assistant production coordinator for Love Potion No. 9, production coordinator for Fair Game, etc.), Cheerleader Autopsy is perhaps the most unique of all the films that made this list. Originally released in 2001, Cheerleader Autopsy revolves around the Fighting Beavers cheerleading squad from Stinkwater High School. On the way to a competition, the entire team is on its way to a competition when they are killed in a freak bus accident.
The local mortician, his loser nephew and an effete janitor soon realize that one of the cheerleaders "survived" the crash and, somehow, holds the key to a healing potion that could make them all very wealthy. The problem? Keeping this miracle of science from the local dog food company, to whom the mortician and his assistant have been selling human flesh from cadavers. Cheerleader Autopsy takes bad taste humor to a whole new level.
5. Zombie Cheerleader Camp (2007)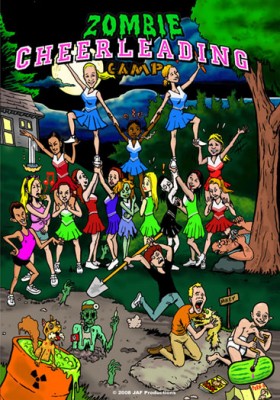 Where cheerleading is life….even when you're dead!
Also known as Zombie Cheerleading Camp, this 2007 gem from JJJ Productions is delightfully simple: a trio of local boys romance some visiting cheerleaders at a nearby cheerleading camp. Unfortunately, one of the boys is bitten by an infected squirrel and undead mayhem breaks loose at the camp, with zombie cheerleaders running amok. For an extremely low budget film, Zombie Cheerleader Camp delivers some excellent camera work towards the end of the film, described as reminiscent of Romero's Night of the Living Dead. The downside to this movie? The real bloodshed doesn't begin until more than halfway through the film, although Zombie Cheerleader Camp does deliver a number of laughs that to some extent make up for this slight oversight in planning. Zombie Cheerleader Camp stars Jamie Brown, Chris White, Nicole Lewis, Jason Greene, Brandy Blackmon, Daniel Check and Terry Chandeline Nicole Westfall. For more information about the cast and crew, check out the Internet Movie Database.
Written by Diablo Cody (Juno) and directed by Karyn Kusama (Aeon Flux, Girlfight), Jennifer's Body stars Megan Fox, Amanda Seyfried, Adam Brody, and Johnny Simmons. The film is set for release on September 18. Fox Atomic is producing in conjunction with Hard C and its soundtrack is the first soundtrack release from the Fueled by Ramen label, featuring Panic! At the Disco, Little Boots, Cute Is What We Aim For, White Lies, and the Silversun Pickups, among others.
Special Note: I would like to thank the rest of the Fandomania staff for helping me to brainstorm for this article, as well as Gonzorrific's Movie Reviews for the plot synopses and other important information that I couldn't find anywhere else!
Disclaimer: Although a great deal of research went into this article, it is possible that some of the plots may not be 100% percent accurate, as they were compiled based on various plot synopses rather than actual film viewing. These films are, for the most part, rather obscure and little information exists about certain aspects of each. If a mistake was made with regard to any of this information, please feel free to notify us and we will correct it to the best of our abilities! Enjoy!