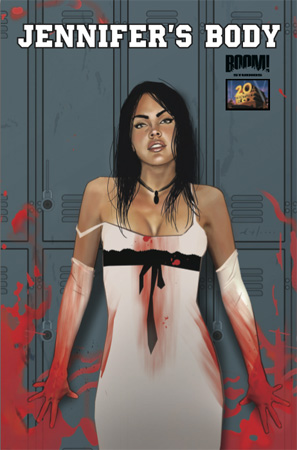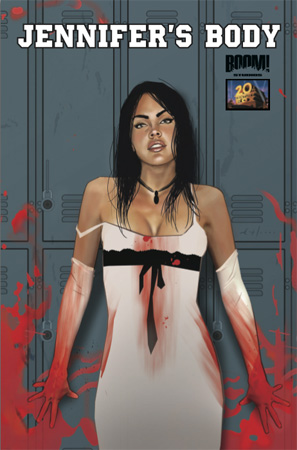 Review: Jennifer's Body OGN (Hardcover)
Release Date: August 26, 2009
Writer: Rick Spears
Artists: Jim Mahfood, Nikki Cook, Ming Doyle, Alan Robinson
Colors: Justin Stewart, Digikore Studios, Dean Trippe, Stephen Downer
Letterers: Jim Mahfood, Troy Peteri
Covers: Erik Jones, Frank Cho
Editor: Ian Brill, Matt Gagnon, Bryce Carlson
Managing Editor: Matt Gagnon
Publisher: BOOM! Studios
One of the most anticipated films of fall 2009 is now a graphic novel from Boom! Studios: Jennifer's Body OGN. An original graphic novel with art by Hack/Slash's Tim Seeley, DMZ's Nikki Cook, Kick Drum Comix's Jim Mahfood and Popgun's Ming Doyle, Jennifer's Body OGN is written by Black Metal's Rick Spears. Confusion about the comic's relationship to the Diablo Cody-written film of the same title set for release September 18th is rampant — but luckily for you, we had the opportunity to review Jennifer's Body OGN thanks to our friends over at Boom! and we can clear up all of the misconceptions and questions that surround this new release.
Jennifer's Body OGN is broken into four chapters, each of which tells a separate story (they are, however, told in chronological order) about Jennifer Check, a gorgeous and popular high school cheerleader who happens to be possessed by a demon hungry for the flesh of teenage boys. Although not billed as such, Jennifer's Body OGN could be considered as taking place both prior to and at the same time as the events of Jennifer's Body the film. Several of the same characters appear in the graphic novel as in the movie — including Jennifer's best friend, Needy Lesnicky, and Needy's boyfriend, Chip Dove — however, the story is not quite the same, and the end of the novel references the film's upcoming release date. In addition, some of the artwork for the graphic novel is very obviously based on Megan Fox, who plays Jennifer Check in the film, and Jennifer is seen wearing the same blood-soaked white dress that Megan Fox was seen sporting around the Jennifer's Body set.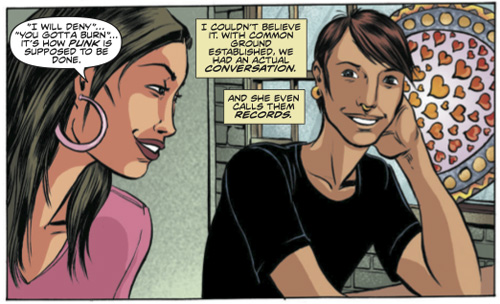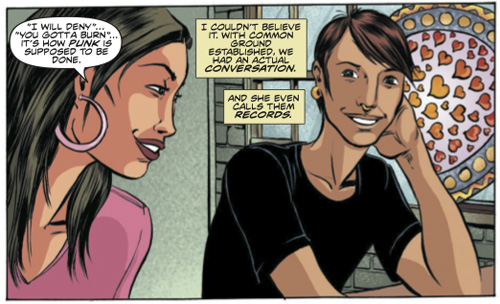 As previously mentioned, Jennifer's Body OGN is broken into four different chapters. In addition to focusing on a different victim, each chapter of the graphic novel is illustrated and colored by different artists. The first chapter features artwork by Jim Mahfood with colors by Justin Steward, the second is illustrated by Nikki Cook with colors by Digikore Studios, the third by Ming Doyle and colored by Dean Trippe, and the fourth chapter illustrated by Alan Robinson with colors by Stephen Downer of Digikore Studios. In addition, Hack/Slash creator Tim Seeley illustrated both the prologue and epilogue in his signature style in addition to providing a number of character sketches featured in a gallery of concept art included at the end of the graphic novel. Having so many different artists and colorists contribute to the visual construction of Rick Spears's story has the potential for fragmenting that story into irreconcilable segments, but the graphic novel's use of chapters succeeds in preventing such a tragedy.
Rather than confounding the story, juxtaposition of different illustration styles provides readers who are at all interested in the visual aspect of graphic novels with an additional world of exploration beyond simply reading the story. Determining why a reader's eye is drawn to one type of illustration over another or how certain color schemes enhance or detract from the overall mood of the story will provide readers with additional hours of entertainment. This is precisely why the inclusion of the sketch and concept art gallery at the end of Jennifer's Body OGN is so freakin' cool — it offers a direct comparison of how each artist involved in the project would go about visually constructing the main characters.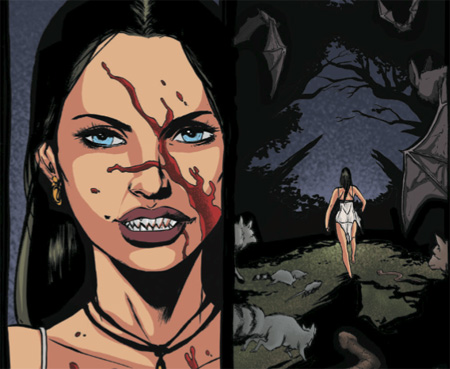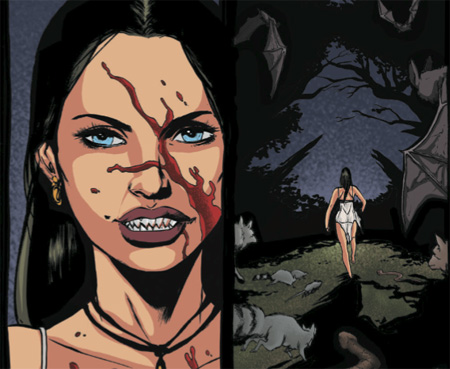 Another aspect of Jennifer's Body OGN that must be applauded is Rick Spears's expert character construction. While some readers might wonder why so much time is spent on Jennifer's victims, such an intense focus on the lives of each of these high school boys has two distinct benefits: first, it gives readers the ability to view these boys from Jennifer's — or should we say, the demon's — perspective, highlighting the type of attention and focus paid to a victim by its predator; second, it makes the seemingly-inevitable bloodbath that much more disturbing because the reader feels acquainted with Jonas and Chip and Colin and the other boys. Brilliant writing, really.
Jennifer's Body OGN was released this past Wednesday, August 26th and is available from Boom! Studios as well as wherever books and graphic novels are sold. For more information on the graphic novel, Boom! Studios, or any of the artists and writers involved, check out Boom!'s official web site. For more information on Jennifer's Body, set for release Sept. 18th, visit the film's official web site.