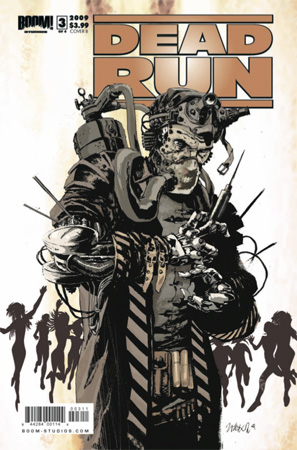 REVIEW: Dead Run #3
Release Date: August 5 2009
Story: Andrew Cosby
Script: Michael Alan Nelson
Artist: Francesco Biagini
Colorist: Matthew Wilson
Letterer: Marshall Dillon
Cover A: Eric Canete / Digikore Studios
Cover B: Jason Shawn Alexander
Editor: Matt Gagnon
Assistant Editor: Dafna Pleban
Publisher: BOOM! Studios
Boom! Studio writers Andrew Cosby (Eureka) and Michael Alan Nelson (Hexed, Fall of Cthulhu) are back with the third installment of their first collaborative comic book project: Boom! Studios' Dead Run series. Nick Masters is one of very few brave — or foolish — individuals to venture beyond the walls of the only safe havens humans still retain into what is known as "The Zone," the barren wastelands that stretch between the remaining cities. These are the areas that were ravaged by plagues of unknown origin, reducing the population outside to nothing more than mutants, monsters, and warring factions of survivors driven insane by disease and starvation.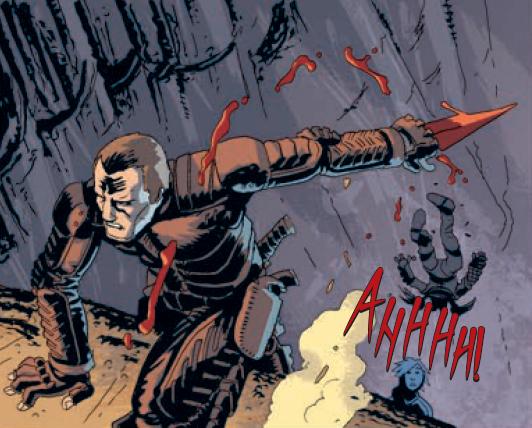 Nick doesn't traverse The Zone without purpose, however — he happens to be one of the best transport drivers around. When society broke down, so did its various forms of organized transportation. Now individuals who want something dropped off, picked up, or even disposed of are forced to hire rogue drivers like Nick to curry their cargo through the treacherous terrain of The Zone. Unfortunately for Nick, business sometimes becomes extremely personal. After failing to deliver a package to a local crime lord, Nick is forced to take on a suicide mission in order to save his sister from a disappointed client (see Dead Run #1).
Only one man has ever successfully navigated the "Dead Run," the 350-plus mile expanse between what's left of Los Angeles and San Francisco: a geezer named Waylon Biggs. Unwillingly saddled with Waylon's daughter, Becki, Nick sets out on the Dead Run. Dead Run #2 follows Nick as he and Becki try to find their way from Los Angeles to San Francisco, fighting off bands of mutants along the way. When Nick unwittingly drives over a land mine his car explodes and in the aftermath Becki is captured.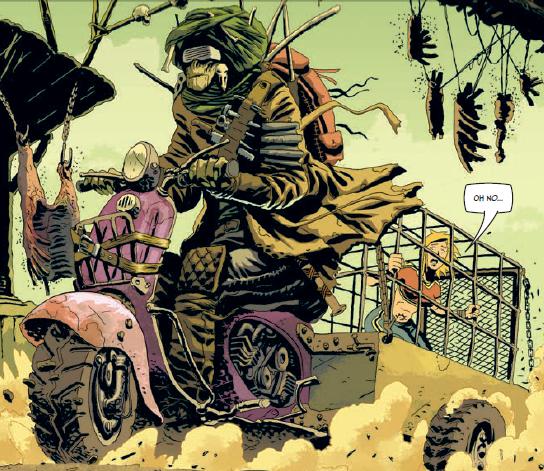 In the latest issue of Dead Run, which was released by Boom! On Aug. 5th, we find Becki caged as she is transported to a buyer. While mutants haggle over Becki, Nick is faced with a tough decision: should he put his sister in further danger by straying from the Dead Run in order to save Becki, or should he abandon his passenger and continue on alone in order to save his sister as quickly as possible?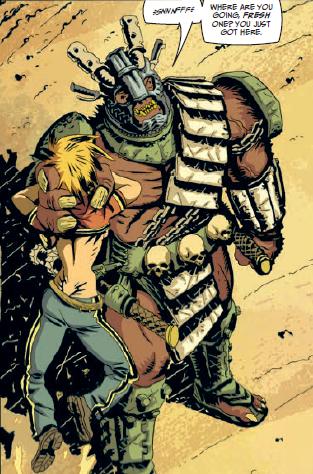 This science fiction series will interest fans of the Mad Max movies as well as readers who are fond of the visual style of Italian illustrator and concept artist Francesco Biagini, whose work has appeared on the cover of the Italian zombie magazine De:Code (available for viewing on Biagini's blog). For more information on Dead Run #3, to purchase copies of the three issues that have been released, or to check out other Boom! Studios comics, visit Boom!'s official web site.