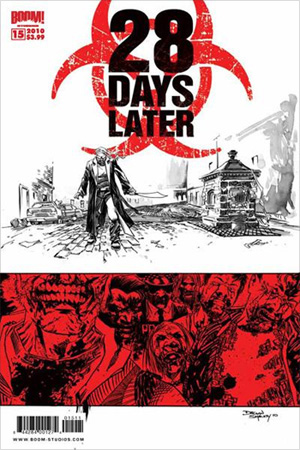 Issue: 28 Days Later #15
Release Date: October 6, 2010
Writer: Michael Alan Nelson
Artist: Alejandro Aragon
Colors: William Farmer
Letterer: Ed Dukeshire
Cover A: Declan Shalvey
Cover B: Sean Phillips
Publisher: BOOM! Studios
On October 6th, BOOM! Studios released another issue of its ongoing series 28 Days Later, which is based on director Danny Boyle's popular film of the same title. The comic series is written by Michael Alan Nelson (Hexed, Swordsmith Assassin, Dead Run) with artwork by Alejandro Aragon (Overlook) and covers by Declan Shalvey and Eisner Award nominee Sean Phillips.
In this issue, Selena and Clint find themselves in a tight spot when they are overtaken by a group of well-armed and organized individuals, one of whom is hell-bent on their demise as punishment for breaking his friend's arm in a past altercation. The group's leader has different plans, however, and the two are taken back to a safe house with electricity and running water in preparation for meeting "the King."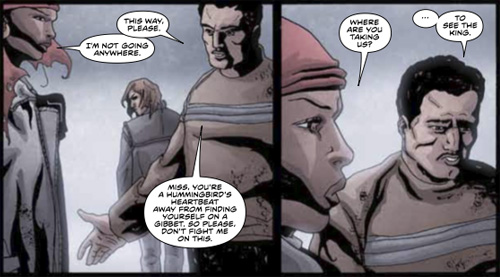 King Dixon was "a drug dealing, murdering gangster" before the infection crippled society, and now he exerts control over a large group of people with the same ruthless force he previously used to deal drugs and eliminate his competitors. Dixon has established what is best described as a feudal society in which his followers show fealty and follow his rules in exchange for protection from the infected and other survivors interested in looting the group's supplies. As always, Selena isn't shy about voicing her disdain for such an arrangement — and such an individual — and the situation goes from bad to worse when Selena tries to defy the King and his "Queen," Minnie.
Sentenced to a night in the "mannequin," Selena will be forced to spend hours face to face with the infected. If she can make it through the night, she and Clint will be free to go, but it's dark and lonely and her only companions are groaning monsters that would like nothing better than to tear her limb from limb and suck the marrow from her bones.
Personally, I'm not a fan of the artwork in 28 Days Later #15, but that's not to say that the illustrations aren't good. In my opinion, Aragon's artwork lacks a certain degree of consistency when it comes to characters' faces — something that happens to get on my nerves when I'm reading an ongoing comic series — but it isn't impossible (or even difficult) to distinguish between characters as I've seen in some other comic book series released over the past year or two.

Another personal gripe with BOOM! Studios' comic series in general is the length of each issue — while the goal of a single issue is to tell part of a story in such a way that readers will come back for future issues, many of the BOOM! comics I've read over the past several years fall on the side of being just a bit too short for my taste. Fortunately, this publisher is extremely good about sticking to its publication schedule and putting issues out in a timely manner, so even though each issue of 28 Days Later may feel shorter than I'd like, I don't have to wait very long to get my hands on the next installment (in fact, 28 Days Later #16 is already available from BOOM! and wherever comic books are sold).
Spoiler alert! Based on several "preview" pages available on BOOM!'s official website, it is clear that Selena makes it through her night in the mannequin and lives to see her companion again. 28 Days Later #16 will also provide readers with some additional insight into Selena's past, perhaps shedding some light on the reason for the no-nonsense demeanor that landed her in this situation in the first place.
Rating: 3.5 / 5 Stars