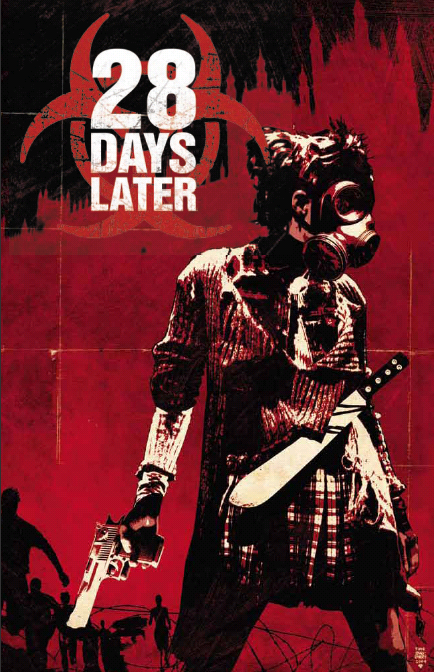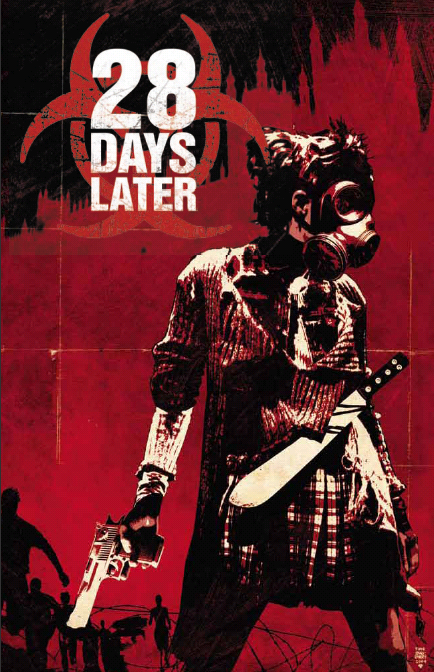 Issue: 28 Days Later Vol. 1 TPB
Release Date: September 1, 2010
Writers: Michael Alan Nelson
Art: Declan Shalvey
Colors: Nick Filardi
Letters: Ed Dukeshire
Front Cover: Tim Bradstreet
Back Cover: Sean Phillips
Publisher: BOOM! Studios
Just reading the summary of this comic sent me rushing to watch 28 Days Later again. It had been so long I barely remembered any of it, but I'm definitely glad I refreshed my memory because otherwise the beginning of this comic wouldn't have made much sense.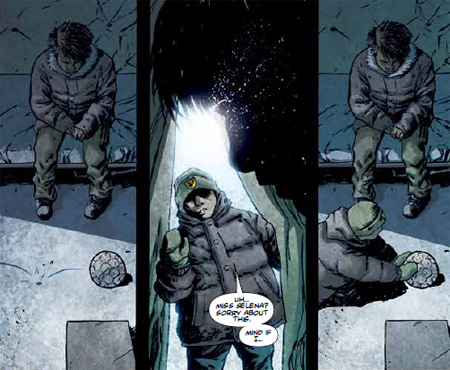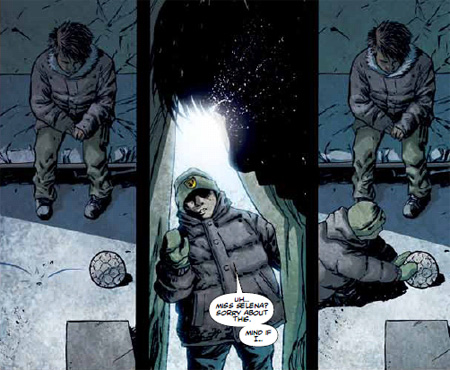 We start with Selena, one of the three survivors from the movie, sitting in a refugee camp in Norway. She looks incredibly despondent and I couldn't help wondering where the other two survivors are. After all they went through I would imagine they would stick together like glue, but no, she's alone and apparently still scary. The children are even afraid to approach her to regain a soccer ball, making the one who was brave enough to do so a hero.
She's approached by a reporter who asks her to be his guide. They're sneaking into the quarantined area, heading to London in search of the truth behind what happened, the truth that is being hidden and buried from the general public. She basically tells him he's nuts and she's not interested, but after a little flashback to what I assume is her life before the infection, she changes her mind and rushes to join the reporter and his team.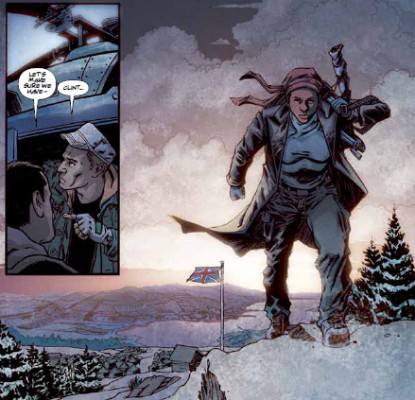 The reporter has everything all planned out but if there's one thing I know for sure, things almost never work out the way you plan them. This is most definitely the case when their helicopter is fired upon even though the area they're in shouldn't be restricted airspace. Already the plan is falling apart. The reporter's team, or at least some of them, doesn't seem too thrilled to have Selena around either, which can't be helping her mood much.
She quickly proves herself, however, when she saves one of the team from infected people. Selena's still just as handy with her machete; an infected killing machine that girl is. This turn of events answers the question of why they were being shot at. The infection has spread further than they thought. Not good.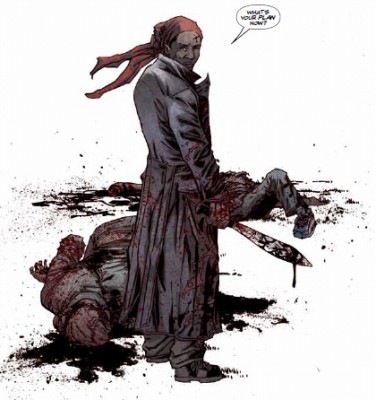 I didn't think that a comic would do well with the fast moving infected chasing scenes, but I was really impressed. You get the same feeling as watching the movie. I could almost hear them coming closer, catching up, while the group desperately tried to reach a place they could defend.
The fight scenes are just as impressive as the chases, and Selena is proving herself an asset as she saves members of the team over and over again. Then when they find a place to hunker down they sit and play poker. I found this quite amusing. Not quite the first thing I'd think to do while possibly surrounded by infected people out to get me, but to each his own I guess.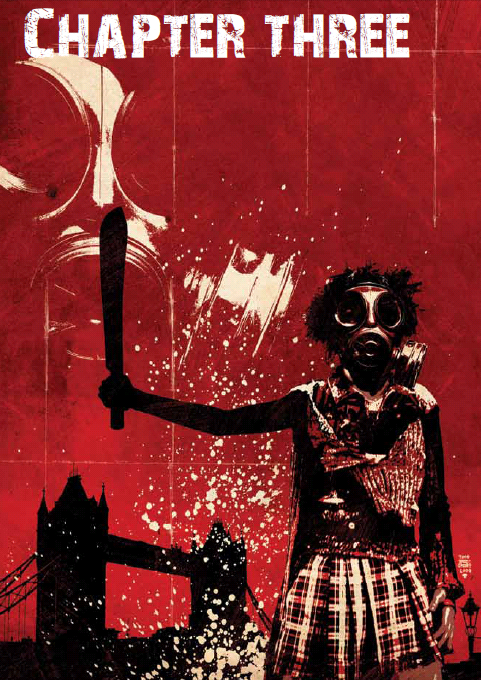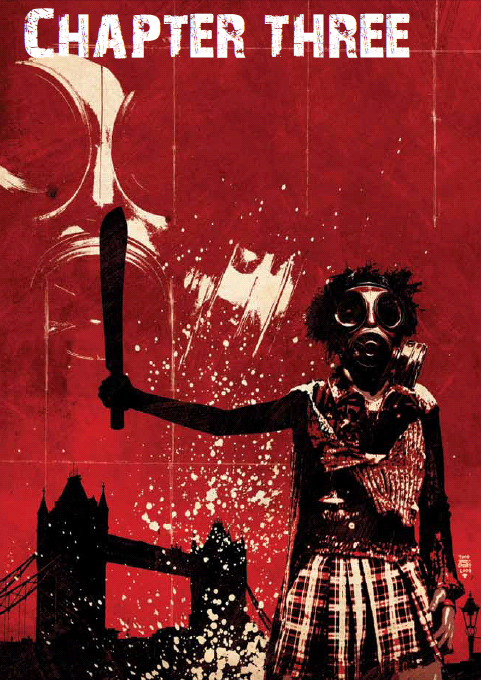 Let me take a moment to say that I really love the artwork on the separator pages. It's stunning. Bloody, but stunning all the same. They all appear to be Selena in battle mode and I'd honestly hang the things on my wall, they're so pretty. I apparently have a dark side to my interior decorating, a blood spattered girl in a school girl's uniform skirt and a gas mask holding a machete. No, that wouldn't traumatize my kids at all!
One of the guys is just really unlucky, always seeming to be the one to stumble upon the hidden baddies. Hirsch is the first to go down and the others aren't too happy about it when Selena kills him without a second thought.
Apparently the newly dead Hirsch was dating one of the other team members, Trina, who is now giving Selena the freaky eye. This is not going to end well. Trina tries to kill Selena, but not even by direct methods. No, she bites her during an attack and tries to trick the others into killing her. Nice lady, really. Even after that Selena saves her life. Now that chick has honor.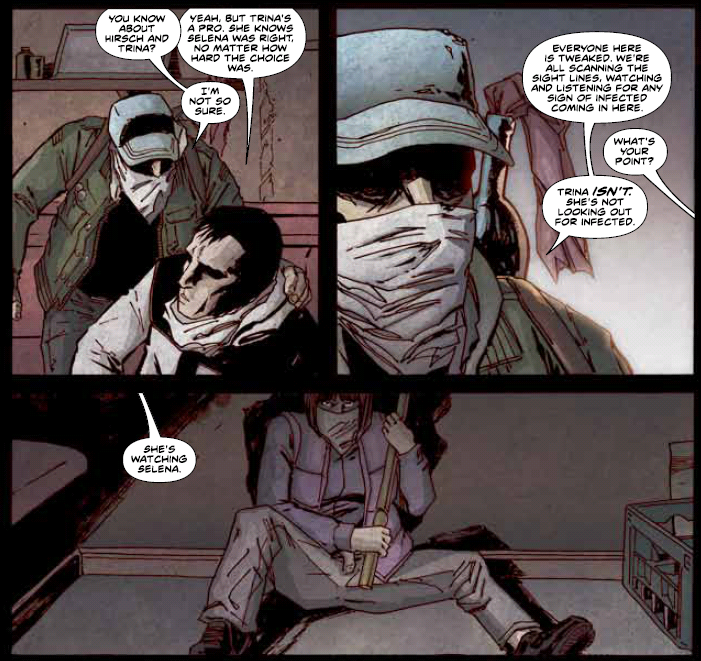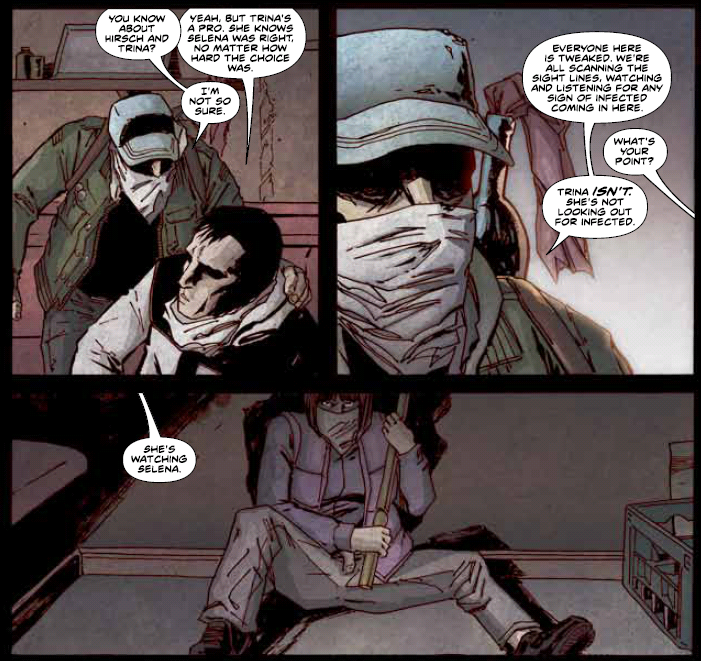 The group, now down one member, makes it to their boat and continues toward their destination: London. They've got tons of supplies and firepower and Selena now has a gun, but she's still not willing to give up her trusty machete. I don't think I would either.
Their boat is fired on and everyone gets thrown into the water. They do not want people making it into infected territory, now do they? This starts another interesting little flashback into Selena's life pre-infection. I must say, it's not how I'd imagined she would be in the slightest. Now I'm all intrigued. The team is down to Selena and two of the guys, one with some seriously torn up eyes. The plan is shot to hell. I'm totally wishing this was a movie now, but it's still pretty darn good in comic form.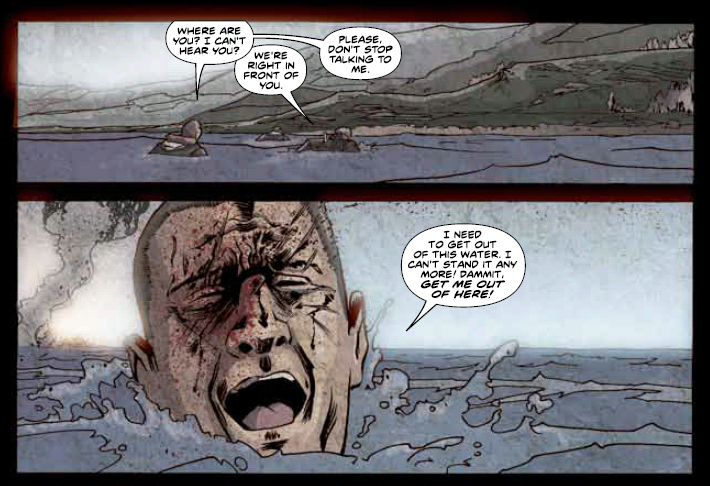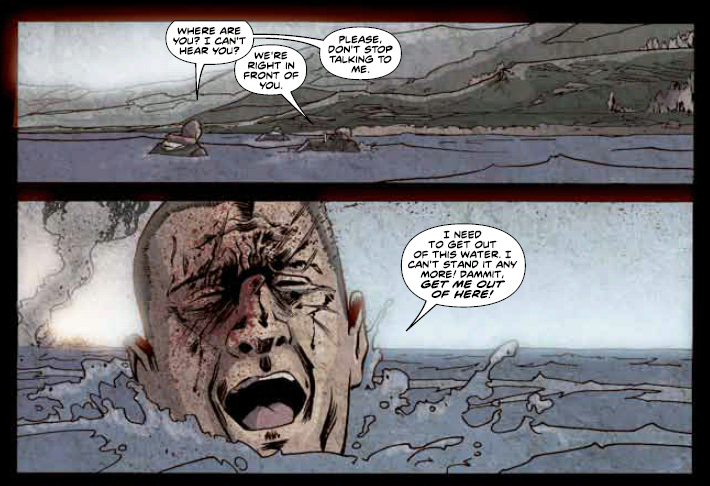 I definitely can't wait to get my greedy little hands on the next one of these. I'm not patient enough to read one comic at a time so I really like these bigger ones with a few separate issues in them. They last a little longer and satisfy more. I really recommend checking this out, especially if you liked the movie, which I did. Just awesome.