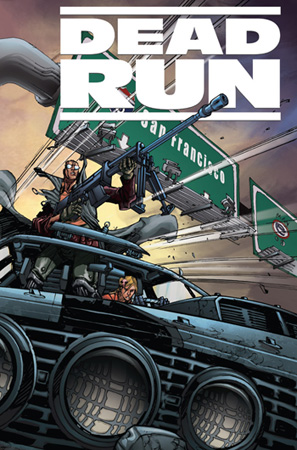 Issue: Dead Run TPB
Release Date: December 3, 2009
Story: Andrew Cosby
Script: Michael Alan Nelson
Artist: Francesco Biagini
Colors: Matthew Wilson
Letterer: Marshall Dillon
Cover: Eric Canete (Colors: Digikore Studios)
Editor: Matt Gagnon
Assistant Editor: Dafna Pleban
Publisher: BOOM! Studios
The premise of Dead Run is this: the USA has been transformed into a bunch of city-states — Los Angeles, Las Vegas, San Francisco, etc. — which have been converted into self-sustaining fortresses. The living is good inside the cities. But the areas between are a nomad's wasteland of post-apocalyptic freaks parading around on motorcycles, pillaging or raping (usually both), and generally giving the artist a great excuse to draw monsters every third page.
Our hero Nick Masters is a courier. In the real world, "courier" conjures up images of bicycles and spandex shorts and gloves with the fingers cut off. But in the Dead Run world, being a courier is deadly business. You have to get merchandise from one fortress-like city-state to another by outrunning ruthless motorcycle gangs hellbent on raping and pillaging anyone who comes near. And there's no spandex or bicycles. Instead, there are leather jackets and hand grenades and gas-sucking muscle cars.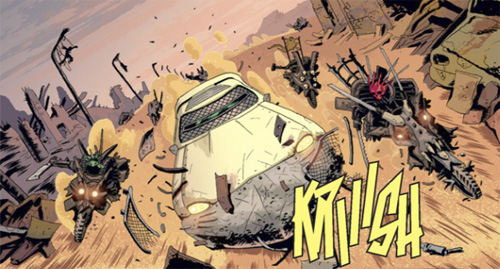 When a former employer kidnaps Nick's sister, he's forced to make the Dead Run. That's a run that only one person has lived to talk about. And that one person's refusing to talk. Of course, his sassy daughter who likes to show off her belly shirts is willing to talk, but only if he takes her with him. And the story is on!
When Jason first mentioned that Boom! had made this trade paperback available to Fandomania for review, I was like "oh, that's cool, I guess I'll read it." But then he mentioned that it's similar to Mad Max, and THAT is when I got excited (I'm a red-blooded American geek, after all). Post-apocalyptic world, gas-guzzling muscle cars, and radiation-mutated freaks of nature. Throw in a really tough woman who looks great in belly shirts, and you've got a story! But the fun doesn't stop there. The story is by Andrew Cosby, the creator of Eureka. If you've read my reviews of Eureka, you'll know that most of Andrew's creations are good stuff (except for the unstoppable ice episode. Aside from Matt Frewer, that was a dumb one).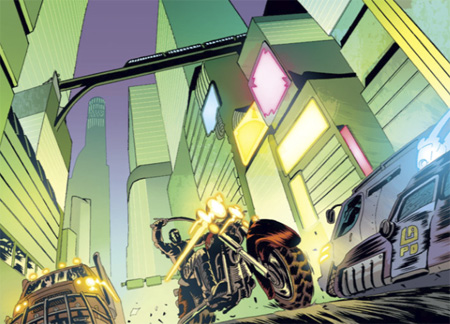 The bad news is that it's quite derivative. But the story starts at a full tilt sprint, and doesn't stop until your head explodes from adventure overload. So that's a good thing. And even though it's got moments that will make you roll your eyes, overall it's a tight story. In other media, such as novels or movies or singalong blogs, you need to stop every once in a while and allow some breathing space. Even an action movie has to present some time to develop the characters, or to let the audience catch a breath. Not so in comics. A tightly scripted trade paper back can develop a character in three panes (four if the character goes against type) and then toss him into a hornet's nest.
So although the characters are a bit stock, the story fleshes them out over time. They have the potential to be interesting in the long term. Also, the artwork is good. I usually don't go for inks with such a narrow pen stroke, but that's just personal preference. Plus, the thickness of your pen don't matter as much as the drama in your composition. In this case, the angles are dramatic enough to keep up with the story, which is a much more important issue with comic art. If you are going to have an over-the-top story like this one, then you need over-the-top artwork. Hands almost reaching out of the pane, exaggerated use of perspective, heightened foreshortening — it's all there. The colors, as usual for Boom!, are spot on as well.