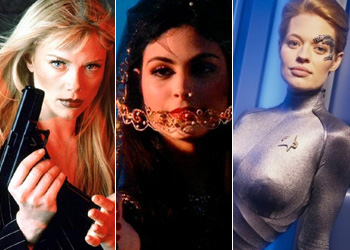 A couple weeks ago I wrote about Bad Guy Good Guys, the idea being that bad guys are interesting and attractive, but good guys are the characters you idealize. So, interesting characters are sometimes bad guys who turn out to have a good heart when push comes to shove.
Naughty Girl Good Guys, similar in concept, tend to be trickier for storytellers. If done incorrectly, the Naughty Girl Good Guy is nothing more than a sexualized sidekick. She's degraded into a one-dimensional stock character, objectified to the point of misogyny.
If done correctly, however, she offers a compelling personality and complex motivation and propels the plot. Let's explore a few.
Seven of Nine (Star Trek: Voyager)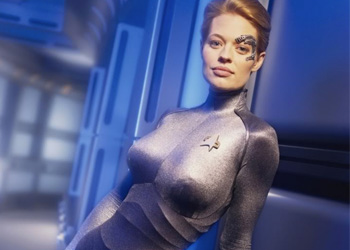 A human that was assimilated into the Borg collective when she was very young, Seven of Nine represents redemption, a common theme to both bad boys and bad girls who are really good guys.
Seven of Nine was assimilated early enough in her life that she could never go back to being her original human self (as Picard did). In essence, she's a half-human, half-Borg outsider in the tradition of Spock from The Original Series.
Until Seven of Nine came along, Star Trek: Voyager was basically a '90s version of Lost In Space but with cooler uniforms. With an outsider, however, who had to be convinced of Star Trek's basic themes (the struggle to improve is better than actual perfection, altruism is a sign of strength, multiculturalism — although harder to achieve — is worthy of the effort, etc.), you now have some conflict that allows you to put some plot behind the platitudes.
Inara Serra (Firefly, Serenity)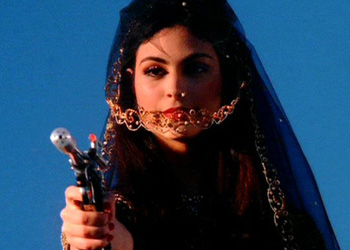 Reader David Spira was kind enough to leave a comment in my previous article pointing out that I missed Captain Malcolm "Mal" Reynolds of Firefly fame in my list. This is my chance to make up for missing such a good example of the Bad Guy Good Guy.
Inara Serra is a "Companion" who rents space on Mal's smuggling ship Serenity. A Companion is the Firefly Universe's version of a courtesan. A courtesan back in the day could achieve a high station in life, but she was limited by how well she could charm her patron.
But in Firefly and its sequel movie Serenity, a Companion is respected for her wisdom. People go to a Companion for moral and spiritual guidance, with the sex thing being an extension of the wisdom and morality the Companion can teach. But that's not the real innovation. The real innovation is that Inara is Mal's moral compass. A person whose livelihood is normally thought of as immoral is actually one person on the ship whose morality is clear and unquestionable. And she's also the reason the others on the ship rediscover their morality.
Veronica Sawyer (Heathers)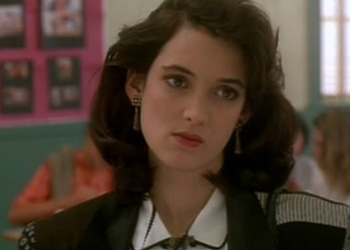 Is Veronica really all that naughty? Sure, she falls for an antisocial rebel, but don't we all at some point in our life?
She would have you believe she didn't realize the orange juice was actually Drano. And she would claim she thought the gun was full of a special kind of German bullet that breaks the skin but doesn't kill people. But we know the truth. She's a murderous woman who indulged in homicidal killing spree.
On the other hand, she's one of the good guys. She only targeted people who were bad to begin with. They did deserve some sort of punishment. Plus, at the end of the movie, she invited the misfit nerdy girl for movies instead of going to the prom. She can't be THAT bad.
Anita "Needy" Lesnicki (Jennifer's Body)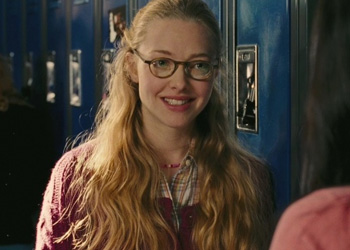 Considering the opening scene, in which Needy is an inpatient at a mental institution and beats the snot out of the head nurse, you would think she's just a bad girl. Not a naughty good girl.
But there's more to the story. Needy is the innocent half of an inseparable duo. Jennifer Check and Needy have been friends since elementary school. Even puberty wasn't able to separate them: Check became the hot girl, and Needy the nerdy girl (who is still hot, of course, but keeps it under cover). But they still were best friends.
That is, until Jennifer became a Succubus. Then things got weird. But Needy kept her humanity, and her good guy status. Never mind what she did in the closing credits. Those guys were asking for it.
Nikita (La Femme Nikita, Nikita)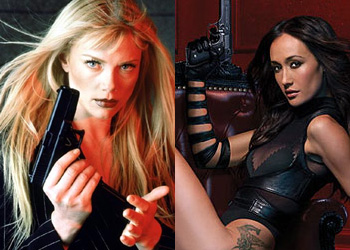 Depending on which version you're talking about, Nikita was a bad girl: addicted to drugs, committing murder during drug-inspired robberies, spitting in people's faces. Bad all around.
But a secret government agency fakes her death, trains her to be an assassin, and turns her loose against various threats to society. So, she's still naughty (killing people is naughty, even when the government says it's okay), but she's channelled her naughtiness for good.
Angelica (Pirates of the Caribbean: On Stranger Tides)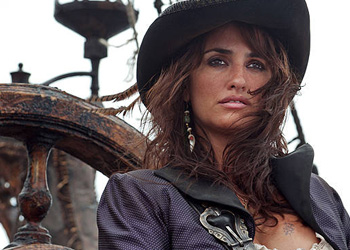 Angelica is a bad girl. Such a bad girl, in fact, that she can outdo Jack when it comes to lying, cheating, and stealing. But it's not her fault. She's the daughter of Black Beard. All that lying and cheating is just to save her father's sole. What would you expect? This bad girl attitude, with bad girl objectives — but for sympathetic reasons — is what makes her interesting. If only she hadn't shown up in the fourth installment of a once fascinating but now stale franchise, we might want to see more of her.