There's something sexy about a woman who has the strength of character to confront the challenges that would leave the rest of us in the fetal position. Granted, some men (commonly known as losers) don't like strong women. But the rest of us are totally into women who are strong. These are the women of fiction I love for their strength:
9. Jodie Foster as Clarice Starling (Silence of the Lambs)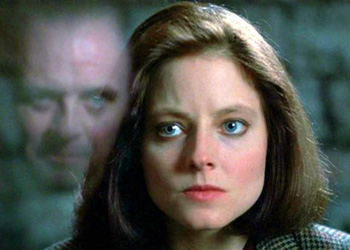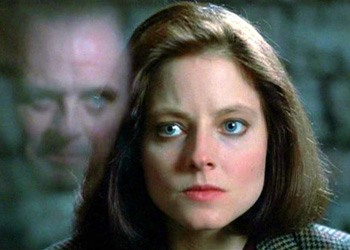 It's not fun to be the object of a stalker's affections, especially if that stalker is a homicidal cannibal who enjoys a nice Chianti while consuming census workers. But that didn't stop Special Agent Clarice Starling from talking Hannibal Lector to a standstill in her quest to catch her bad guy. Not only did she stick it out through conversations that would make the rest of us vomit our own stomach lining just to get out of the assignment, she successfully tracked down the serial killer, killed him, and did it in a pitch black room while the bad guy was wearing night vision goggles. That's tough. That's totally hot.
8. Christina Hendricks as Joan Holloway (Mad Men)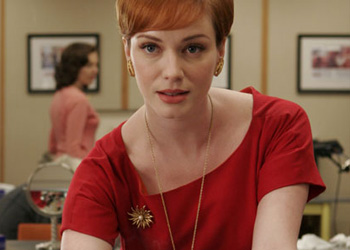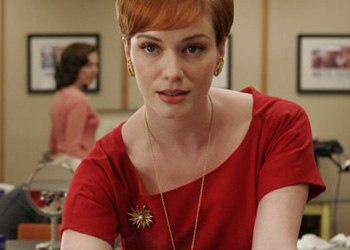 Sure, Don Draper might be a booze-swilling hard-selling advertising man who rose to the top of his company during the peak of chauvinistically-motivated male dominance in the corporate world. And some people apparently like that. But if it weren't for Joan Holloway, nothing would get done at that place. She's the smartest, she's the most talented, and she doesn't have to prove it, because everybody knows it. It might be the way she carries herself with confidence. It might be the way she slams back into place anyone who confronts her without even raising her voice. Maybe it's the way she wears her womanly curves with poise and confidence instead of fretting about calories. Whatever it is, she has that certain something that makes us glad she's on our side.
Also, she plays a mean accordian.
7. Summer Glau as River Tam (Firefly / Serenity)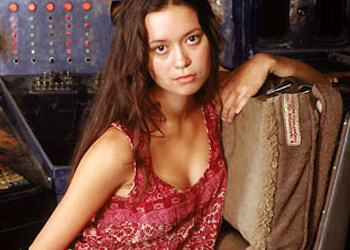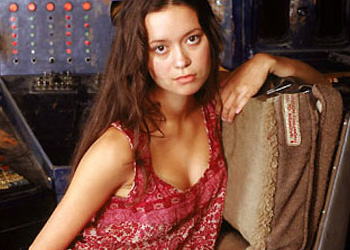 Summer has mastered a really sexy kind of strong woman's role: the cute shy woman who looks innocent when you first meet her, but could crush your trachea with her pinky if she needed to. It's not just the martial arts sequences that make River Tam a sexy strong character (although that helps). It's also her inner strength. They tried to make her so lazy she wouldn't even get up for a donut, but that didn't work. Then they tried to make her a Reaver, but that didn't work either. Or maybe they were trying to experiment on her to develop psychic abilities. I kind of need to watch that movie again. But whatever they did, it sure did mess her up in the head! But she didn't give in, and she didn't become an emotionless robot either. It's that combination of vulnerability and strength that makes her an interesting — and sexy — fictional character.
6. Laura Linney as Abigail Adams (John Adams)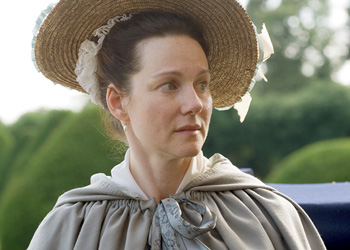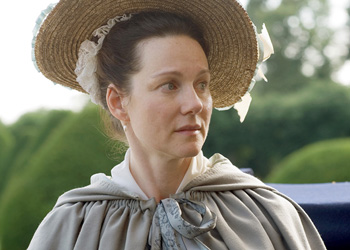 I admit this is kind of cheating, since Abigail Adams actually existed in real life. But HBO did a miniseries that featured her prominently, so that's close enough for me. Anyway, Abigail not only ran the farm during John's considerable absences, married a future president and raised another one, confronted smallpox epidemics, and defended the Adams homestead from Red Coats during the Revolution. She also matched wits with diplomats, out-Frenched French delegates, and earned the respect (if not fear) of her husband's long list of enemies. Is it too much to claim that we'd all be speaking English if she weren't active during the Revolution? I think not.
5. Jolene Blalock as T'Pol (Star Trek: Enterprise)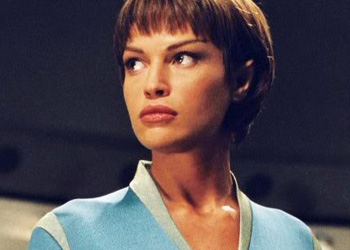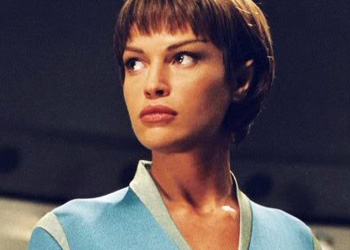 The first thing most warm-blooded men (and some warm-blooded women) notice about T'Pol is that, physically speaking, she's gratuitously hot and sexy. But that's not what kept us tuning in each week to see the second in command of the pre-Starfleet Enterprise. No, it was her tendency to confront certain death on a regular basis with nothing but a twitchy eyebrow to indicate her discomfort. Spock may be the first Vulcan we admired. Tuvok and Surak had their charms. But none of them could match T'Pol's combination of grace under fire and pure power in the face of the enemy. That's toughness… that's sexiness.
4. Erin Gray as Col. Wilma Deering (The Buck Rogers in the 25th Century)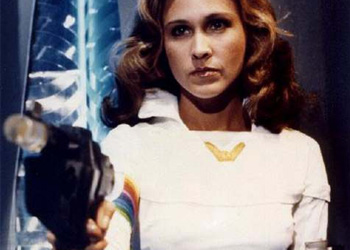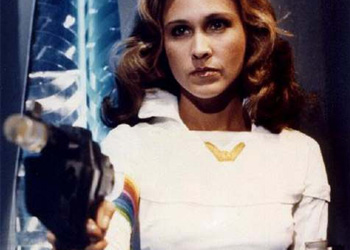 When Buck Rogers first awoke in the 25th century, he probably said to himself something like "it's amazing how little fashion has changed since the late 1970s." The next thing he probably said to himself was "Col. Deering put the sexy in bad-assery." It takes guts to wear one-piece spandex catsuits every week, but Erin Gray took it one step further and made it look like it just might work as a military uniform. Wilma showed her strength of character week after week with excellent martial arts, skilled piloting, and knack for defeating the women who kept throwing themselves at Buck.
3. Carrie-Ann Moss as Trinity (The Matrix)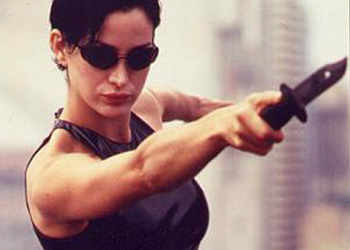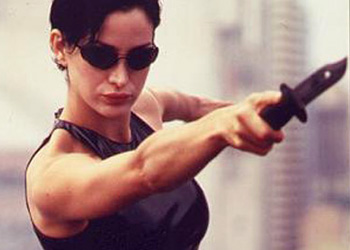 Admittedly, Neo was the chosen one. He could fly, and he made black trench coats look cool. But when you think about it, he never really was in any danger (except at the end when he died, of course). He had super strength, and telekinetic powers, and super healing. Sure he was powerful, but he was so powerful he didn't have to draw from that inner strength like the rest of the rebels. That's not sexy toughness (it's more like "somewhat attractive super powers").
Trinity, on the other hand, was just your average non-chosen-one human being who happened to have awakened from the Matrix and downloaded kung fu into her brain. She was vulnerable, but she kept going back, fighting the good fight, and reminding us that tight leather pants look good on the right person, especially when she's hanging in mid air just before drop kicking a henchman. All that and sexy lips. Who doesn't love that? Nobody doesn't love that.
2. Carrie Fisher as Princess Leia (Star Wars)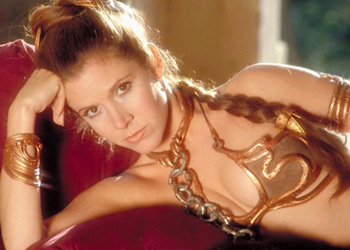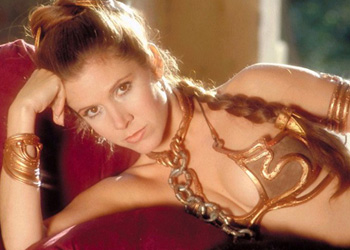 Slave Leia. In case you missed the memo: gold and leather bikini, dead Jabba, and a Tarzan-swing off a doomed sand barge as it explodes into a fireball behind her. 'Nuff said.
1. Linda Hamilton as Sarah Connor (Terminator 2: Judgment Day)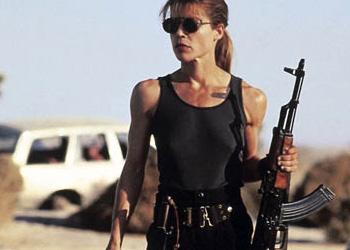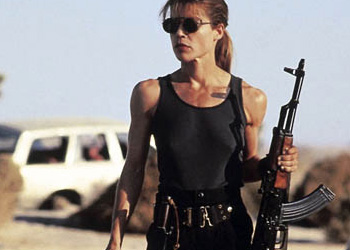 She was kind of wimpy in the first installment, and needed some protection, which was okay, but not especially tough or sexy. But by the time the sequel came around, Linda Hamilton's Sarah Connor wasn't taking any frakking crap! The muscles were totally hot, and the bad attitude was totally hot. The emotional fortitude also earned a lot of fans. But it's not just about being hot. It's about rising to the challenge and making victory seem inevitable. Back in the good old days, movie-men were men, and movie-women were women, and neither of them took any crap. Too bad today's directors don't have the guts to put that kind of feminine bad-assery on the screen. Hopefully if Wonder Woman ever gets out of development hell someone will watch Terminator 2 for inspiration.