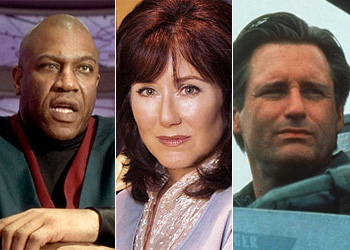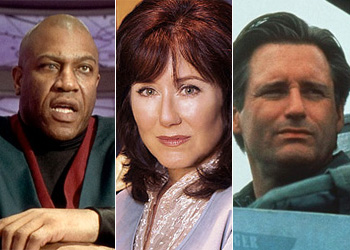 Everyone has their favorites, from Chester A. Arthur to Rutherford B. Hayes. But those are real life presidents. In honor of the Inauguration, we bring you what only Fandomania has the guts to put in writing: the best presidents of sci-fi.
Earth President from The Fifth Element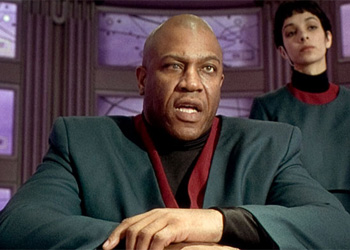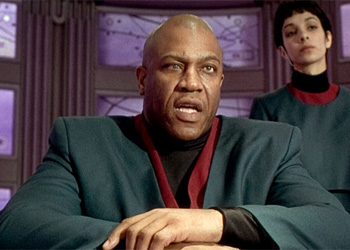 Race: Human
Name: President Lindberg
Played by: Tom Lister, Jr.
One of the coolest exchanges between a sci-fi president and military commander in the field:
President Lindberg: I have a doubt.
General Staedert: I don't, Mr. President.
Okay, it's not THE coolest, but it's pretty cool because the guy with no doubts proceeds to get his entire fleet vaporized. He should have had a doubt. The other thing that makes Tom Lister, Jr.'s president great is Lister himself. A former professional wrestler? The guy who bullied Ice Cube in that comedy classic Friday? Yes, that's the man I'm talking about.
Chancellor of the Republic from Star Wars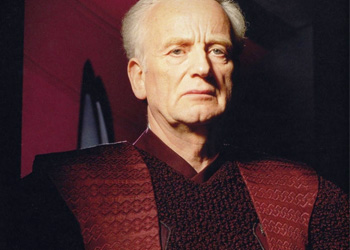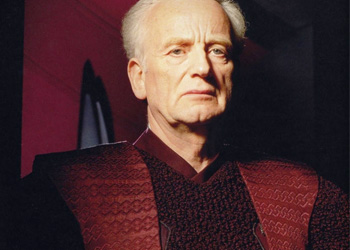 Race: Human
Name: Palpatine
Played by: Ian McDiarmid
Okay, he's not a president, he's a chancellor. And it's mostly based on the Weimar Republic and the rise of Hitler to chancellor, and then after that to Führer (which means leader, by the way. I always thought that word should be translated). It's not based on a Presidential system. I get it.
But he's the Sith Lord. And he manipulates his way into supreme power. Plus, his combination of powerful control of the Force on the one hand and cowardly retreat and hiding in the shadows when anyone of substance confronts him on the other hand makes those battles with Mace Windu and Yoda that much more satisfying (the part about getting outmaneuvered by a snot-nosed Luke Skywalker is pretty cool too).
Mayor of Terminus from Foundation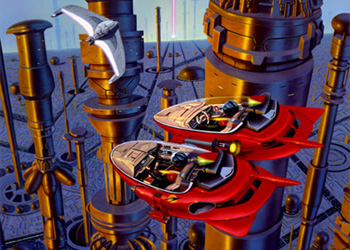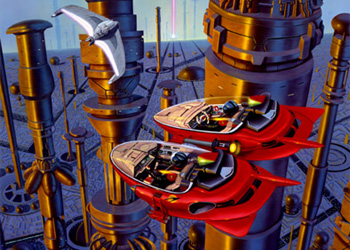 Name: Salvor Hardin
Race: Human
Played by: N/A
One of the common threads in most of Issac Asimov's work is that scientists (and, to a lesser extent, technically competent professionals in other fields such as engineering), if given a chance, can run a society better than anyone else. If only given the chance, they'll figure out all the issues and solve them like an equation. There's no need for any other type of leader than a brilliant scientist.
Nothing gives light to this thesis more powerfully than the original three Foundation novels. Salvor Hardin, a true statesman, is just what he young Foundation needs to survive against the odds. Of course, being a creation of Asimov, he does it with unrelenting logic and tactical brilliance worthy of… worthy of… a scientist.
President of the ragtag fleet from Battlestar Galactica (reboot)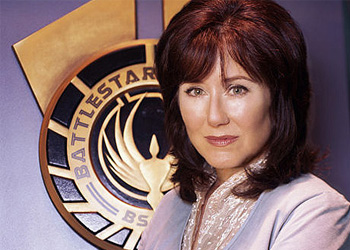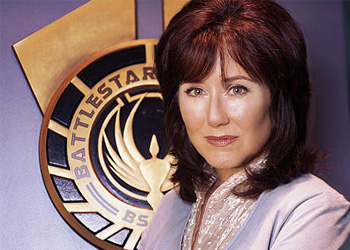 Name: Laura Roslin
Race: Human
Played by: Mary McDonnell
Here is the premise of this show: (1) Nearly all known humans are massacred by a society of robots; (2) those robots eliminated nearly the entire executive branch and military apparatus of said humans; and — just in case that wasn't hopeless enough for you — (3) the person who did survive to fill the office of President was 43rd in line. So things are bleak.
Yet she's got the stuff — that certain combination of grit and leadership and political talent that makes her just the right person to rise to the occasion. You know what that is? That's frakking awesome.
Galactic President from Spaceballs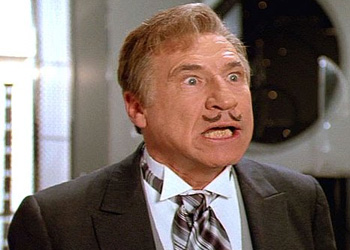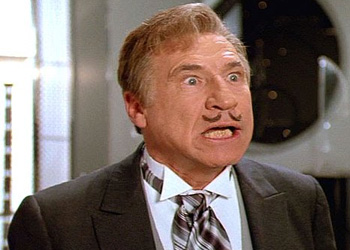 Name: Skroob
Race: Human
Played by: Mel Brooks
He's the kind of president that uses 123 as his luggage lock combination. And he doesn't quite understand the power of the Schwartz. Plus, Dark Helmet pretty much runs away with the show, but you have to give Skroob credit for making Dark Helmet his chief minion to begin with.
President of the United States from Mars Attacks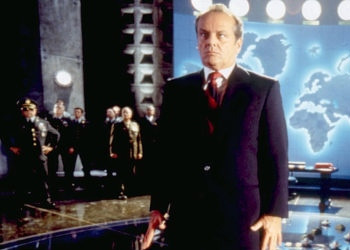 Name: James Dale
Race: Human
Played by: Jack Nicholson
Any time you cast Jack Nicholson as president, you are in for a good ride. But as the Commander-in-Chief when the giant headed aliens with splatter rayguns attack? Priceless. I'm still trying to work my contacts in Washington D.C. to get a tour of "the Kennedy room." No luck so far.
President of the United States from Independence Day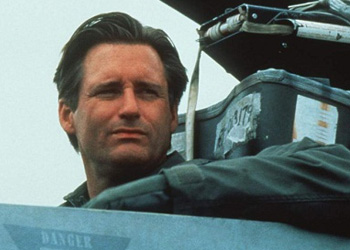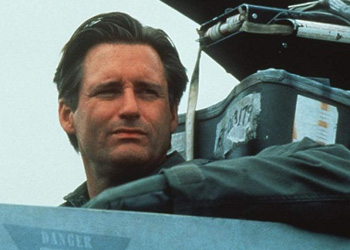 Name: Thomas Whitmore
Race: Human
Played by: Bill Pullman
Whitmore gets on the list because it's such bizarre casting. It takes some guts to cast Captain Lone Star from Spaceballs as the guy who, in a non-ironic way (at least not intentionally ironic), rallies the entire planet to save itself from genocidal aliens. Pullman pulls it off for the most part, but there's more to the story. Remember that speech where he rallies the pilots for their big showdown by telling everyone that today is the day that the 4th of July becomes Independence day, not just for America, but for the entire planet? He's no Henry V. But that's the speech that pushes President Whitmore over the cliff. You have to admire that kind of blatant appeal to patriotism. Unless you're not American. Then you have to roll your eyes, and maybe choke down a little vomit.
Federation President from Star Trek VI: The Undiscovered Country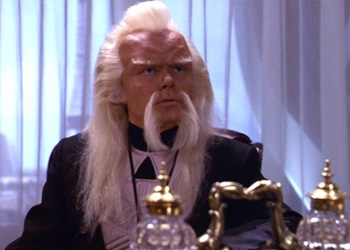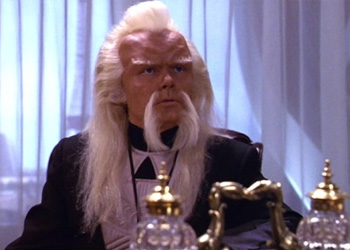 Race: Elfrosian
Name: Unknown
Played by: Kurtwood Smith
This is one of those roles where the writers said to themselves: "We need a head of state to make decisions about our hero's crisis, which will make the conflict in our story seem more epic, so let's invent a head of state character out of thin air." They didn't even bother to give him a name. They also didn't bother, after all those decades had been spent building up the Star Trek Universe, to use an alien that already existed.
No Vulcan Federation President. No Andorians, either. No, we need an Elfrosian (?). Plus, let's make him blind, and get the audience curious about that, but not explore it at all. Only one actor could pull that one off: Red from That '70s Show.
Honorable Mention:
David Palmer from 24 gets an honorable mention. He could be at the top of the list, but he's a regular president, not a science fiction president. So, he only gets an honorable mention.
24
,
battlestar galactica
,
independence day
,
Isaac Asimov
,
Lists
,
mars attacks
,
science fiction
,
spaceballs
,
star trek
,
star wars
,
the fifth element