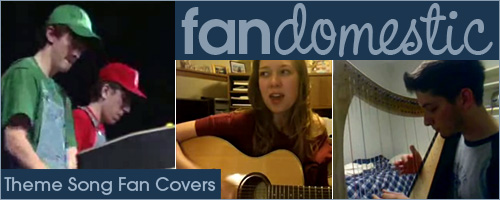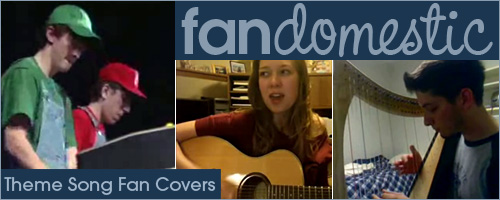 So far on Fandomestic we've featured everything from clothing to baked goods to home decor. Suddenly, it occurred to me that we've never featured music, which of course is a huge medium for fan creations. Here we'll look at some of the best and most unique fan-made covers of themes from TV shows, movies, and video games.
Firefly Theme ("Ballad of Serenity") Acoustic Guitar Version
If you're not familiar with Paulina Logan, you should be. I may be biased as she's a good friend of mine, but she's also an extremely talented singer/songwriter.. and a geek to boot!
Pirates of the Caribbean Medley on Roland Atelier Organ
Unlike the typical synthesizer, this organ doesn't store prerecorded tracks or come with any of its own. Everything on this recording is done live. Think about that while you're listening and marvel as I did at the depth of the music played here by Britt Cawthon.
Star Wars Accordion Medley
I know, it sounds like something Weird Al would perform in concert, right? But somehow, it fits. My favorite part is the "Cantina Band" bit.
Doctor Who on Gypsy Jazz Guitar
Covers that are close to the source material are great, of course. But I kinda have a weakness for those, like this one, that use some instrument or arrangement that you'd never connect with the theme in question and still make it work. Ron Grainer would be proud.
Star Trek: The Next Generation Theme on Keyboard
A simple yet strong and rousing tribute to the theme of my personal favorite series of the Star Trek franchise.
Super Mario Bros. Medley on Marimba
The marimba, a percussion instrument similar to the xylophone, is the instrument of choice for Mario and Luigi here, as performed at their school's variety show.
Battlestar Galactica: "Gaeta's Lament" Guitar Adaptation
The guitar adds a nice effect to this folksy song, originally sung a cappella by Felix Gaeta (Alessandro Juliani) in the episode "Guess What's Coming to Dinner?".
Harry Potter: "Hedwig's Theme" on Piano
A beautiful rendition of the famous theme song from the movie series, arranged and performed by classical pianist David Pasqualini.
Monkey Island Medley by Press Play on Tape
Bit of background: my brother and I used to go around singing the Monkey Island theme when I was growing up, and currently the MI2 theme is my ringtone. So it's clear this music is dear to my heart. It takes on a whole new life when performed by a full band, as it is here by Press Play on Tape, a Copenhagen-based "Commodore 64 revival band." The mere fact that there is a Commodore 64 revival band warms my heart.
The Office Theme Heavy Guitar Version
There are a ton of The Office theme song covers on YouTube, mostly on piano or keyboard. They're great, but my personal favorite is this "heavy guitar version" (with drum machine).
Zelda Piano Medley
This video has over 2 million views on YouTube, with over 25,000 people rating it at an average of 5 stars. Watch the video and you'll instantly understand why.
Joss Whedon Violin Medley
A combination of songs from Joss Whedon's original three cult hit TV shows, this medley was arranged and recorded as a birthday present for the musician's friend. I love the Buffy theme, but I kinda love that he included a song from "Once More, With Feeling" instead. (Also digging his decor!)
Star Wars Metal Guitar Medley
The arrangement of this is fantastic — it retains the musical integrity of the original pieces while adding some serious personality. I only wish it were longer.
King's Quest V: "Weeping Willow" on Harp
I remember playing King's Quest V when I was about 11 and thinking the melody of this piece sounded an awful lot like "Castle on a Cloud" from Les Misérables. Really, it's almost a complete rip-off, but it's a fitting rip-off in the context of the game, and beautiful both in the game and in this cover version.
The Lord of the Rings Piano Medley
You've probably noticed I adore medleys. This one's no exception, as it includes many of the most recognizable themes from the LOTR trilogy in classical piano style.
Doctor Who Theme Faux-Band Version
Four instruments, separately recorded, were layered together to create this cohesive finished product that feels like a full band performance. Brilliant!
Super Mario Bros. Theme Beatboxing Flute Version
This starts out as a simple but great flute version of the Mario theme, then turns into something else entirely. It's hard to believe he's playing the flute as well as he is while beatboxing.
angel
,
battlestar galactica
,
buffy the vampire slayer
,
doctor who
,
firefly
,
king's quest
,
legend of zelda
,
lord of the rings
,
monkey island
,
pirates of the caribbean
,
star trek
,
star wars
,
super mario bros
,
the office
,
theme songs