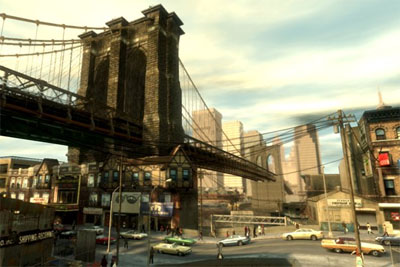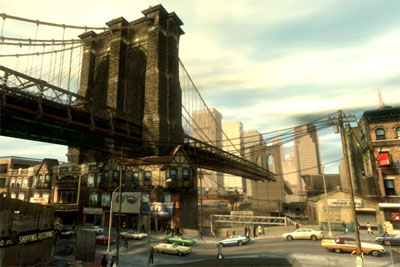 As if the excitement for Grand Theft Auto 4
couldn't get higher, Kotaku has a new article detailing their hands-on experience with the game's various multiplayer modes. The game types they sampled promise many hours of gaming after the single player game is long over:
Deathmatch
This is a standard Deathmatch and Team Deathmatch gametype. Kotaku reports that the twist on GTA4's version is that players are scored not by the number of kills they get but by the amount of money they collect during the round. They can grab money as it spawns on the map, or they can loot other players after they've taken them down. The multiplayer map spans the entirety of Liberty City, meaning that you can bring all manner of architectural and vehicular strategy into the mix.
Cops N Crooks
Cops N Crooks is a variation on Deathmatch that has one team playing as the police in pursuit of the other team (the crooks). The crooks have a waypoint on their map that is an "escape point." They win if they reach that point before they're taken down by the cops. The cops, on the other hand, have as an objective to kill the crooks before they can get away with the loot. Kotaku describes two versions of this gametype. All For One has the cops trying to kill the crooks' boss, who is one of the crook players. This presumably will allow for some interesting escort strategy where the crooks try to keep the boss alive while sacrificing themselves and respawning. One For All gives each crook one life with no respawns. Once the cops kill them all, the cops win.
GTA Race
This is a checkpoint race through Liberty City that allows all the usual GTA mayhem along the way. Expect your road races to be derailed by your opponents wrecking your vehicle, gunning for you with rocket launchers, and generally causing all manner of trouble.
Hangman's NOOSE
NOOSE is a cooperative mode that offers additional missions designed specifically for co-op. Kotaku has specifics about some NOOSE rounds they played, so check out their article to get even more hyped for this release.
Grand Theft Auto 4 is slated for release on April 29. Clear your calendars for the following month.
Source: Kotaku