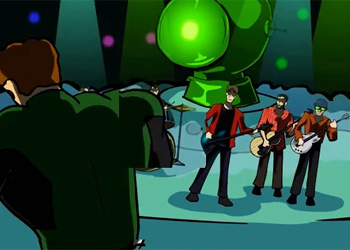 Since Green Lantern opens this coming weekend, I figured it would be a good opportunity to throw together a short list of songs that have something to do with the Green Lanterns. Some are only tangentially related, but others are specifically about Hal Jordan or the other Lanterns. There's one song that I found that mentions Green Lantern, but I couldn't actually find it. It's called "Green Lantern," and it's by The Mutton Birds. Here are six others that fit the bill nicely.
1. "Caught in the Act" by Earlene Bentley
A disco song that uses a part of the Green Lantern oath for the chorus. Of course, the song really doesn't have anything to do with Green Lantern, but it's pretty cool to hear the oath in a different context.
2. "Sunshine Superman" by Donovan
I'm sure everyone has heard this song from the '60s. With references to both Superman and Green Lantern, it shows up all the time on lists of geeky songs for one reason or another. I decided to include a live version to change it up a bit. I'd also recommend Donovan's duet with John Mellencamp as well as Hüsker Dü's cover.
3. "Main Title" from Green Lantern: First Flight
This might be cheating a tiny bit, but it is the theme song from the animated movie, Green Lantern: First Flight. The movie is awesome, and the song fits well.
4. "Sector 2814" by The Roy Clark Method
The first of the group that is specifically about Green Lantern. The Roy Clark Method describe their music as "alternative nerdcore rock," but to me this track has the feeling of a song from an earlier time. My only real quibble with it is that the lyrics claim that Green Lantern's ring is "magical," but I suppose "I have this technologically advanced ring / It can do anything" doesn't have quite the same feel to it.
5. "In Brightest Day" by Gary Mitchell
Gary Mitchell wrote this hoping to get it on the upcoming movie soundtrack. It would be a good closing credits song, I think. Although I like the groove on this one, if there's a choice between it and "Ring Capacity," I have to pick the latter.
6. "Ring Capacity" by Kirby Krackle
I've pretty well established that I'm a huge Kirby Krackle fanboy, so of course this is my favorite. The new video is great, too, with Kyle and the band becoming Green Lanterns to help Hal defeat Sinestro. Man, I hope to hear this somewhere in the movie! Good stuff!