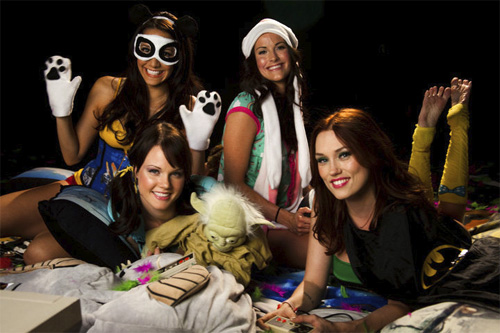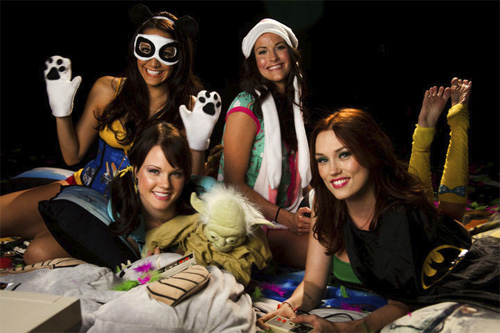 In my recent exploration of the nerdcore hip-hop and nerd rock genres, I've encountered a very special type of song. They celebrate the nerd girl, the one who loves Star Wars, The Lord of the Rings, and all things Joss Whedon. She can perform calculations on a slide rule faster than you can turn on your calculator. And she's hot, to boot, with her librarian glasses and hair pulled back in a pony tail, wearing an Ada Lovelace baby doll from ThinkGeek. You know you <3 her!
As usual, my list is not meant to be exhaustive, and there were a few borderline songs that I considered but ultimately rejected since they didn't quite fit the theme (like "Goth Girls" by MC Frontalot). For each song, I've included a genre in italics to give you an idea of what you might expect should you chose to check it out.
The list spans a few categories: songs sung by guys about their love of nerd girls, songs about love between two nerds, and finally three songs by nerd girls about being a nerd girl. How could I have only songs sung by guys, considering the topic?
Nerdcore. The one that inspired this list. When I wrote that it was a "paean to nerd girls," I knew I was on to something.
2. "She Blinded Me With Science" by Thomas Dolby
Synthpop. Do I really need to say anything about this one? Henry sang it to his wife on Eureka. Does it get much nerdier than that?
3. "Nerdstyle" by ZeaLous1 (feat. YTCracker) (NSFW)
Nerdcore. This one features two nerdcore greats singing about their love of nerd girls: "Shake your asses. [Rep your classes]. Screamin' 'nerdcore!' while you fix your glasses. We like games, and we like cartoons. We make the nerdcore bass go boom!" (I'm interpolating the lyric in parentheses since I can't find the lyrics online).
4. "Nrrrd Grrrl" by mc chris
Nerdcore. Although he doesn't consider himself a nerd in this song, mc chris sure loves the nerd girls: "Nerd girl, I don't deserve you. I don't get the references you refer to. I love your Lipsmackers and your lack of perfume. I hope to get you home by curfew."
5. "Dusty Cartridges and Long Boxes" by Kirby Krackle
Nerd rock (ballad). They somehow manage to make staying up all night and reading comics sound like a series of double entendres that aren't quite ("When you bag and board my comics, you're always careful with the crease"). Brilliant!
Indie rock. I think any song that features a woman in the background whispering in Japanese needs to be on this list (okay, maybe not literally, but this one certainly does).
7. "Brainsbodyboth" by George Hrab
Funk. Geo's girl has it all — brains ("When she's watchin' Jeopardy she never has to guess") and a kickin' body ("'cause her derriere goes from here to there"). Is she a nerd girl? "It's true, it's true!"
Indie pop. Chester French's D.A. Wallach wants someone who can appreciate his favorite books. Janelle Monáe wears bow ties and loves sci-fi. She's his nerd girl; he's her nerd boy. 'Nuff said!
9. "When Nerds Fall in Love" by David Loti
Pop rock. Although not directly about nerd girls, if nerds are falling in love one is likely to be a girl (although I suppose that shouldn't be an automatic assumption).
Nerdcore. YTC celebrates his own geeky prowess and MC Router hooks up with him ("King and queen of all that is 1337"). Nerd love, indeed!
11. "Up, Up, Down, Down" by Kirby Krackle
Nerd rock. She's a fangirl who love comics and Guinness stout. He successfully uses a cheat code to unlock her heart. Unfortunately this one doesn't end well… (I didn't say all the nerd girls on this list were nice…)
12. "The Girl at the Video Game Store" by Parry Gripp
Nerd rock. The frontman for Nerf Herder sings this song about that special gamer girl (played by G4's Olivia Munn) who stole his heart and can beat your ass at Tekken. Kevin Pereira also cameos to show off his drumming skills.
13. "(Do You Wanna Date My) Avatar" by Felicia Day / The Guild
Dance pop. Created for The Guild's panel at 2009's San Diego Comic-Con, the video has become so popular that it reached #1 on iTunes its first day of release, the song is now available to download and play in Rock Band 2, and fans regularly cosplay as the characters based on their "real life" avatar costumes from the video. How much geekier can you get?
14. "I'll Still Be a Geek After Nobody Thinks It's Chic (The Nerd Anthem)" by Marian Call (feat. Molly Lewis and Paul & Storm)
Indie pop. Marian Call uses a typewriter as a percussion instrument and tells us "I'm better acquainted than a good girl oughta be with Aragorn and YoSaffBridge and Worf and Hal and Han." Put it together with the title, and, yeah, you've definitely got yourself a nerd anthem!
15. "G33k & G4M3R Girls" by Team Unicorn
Pop. Thanks to Nathan Fillion's tweet about this one, literally the day before I submitted this list. So worth it, though, not just for the song itself but also for the cameos: Stan Lee, Katee Sackhoff, and Seth Green (who sings and raps!). Of course, if you're reading this list, you've probably already seen the video, but if not, check it out!
felicia day
,
George Hrab
,
Kirby Krackle
,
Lists
,
mc chris
,
music-
,
nerdcore
,
Parry Gripp
,
Schäffer the Darklord
,
seth green
,
The Guild