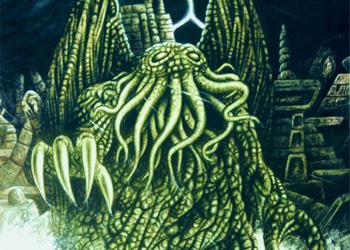 This year's list features more Cthulhu than in the past. I was inspired by the fact that my students are actually reading an H.P. Lovecraft story, "The Outsider," right now. Yes, I'm totally trying to drive my students crazy.
1. "Hey There Cthulhu" by Eben Brooks
"Delilah" and "Cthulhu" have the same number of syllables. Eben Brooks couldn't resist when told this. So, yes, here's a filk version of "Hey There Delilah." It's so much better than the original.
2. "Do You Hear the Pipes, Cthulhu?" by Terence Chua
This one is another parody, this time of ABBA's "Fernando." I'm sensing a pattern here. Same number of syllables as Cthulhu equals perfect for a parody! Now I'm just waiting for "Rosanna" ("All I wanna do when I wake up in the morning is scratch out my eyes…").
3. "I Had a Shoggoth" by Tom Smith
A kid's song. No, seriously. Plenty of other monsters and baddies from sci-fi, including an appearance from Cthulhu himself. Highly amusing!
4. "Arkham, Sir" by The Humanoids
The Humanoids have released a couple of short jazzy hip-hop albums based on Lovecraft and the Cthulhu mythos. It's a very different take musically from the rest of the songs on this list — quite mellow, but I like it.
5. "Zombies > Vampires" by Professor Shyguy
I'm not actually sure that I necessarily agree that zombies are better than vampires, but Professor Shyguy makes a pretty good case for it.
6. "Too Many Zombies" by Sci-Fried
I can't believe I haven't mentioned this song before. I love Sci-Fried, and this is a parody of another favorite band, Primus. It's a match made in geek heaven.
7. "The Roommate from Hell" by MC Lars (feat. mc chris)
We've all heard the expression before, but Lars's roommate is literally from Hell. The video does get cut off at the end, but it's worth seeing a live version with both performers on stage.
8. "We're Out for Blood" by Marian Call
Marian Call was asked to create a theme song for the indie movie Zombie Cheerleading Camp. This version is the "folky, hold your neighbor's hand and sway, kumbaya version." Because who doesn't want to gently sing "We're out for blood" while swaying and holding your neighbor's hand?
9. "Buckets of Blood" by Schäffer the Darklord and Kabuto the Python (NSFW)
I've seen this performed live twice at Nerdapalooza. It's a great song, if a bit on the disgusting side.
10. "Creepy Doll" by Jonathan Coulton
Of course I've mentioned JoCo many times before, but here's a version of "Creepy Doll" with Neil Gaiman performing the second verse. Actually, there's also a side view version of this song which has the whole song and another version from An Evening with Amanda Palmer and Neil Gaiman, which is pretty awesome.
11. "Earth on Hell" by Anthrax
Don't think Anthrax is geeky? Then clearly you're not watching Fangoria Blood and Guts on the Nerdist channel. Scott Ian is the host. Oh, and this song also has the lyric "So say we all." I'm pretty sure that's no coincidence.
12. "Spider" by Unwoman
I really like the original Doctor Popular version of this song, so a cover by the fabulous Unwoman is absolutely right up my alley. It's from her just released Halloween "double-single" which also includes a cover of Annie Lennox's "Love Song for a Vampire." If that's not worth a dollar, I don't know what is!
13. "Ragnarök Blues" by Willie Rosenburg and Blind Cowtipper Slim
I just had to mention this one because it's not often that I hear a country tune that I actually enjoy. But of course if more of them mentioned Elder Gods and Morlochs, I suppose I'd like more of them.
Bonus Mini-Review
Just in time for Halloween, Creature Feature, the first full length release from Swamp Thing, delivers more B-movie goodness from the Canadian trio. Like the Grindhouse EP, there's a definite focus on various classic '70s and '80s movie monsters and killers like zombies, vampires, werewolves, Jason (from Friday the 13th, not our illustrious editor), the Stay-Puft Marshmallow Man, and of course the Swamp Thing. It's not just monsters that inhabit this album. Other '70s mainstays make an appearance as well: 8-tracks, marijuana ("Reefer Vendetta" has a riff based on the Leave It to Beaver theme and also jazz. Yes, really), aliens ("First Contact" is a favorite with its Star Trek references and sound effects), and time machines (the H. G. Wells kind; no flux capacitors here) round out the B-movie vibe. Like everything from Hand'Solo records, it's well worth the price of admission.
Anthrax
,
Eben Brooks
,
Halloween
,
jonathan coulton
,
Lists
,
marian call
,
mc chris
,
MC Lars
,
professor shyguy
,
Schäffer the Darklord
,
Sci-Fried
,
Terence Chua
,
The Humanoids
,
Unwoman