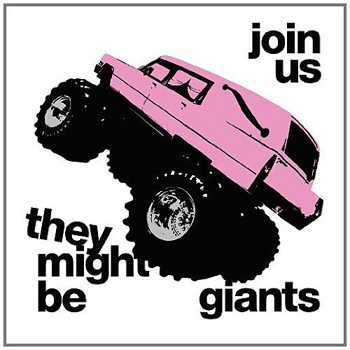 Artist: They Might Be Giants
Album: Join Us
Label: Rounder / Umgd
Release Date: July 19, 2011
I first discovered They Might Be Giants when I heard "Ana Ng" on MTV's 120 Minutes. I immediately fell in love, and they've been one of my favorite bands ever since. Over the years, I've sort of drifted back and forth to their music, missing tons of B-Sides and rarities, but mostly keeping up with their main releases. Their last few children's albums haven't really done much for me, which, I suppose, makes sense given that I'm not a child (well, not technically anyway…) nor do I have any children. So when I heard they were releasing a new "adult" album, I was quite excited to jump back into the TMBG fray.
Ever since Apollo 18, I have noticed something kind of odd about my relationship with new TMBG material. The first few times I listen to it, I'm not quite sure that I like it, but I keep listening because I love the band so much. Then eventually something clicks, and the album becomes my new favorite. Join Us is on its way to becoming my favorite.
John and John have said that they wanted to return to their "insane" sound of the early years, and they have certainly succeeded. The sound has, however, been updated with the addition of their band. In fact, it's exactly what you'd hope to get from a more mature band returning to its roots (but so often don't). Any of the tracks on the album would feel at home on the Pink Album, Lincoln, Flood, or Apollo 18. Actually, there are tons of references both lyrically and musically to their early music. "In Fact" mentions chess pieces (à la "Chess Piece Face" from They Might Be Giants) while both "Old Pine Box" and "Canajoharie" have references to skulls (reminding me of the skullheads in "Where Your Eyes Don't Go.") Musically, the interweaving of two different parts in "Spoiler Alert" is reminiscent of "I Palindrome I" or the end of "Birdhouse in Your Soul." Again, it's something that I wish more bands were capable of doing without sounding like they were just trying to relive their glory days.
As for favorite tracks, I have a few. I always love when I have to look up new words and / or ideas when listening to music (I'm an English teacher, what'd you expect?), so "You Probably Get that a Lot," with its references to "cephalaphores," tops the list. Although I had a vague inclination of what "Cloisonné" was, I wouldn't have ever known if it weren't for the song of that name. "When Will You Die" is a kind of surprising song about a terrible person that everyone is hoping will die soon. It contains one of my favorite verses of the album, "You're insane / You are bad / You wreck everything you touch / And you're a sociopath." It doesn't get much more direct than that (without cursing, at least).
And, of course, there's the lead track, "Can't Keep Johnny Down." This one lead to a video creation contest judged by John Hodgman. The embedded video above is the runner up since I like it better, but the winner is also good (if slightly NSFW). Although the song is about a horrible person, I get the distinct impression that the fact that the two singers are both named John is not a coincidence. Indeed, this album proves that you can't keep the Johns down (yeah, I'm sure I'm not the first person to say that in a review, but it does practically write itself).
Track Listing:
Can't Keep Johnny Down (2:22)
You Probably Get That A Lot (2:57)
Old Pine Box (1:53)
Canajoharie (3:39)
Cloisonné (2:40)
Let Your Hair Hang Down (2:31)
Celebration (3:48)
In Fact (2:20)
When Will You Die (2:32)
Protagonist (2:49)
Judy Is Your Viet Nam (1:26)
Never Knew Love (2:54)
The Lady And The Tiger (2:55)
Spoiler Alert (2:39)
Dog Walker (2:32)
2082 (1:55)
Three Might Be Duende (2:25)
You Don't Like Me (2:57)