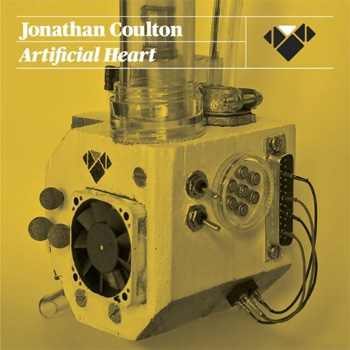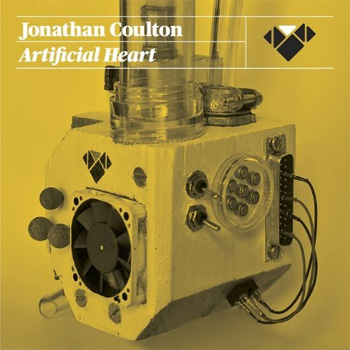 When I first heard that Jonathan Coulton was releasing his eighth album, Artificial Heart, my immediate reaction was "Eighth? I didn't realize he had that many albums!" That's because I've never really experienced JoCo's music as albums. I do own all of his music, but I really listen to just a few tracks over and over; I even have a "Best of Jonathan Coulton" playlist. So, really, this was my first real experience with an entire album of his music. I admit I was a little afraid that this album wouldn't live up to the high bar set by Coulton's previous music, but I'm glad to say that that fear was completely unfounded. This album is great!
Unlike previous albums, this one features a full band. It was also produced by John Flansburgh of They Might Be Giants (with Marty Beller, from TMBG, on the drums), a fact which clearly influenced at least a few of the tracks (of course JoCo already shows an influence from TMBG so this album just made it much clearer). There are also several guest artists, including two female vocalists (more on the guests later). All of this means there's an overall different feel to the album, but it's all clearly Jonathan Coulton.
The album begins by showing the influence of Flans; the addition of horns plus the phrasing of the lyrics on "Sticking it to Myself" really reminds me of Apollo 18-era They Might Be Giants. "Dissolve" is another track that makes me think of TMBG; it's a perfect combination of TMBG (the verses) and JoCo (the chorus). Of course, there are also the typical not-quite-novelty Coulton songs. The title track is about a guy who has an artificial heart. It's not a real heart, but it is a real artificial heart. Actually, I suppose that could just as easily be a TMBG song, too. Then there's "Je Suis Rick Springfield." I have a feeling the narrator of the song is not actually Rick Springfield. The fact that he's singing in French is a pretty good indication that perhaps he's trying to impress some French women in a bar.
I mentioned guest artists. First up there's John Roderick (from The Long Winters and Harvey Danger) on "Nemeses." This is probably the closest song on the album to JoCo's older stuff. It's also one of my favorites; it's certainly not often that you get to hear the word "nemeses" rhymed with "friend to me" and also "enemies." Suzanne Vega sings on "Now I Am an Arsonist," a really pretty, delicate song about an arsonist. Or perhaps an astronaut. I'm actually not quite sure what the song is supposed to be about, but I really like it regardless. The last guest is Sara Quin from Tegan and Sara. She performs the Portal track "Still Alive." This version also features a theremin, making it even more haunting than it already is. I love that there are so many versions of this song out there.
I could go on and on about nearly all of the tracks on the album, but I'll close by just mentioning a couple of others. "Today With Your Wife" is such a sad song; I get the impression that the best friend has died and the narrator is reminiscing with his widow. It could easily be about an affair, but the wording and the harp make it hard to interpret that way. Then there's "Glasses," a song about how great someone looks in glasses. My favorite part of the song is the part where the music drops out and Coulton sings the line about having "a little breathing space" a capella. It's so cool when the lyrics reflect what's happening in the music (or in this case the lack thereof).
So, if someone you haven't managed to pick up the new Jonathan Coulton CD, you really should do so. And also if you can see him live, it's well worth it as well.
Track Listing:
Sticking It to Myself
Artificial Heart
Nemeses (Featuring John Roderick)
The World Belongs to You
Today with Your Wife
Sucker Punch
Glasses
Je Suis Rick Springfield
Alone at Home
Fraud
Good Morning Tucson
Now I Am an Arsonist (Featuring Suzanne Vega)
Down Today
Dissolve
Nobody Loves You Like Me
Still Alive (Featuring Sara Quin)
Want You Gone (Elegant Too Remix)
The Stache