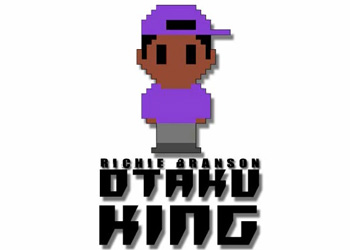 Richie Branson, he of the Star Wars: The Old Republic and Gundam Wing mixtapes, wants to bring nerdcore to a wider audience. Since he's already made a name for himself as a producer, it's entirely possible he might be able to do it. Toward that end, he has begun what he calls "Otaku Tuesdays" in which he creates songs about various anime series.
As of right the time I wrote this, there are four songs out: "Otaku King," "Space Cowboy Serenade" (about Cowboy Bebop), "Tofu Delivery" (about Initial D), and "From the Underground to the Stars" (about Gurren Lagann). I'm just going to focus on the first two since I have some familiarity with them. I'd never even heard of the last two series, but I can say that the songs are quite good! If you want to see more, subscribe to Richie's YouTube channel, follow Richie on Twitter, or just keep an eye on #OtakuTuesday. I'll likely write up new ones based on stuff I'm already familiar with as well.
"Otaku King"
First up is "Otaku King." There isn't really a video for the song (just an image), but the song declares Branson's intentions to become the king of the otaku. His fandoms? Video games and manga / anime. Given his vast knowledge and rap ability, I'm willing to go along with his assertion, at least for the duration of the song.
"Space Cowboy Serenade"
No, it's not about Firefly; it's about that earlier show about space cowboys, Cowboy Bebop. Even though I haven't seen the show (I saw part of the movie once), I know that the soundtrack is noted for its use of jazz, a convention which Branson uses quite effectively in this track. The lyrics do a nice job of summarizing the characters and situations of the show; it actually makes me curious to go out and watch it, in fact. If you're a fan of the show, I'm sure you'll get even more out of it, but even if you're not already a fan, the track is well worth a listen.