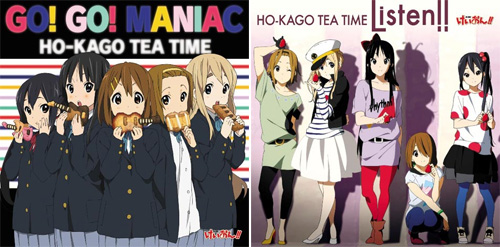 Hey there, fans! Every Thursday, I'll be bringing you all the best in what's happening in the world of anime, manga, and basically anything and everything Japanese!
An anime about five high school girls in their school's light-music club, K-ON!!, made the news in Japan last week when their opening theme song, "Go! Go! Maniac," and ending theme song, "Listen!!," made it to the #1 and #2 spots respectively in the Oricon survey firm's weekly singles chart.
The songs were recorded by the Hōkago Teatime (literally After-school Tea Time), the fictional band in the anime, with the voice actresses performing as their respective characters. According to a report by Anime News Network:
The band is only the third female act to ever rank one-two simultaneously on the chart and the first to do so in 26 years; Keiko Fuji accomplished that feat in 1970, and Seiko Matsuda did it in 1983.

Other anime characters have "recorded" singles that have reached #1 on the daily singles chart, and Hōkago Teatime had already reached #1 on the weekly album chart last July. However, no anime characters had sustained enough sales of CD singles for an entire week to top the weekly singles chart. "Go! Go! Maniac" and "Listen!!" had been #1 and #2 on the daily singles chart for six straight days since April 27 — all but ensuring that they would also top the weekly singles chart.
To have an anime theme song topping the Oricon survey in Japan is akin to having the Teen Titans theme song reach the #1 spot in the Billboard charts for a certain week, so this is relatively big news for both music and anime fans. As one who is both, I find it comforting that the industry over there finally recognizes the effort made for these shows, although I have serious doubts that such a thing would happen on American shores, since the animation industry is taken less seriously here than over there. Then again, the music used in the cartoons I've been seeing in the US usually pales in comparision to the likes of shows like these.
Here's a video of the opening and ending songs of K-ON!!: