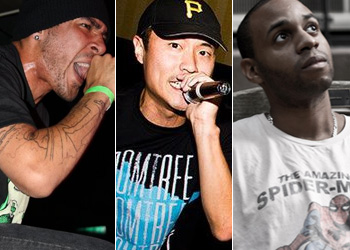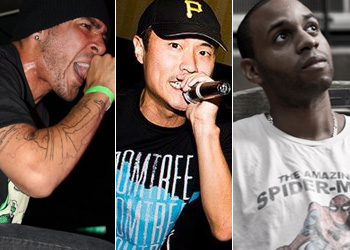 Last August, I featured an introduction to nerdcore via some of the founders of the genre. Admittedly, I was still a little new to the genre myself, and so I missed a few obvious ones: Optimus Rhyme, Dual Core, ytcracker, and Ultraklystron, for example. Ah, well, there's still nothing wrong with the list.
This time, I'm going to feature a two-part series of Next Generation nerdcore (or at least nerdy) rappers. These artists have all hit the scene in the last couple of years, proving that nerdcore isn't going anywhere any time soon (despite declarations to the contrary). (Warning: expect explicit lyrics ahead!).
Recommended Songs: "Geekquilibrium," "Next Gen," "Unlimited"
Doc Awk is awesome. I first caught him with Scrub Club at Nerdapalooza 2010. Listening to his music, I'm really impressed with how much he's improved in just a couple of years. His first EP, NextGen, is really good, but his first full length album, Unlimited, is even better. Doc Awk has some of the best flow to his rapping that I've heard. He also acknowledges his nerdcore predecessors, especially MC Frontalot, with lyrical references such as his "braggadocio" in "Unlimited" and the "Goth Girls" reference in the opening of "Red Queen." Actually, it's from Dr. Awkward that I took the title for this article: he explicitly says that he's the "next gen" of nerdcore.
Recommended Songs: "Nerd Corps," "Mal," "I Believe in Harvey Dent"
Adam WarRock is quite the prolific artist. He's created a ton of mixtapes, singles, and EPs, including one of my favorites of 2011, The Browncoats Mixtape (with beats based on songs from Firefly provided by Mikal kHill from The Thought Criminals, a fact which I forgot to mention in the list of the Best of 2011). WarRock is mostly known for his comic book based mixtapes, including ones based on the West Coast Avengers, X-Factor, and New Warriors. And that's not to mention tons of individual tracks. Oh, and his full length album based on the Infinity War story line from Marvel comics (from which he obviously takes his nerdcore alter ego). Plus he's the rapper on Kirby Krackle's "Booty Do Math" ("these numerators add 'em… Adam…") from Super Powered Love. As if that's not enough, he's now rapping recaps of what's happening in comics every two weeks for Comics Alliance. And all of this after quitting his day job as a lawyer so he could rap full time. Impressive!
Recommended Songs: "Think Geek," "Coder Girl," "That's So Meta"
Dale Chase is sort of the laidback voice of nerdcore. He uses more samples than many of the other artists on this list, from the geeky (e.g., The X-Files ("UFO") and Final Fantasy VII ("Limit Break")) to the non-geeky (e.g., The Jeffersons ("Mississippi Mud," feat. Billy Fee)). I can also see his music having a broad appeal even to non-geeks, a bit like Kirby Krackle. Since his music tends to be so mellow, it's easier just to groove to the beat and miss that the lyrics are pretty darn geeky. In fact, this is another artist that my geek-adjacent wife heard and liked. She's even watched The X-Files and didn't get what "UFO" was about right away. I'm hoping to hear more from Dale Chase since his last album (Limit Break) came out about a year and a half ago already.