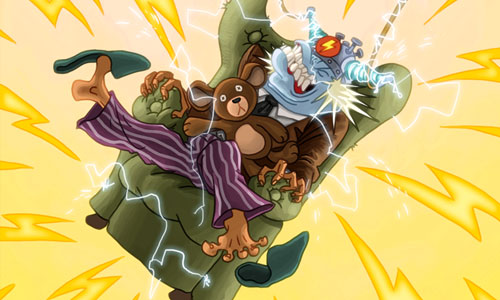 At least one new game releases each week on the Windows Phone 7 platform for Xbox Live, meaning that you can play and earn Xbox achievements directly from your phone on new titles all the time. Thanks to the folks at Microsoft, we now will be covering the new phone game releases ongoing, beginning with Tentacles, the game that released last week for $4.99.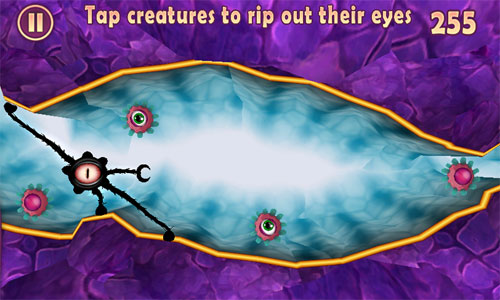 Tentacles is a 2D platformer with an interface and design that uniquely fits the phone's touch screen in a better and more natural way than many phone games tend to do. The game opens with Dr. Phluff, a mad scientist who inexplicably has a dolphin head, hard at work in his lab. He's attempting to create a specimen to win a "cutest creature" competition. Tragically, the best he's been able to muster is you, a misshapen and blobby black critter with clawed tentacles and a single eye. In a fit of frustration, he knocks your petri dish flying and accidentally gulps you down his throat. That's how you find yourself trapped inside Dr. Phluff's increasingly perilous body after the game's brief tutorial level.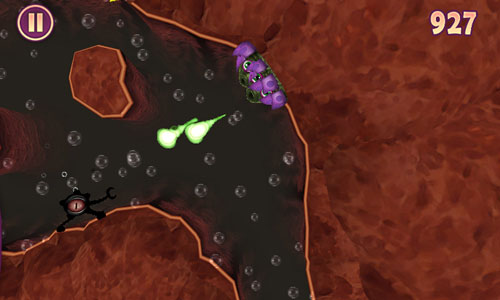 The game packs in 40 levels that have you traversing the doctor's body and trying to make your way out to safety. The goal of each of the levels is just to get from point A to point B without dying, but the variety of obstacles and enemies that changes up throughout the game makes for some great and fun challenges along the way. Your ugly little critter clambers through Dr. Phluff's body using its tentacles, which can grab onto objects, bad guys, and corridor walls, dragging him along with some very clever balance physics. You select where he'll grab by tapping on the screen. As long as he can stretch a tentacle to the point where you've tapped, he'll let go of his previous clawhold to grab whatever you've pointed out to him.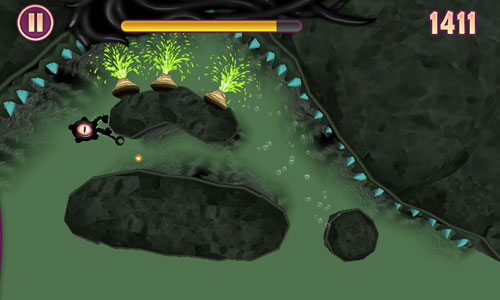 The faster you tap, the faster he'll grab and release with his tentacles, making his progress through the body a function of your own finger speed. You'll want to go as quickly as you can, in order to get all the speed bonuses, but you'll also want to take care not to get zapped by any of the surprisingly dangerous traps lurking in the body. You will run afoul of everything from spinning sawblade-like structures to exploding pods to floating bad guys. The bad guys can be dispatched by tapping on them, after which the critter will yank out their eyes and gobble them up. You'll have to tap once for each eye the bad guy has, so brawnier baddies will have more eyes and take longer to kill.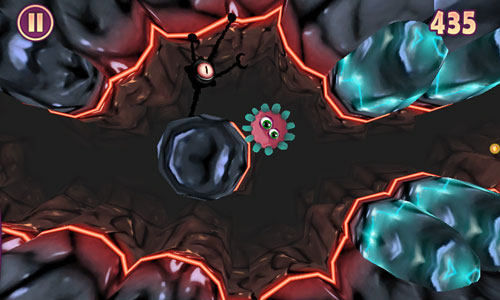 Each lever also gives you the opportunity to earn three stars that rate your performance. The first star will award you for nabbing all the collectibles on the level. There are lots of little glowing dots you can eat as you progress, each boosting your score, so you'll want to try not to miss any of them. The second star is granted if you make it all the way through a level without dying. If you do die, whether by hitting a trap or getting beaten up by a bad guy, your tentacled creature will just respawn. The only real death penalty is that you won't get that second star if you perish before reaching the end of the current level. The third and final star on each level is tied to unique challenges. Some levels will have you go through a specific section of the level in a set amount of time, while others will instruct you to get through an especially dangerous portion of the level without being damaged. These challenges are where the really tricky parts of the game come in.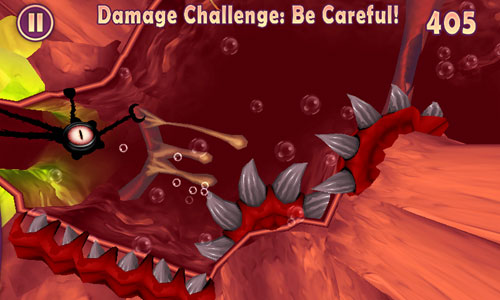 The interface feels unique and natural, and you'll find yourself a natural at tapping out the tentacle placements before long. The game's cartoony graphics and soundtrack fit the action well, and the overall game feels very polished and complete. With three stars to earn on each level and a bunch of achievements to pour into your Xbox Live profile, Tentacles is an addictive game that will keep you coming back for just one more level, over and over again.