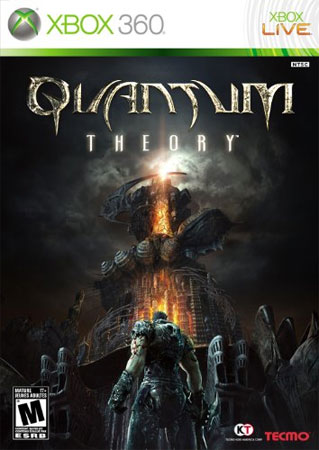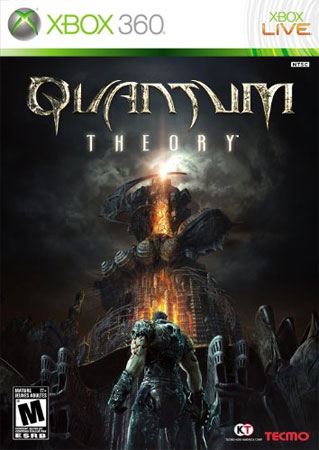 Game: Quantum Theory
Platform: Xbox 360, Playstation 3
Developers: Team Tachyon
Publisher: Tecmo
Release Date: September 28, 2010
Rated: M – for Mature
Quantum Theory is a game that has been bouncing around various levels of hype throughout its development. When it was first announced, many gamers flagged it as the PlayStation 3's answer to Gears of War. Upon its actual release a few weeks ago, however, it hit both the PlayStation 3 and Xbox 360. I had a chance to give the game a spin on the 360, and here's what I found inside the mutating tower that is central to Quantum Theory's mythos.
The Story
Quantum Theory might look a lot like Gears of War, but it becomes apparent from the very first moments that the story is deeply rooted in the tropes of Japanese video game writing. You play Syd, a bulky, scarred, and tattooed soldier surviving in a post-apocalyptic world where only a fraction of humanity remains. The remnants of mankind have banded together in a new society called Cocoon, which is threatened by a spreading evil called Erosion at the beginning of the game.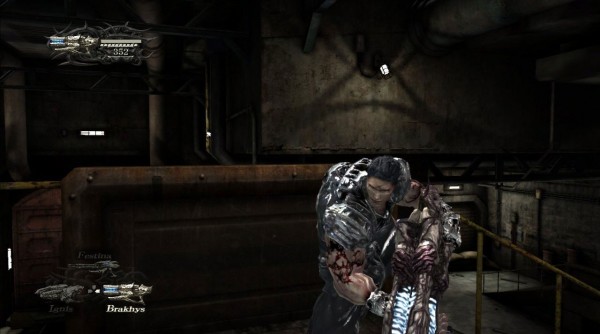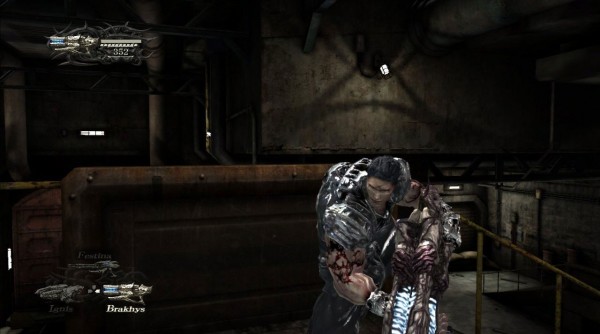 The game opens with Syd and his partner Nyx, a "Gillskin" girl, assaulting an Ark, which appears to be a huge organic structure spawned from the encroaching Erosion. As they destroy the Ark and it falls around them, Nyx perishes through some sort of connection she has to the Ark itself. Syd survives to continue the fight and travels to another Ark, which is where the main part of the game takes place.
Players will guide Syd, eventually joined by a new female partner named Filena, into and up the second towering Ark, eventually hoping to uncover its inner secrets and to destroy the whole structure as Syd and Nyx brought down the first one.
The Graphics
The environment design in Quantum Theory is something of a mixture between Gears of War and ornate Geiger-esque organic weirdness. The game's color palette largely stays within grimy and muted hues. There's a lot of grey, black, and muddy brown here. As most of the game takes place around and inside a mutating Ark, a large portion of the environments are organic structures. These tend to be represented ornately, with intricate columns and doors, twisting balconies, and bizarre ornamentation.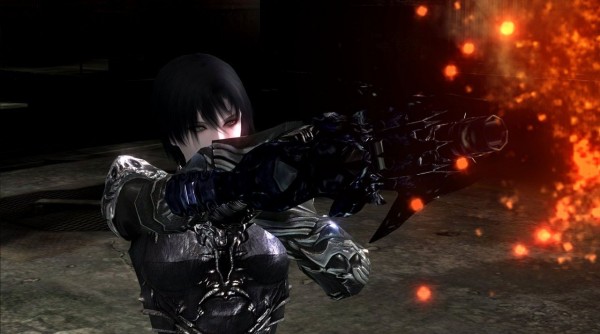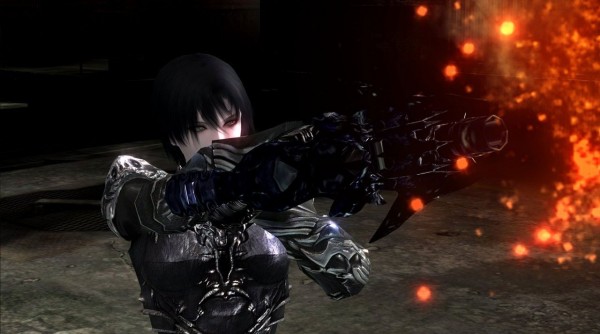 Character models tend to be big and bulky. I hate to constantly draw comparisons to Gears of War, but it's impossible to talk about Quantum Theory without mentioning the other game since it's so clearly influenced by Epic's shooter. The armor in Quantum Theory is very reminiscent of that worn by Marcus Fenix and his cronies, and indeed most of the characters themselves seem transported straight over from the Gears of War universe. Even the bad guys, here called Nosferatu, are very similar to the Locust.
The Gameplay
The look of Quantum Theory is similar to that of Gears of War, but the gameplay is downright identical for most of the game. You'll spend the majority of your time running from cover to cover and peeking out to blast away at shambling creatures with an assortment of huge guns. There are some variations to this, as well as a few unique abilities and situations, but third-person shooting with cover mechanics is the bulk of what awaits you inside the Ark.
At the beginning of the game with Nyx, and later after Syd meets up with Filena, you'll also be able to throw your sword-wielding partner at the bad guys and execute combos with her, but you'll still be blasting away with your guns most of the time. Another point where Quantum Theory diverges from its predecessor is in its bizarre game world. Since you're running around inside a living tower, the ground, walls, and other environmental features frequently will change and shift around you. This provides for some interesting changes in the middle of firefights, requiring you to stay on your toes and adapt your tactics as needed.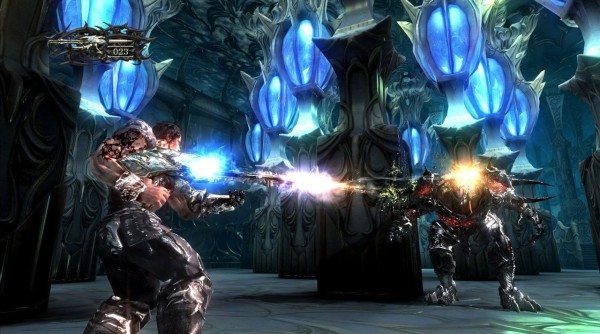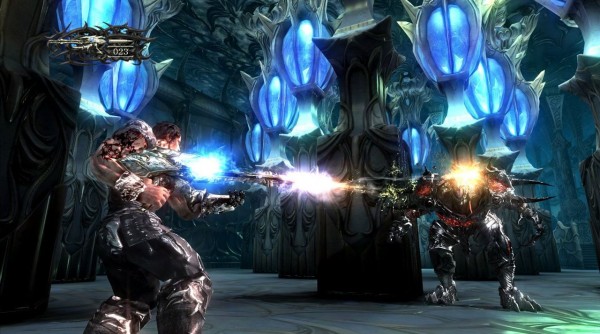 Quantum Theory works as a competent shooter, but I did run into some control issues throughout the game. One of my biggest complaints is that Syd moves like a locomotive. That is, he's super effective at running down and slaughtering pretty much anything directly ahead of him. He's hopeless at quick turns or even at hitting bad guys slightly in his periphery, though. As soon as a Nosferatu sidesteps you up close, you'll likely be toast.
Picking up items is another point of contention for me. Most games in this genre will let you pick up a new weapon by hitting or holding down one of the four buttons on the right side of the controller (often X on Xbox or square on the PS3), but Quantum Theory requires you to hit down on the D-pad. That's a little unwieldy but not too horrible. The real problem comes with picking up ammo for weapons you're already holding, which also requires a press of down on the D-pad. I'm used to just being able to run over ammo to pick it up or, at most, to hit a convenient button. Throwing the D-pad into the mix really complicates things and stalled me in the middle of many battles, frequently leading to death by interface.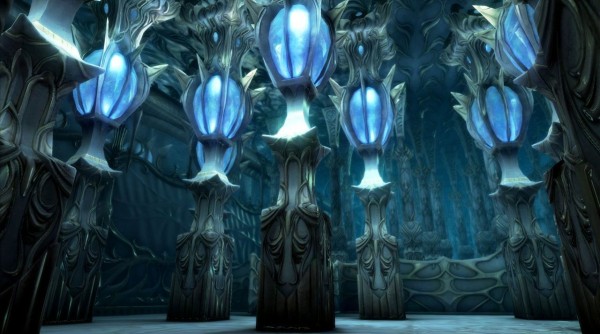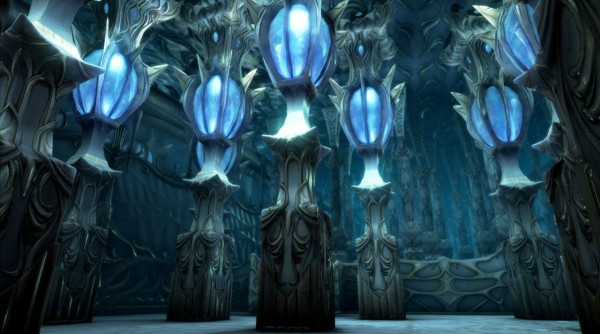 Quantum Theory does include multiplayer modes, but unfortunately I haven't been able to play them for review. As of this writing, the game has been unable to matchmake me with other players to start up a multiplayer session, which I attribute to there being not enough people actively playing at any one time. Any game that's not part of a triple-A franchise tends to have a quick dropoff with its multiplayer community, but failing to get into a multiplayer game this early in the game's life is somewhat surprising.
Conclusion
All things considered, Quantum Theory isn't a horrible game, but it doesn't come close to matching Gears of War, the game it so closely emulates. The shifting environment and the opportunity to execute combos with an AI-controlled partner do provide for some interesting variants on the cover-to-cover mechanics. At the end of the day, though, the best way to describe Quantum Theory is as a less polished Gears of War with a heavily Japanese story. Give the game a try if you're intrigued by its single player campaign, but don't expect to have a long multiplayer career here.